4 Seasons Gatlinburg
Gatlinburg, Gatlinburg, TN
3 Bedrooms / 3.5 Baths
Cabin / Sleeps 6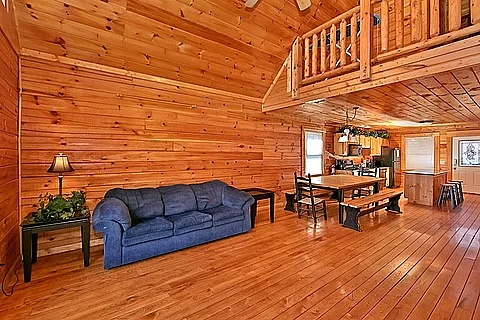 Exterior Photo
Amenity Rating:




4 Star Amenities,
(details)
3 Level Cabin
1 King Bed
1 Queen Bed
BBQ Grill
Deck
Fireplace
Game Room
Hot Tub
Jacuzzi
Pool Table
Private
Non Smoking
Washer/Dryer
Over the mountain and through the woods to 4 Seasons Cabin you should go! Regardless of the season all 4 will be enjoyed here. This cabin offers the perfect romantic setting you and your sweetie deserve. Don't worry if you can't find a sitter for the kids because there's room for them too.
Pick from 3 wood burning fireplaces to snuggle up in front of or enjoy your leisure time in the sun room. This cabin also offers a large kitchen for that candle lit dinner your hectic life at home won't allow. For the playful couples there's a game room to fuel your competitive side. After a hectic day in town come back to the cabin to enjoy the bubbles in your jacuzzi or the wilderness sounds in the hot tub outside.
Just minutes away from downtown Gatlinburg you're convenient to the local attractions, shopping, and restaurants.
Whether you are looking for a romantic getaway or a cabin to start a new family tradition 4 Seasons Gatlinburg will leave a lasting memory in your heart and of those you love most.