Amber Twilight
Wears Valley , Wears Valley, TN
2 Bedrooms / 2 Baths
Cabin / Sleeps 6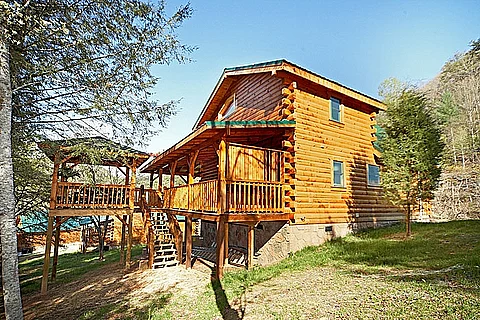 Featured Property Photo
Amenity Rating:





5 Star Amenities,
(details)
3 Level Cabin
1 King Bed
2 Queen Beds
BBQ Grill
Deck
Electric Fireplace
Game Room
Hot Tub
Wired Internet
Jacuzzi
Pool Table
Non Smoking
Washer/Dryer
Smoky Mountain cabins such as Amber Twilight are far and few in-between. This luxurious Wears Valley cabin rental rates 5 stars and features quality amenities throughout the cabin. Your Smoky Mountain cabin is only minutes from downtown Pigeon Forge, where the family will find endless mainstream attractions, live dinner shows, outlet shopping and more. Close to the Wears Valley cabin are several mom-pop shops filled with antiques and locally made Smoky Mountain crafts. The Wears Valley pace is slower and vastly more scenic.

Your cabin rental in Wears Valley TN is a 2 bedroom with a 3rd bed added in the lower level sitting area (bed not pictured) for sleeping up to 6 guest. One of your bedrooms has an in-room Jacuzzi. Family and friends can enjoy the cabin's unique forest like setting with a shaded fire pit, great for roasting hot dogs or making smores.

In addition, this fine cabin offers Internet access, a fireplace, a game room with lavish seating, pool table and a foosball table, an attached gazebo, satellite television in several rooms and most importantly the all season fun to be had in your cabin's covered hot tub. Snacks to meals are made easy with a fully equipped kitchen and outdoor barbeque grill.

Amber Twilight will be the one Wears Valley cabin to remember when visiting the Smokies, a truly unforgettable Smoky Mountains vacation experience for the entire family. Book your Smoky Mountain cabins ONLINE with Cabins USA and receive immediate SAVINGS on your stay!