Bear Hugs
Wears Valley , Wears Valley, TN
1 Bedroom / 1 Bath
Cabin / Sleeps 4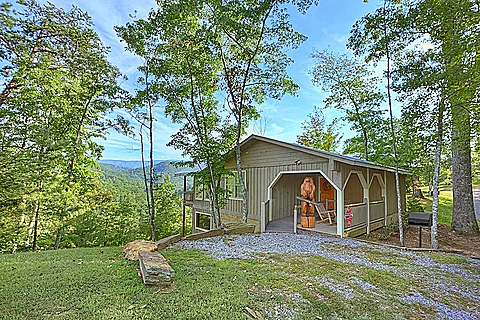 Featured Property Photo
Amenity Rating:




4 Star Amenities,
(details)
1 Level Cabin
1 King Bed
BBQ Grill
Deck
Fireplace
Jacuzzi
Pool Table
Non Smoking
Washer/Dryer
Bear Hugs is an inviting honeymoon cabin in the Smoky Mountains with just unforgettable mountain views!

This lovely cabin rental, in Wears Valley TN, is an adorable 1 bedroom cabin with hot tub, fireplace, Jacuzzi and more setting atop 280 degrees of scenic Smoky Mountain views! Your Smoky Mountains cabin, with mountain views, is perfect for weekend getaways and long awaited vacations in the Smokies. The cabin's spacious living area offers a fireplace and pool table. There's a fully equipped kitchen for snacks to meals and a gas grill for adding that great outdoors flavor to any meal.

Play free games of pool in-between all the nearby fun of your Wears Valley cabin rental and when it comes time to rest enjoy the comfortable king size bed. Bear Hugs sleeps 4, with its sleeper sofa, and is great for small families seeking affordable cabin rentals in the mountains with spectacular views!

Book your honeymoon cabin in the Smoky Mountains online with Cabins USA and get immediate Online Savings! Four wheel drive is strongly recommended for this cabin rental in the winter months. Bear Hugs is within walking distance of Hilltopper, Higher Ground and TipTop, perfect for family reunions and small church retreats.