Heavenly Dreams
Sky Harbor, Gatlinburg, TN
1 Bedroom / 1 Bath
Park Cabin / Sleeps 6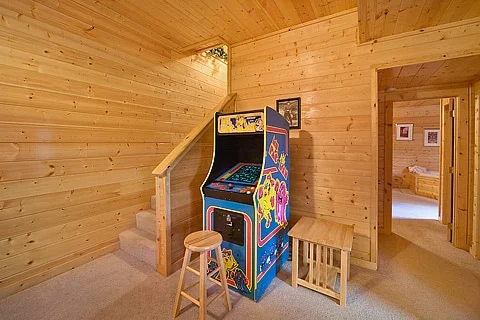 Exterior Photo
Amenity Rating:




4 Star Amenities,
(details)
1 Level Park Cabin
1 Queen Bed
BBQ Grill
Deck
Fireplace
Arcade Game
Hot Tub
Internet Access
Pet Friendly
Non Smoking

Are you looking for a cabin with that little something extra that adds EXCITEMENT and ADVENTURE to your vacation? If so, look no further because Heavenly Dreams is the place for you! It is located on a very STEEP incline (sure to get your adrenaline pumping) so front wheel drive is a must anytime of the year (4 Wheel Drive necessary in inclement weather). Once you have BRAVED the driveway you will find that Heavenly Dreams is a charming cabin with all the comforts of home.
Curl up in front of the fireplace and watch your favorite movie, or let your stress float away in the hot tub. Have a blast playing the super Playstation 2, Stand up Arcade Game, surfing the internet on the WiFi or sit back in the recliner and read the beautiful books of The Great Smoky Mountains National Park that this homeowner has put in for the enjoyment of their guests!
Not only is Heavenly Dreams perfect for a budget friendly family vacation or a romantic weekend getaway, you can also bring your family pet along.