Campbells Cabin
Arrowhead, Pigeon Forge, TN
2 Bedrooms / 2 Baths
Cabin / Sleeps 6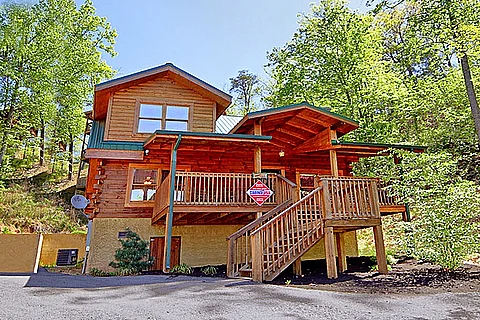 Featured Property Photo
Amenity Rating:




4 Star Amenities,
(details)
2 Level Cabin
2 King Beds
BBQ Grill
Deck
Electric Fireplace
Game Room
Hot Tub
Jacuzzi
Resort Pool
Pool Table
Non Smoking
Washer/Dryer
Tour this lovely cabin in the Pigeon Forge Gatlinburg area with swimming pool access. "Campbells Cabin" is located in Arrowhead Resort, near Gatlinburg TN, with easy access to such attractions as: Ripley's Aquarium of the Smokies, Hillbilly Golf, and entrance to the Great Smoky Mountains National Park minutes from your Smoky Mountains cabin getaway.

"Campbell's Cabin" features two beautiful king suites - each with in-room jacuzzi and television. An electric fireplace adds ambience to the living area, while the cabin's fully equipped kitchen and charcoal grill provides a place to conveniently prepare anytime snacks to family meals. Family members can enjoy limitless games of pool on the full-size pool table or try for high score on the video arcade game.

The convenience this cabin resort near Dollywood provides to countless attractions, restaurants, theaters and more is sure to enhance your family's cabin vacation experience. Book "Campbell's Cabin" or another cabin in the Pigeon Forge Gatlinburg area online for your immediate Online Cabin Discount!
Frequently Asked Questions
How far away from the main attractions is this cabin?

This cabin is conveniently located about one mile off the Parkway in Pigeon Forge giving guests quick access to the local attractions and events.

Where is the game room located?

The game room is located in the loft area of this cabin.

How many parking spaces does this cabin have?

Guests of Cabins USA have access to parking designated for their particular cabin. Campbells Cabin has parking for 2 smaller vehicles or one large truck/SUV.

Are there other properties managed by Cabins USA nearby?

There are 5 other cabins with Cabins USA located within walking distance of Campbells Cabin. All six cabins are located in a cul-de-sac which includes Git-R-Done, Paws A While, Cuddly Critters, Cowboy Up, and A Mountain Lodge. Perfect for large groups needing more than one cabin.