Cowboy Up
Pigeon Forge Cabins, Pigeon Forge, TN
5 Bedrooms / 5 Baths
Cabin / Sleeps 14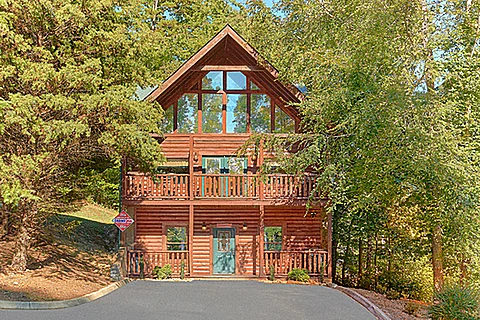 Featured Property Photo
Amenity Rating:




4 Star Amenities,
(details)
3 Level Cabin
5 King Beds
BBQ Grill
Deck
Electric Fireplace
Game Room
Hot Tub
WiFi Internet
Resort Pool
Pool Table
Non Smoking
Washer/Dryer
Cabins in Pigeon Forge, such as "Cowboy Up," are great for large groups and family reunions. "Cowboy Up," located in Mountain Park Resort in Pigeon Forge, is less than a mile off Pigeon Forge Parkway where you and your guests can play non-stop from early morning into the late evening with dozens of attractions ranging from mini-golf to outlet shopping! See some of the biggest live stage performances! Choose from over 100 restaurants ranging from local family diners to chain restaurants!

"Cowboy Up," a large 5-bedroom cabin, sleeps up to 14 guests. Located in Mountain Park Resort this massive log cabin come complete with modern, opulant amenities
Cool off from the summer sun in the resort swimming pool, watch streaming video on this cabin's WiFi Internet! Enjoy the hot tub year-round on the covered porch!
During the cool winter months, cozy up next to the lovely stone fireplace in the living room! Shoot a few rounds of pool in the game room! When you're ready to call it quits for the day, sink into one of 5 lavish king-sized bed. From snacks to holiday meals, save on meal costs with this Pigeon Forge cabin's fully equipped kitchen and outdoors charcoal grill.

Book "Cowboy Up:, or any of our cabins in Pigeon Forge, and get immediate Online Savings! What are you waiting for? Come relax in the beautiful Tennessee Smoky Mountains and give your group a vacation to remember filled with lifelong memories!
Frequently Asked Questions
How far away from the main attractions is this cabin?

This cabin is conveniently located about 1 mile off the Parkway in Pigeon Forge giving guests quick access to the local attractions and events.

How far is this cabin from the resort pool?

This cabin is located only a short walk from the resort pool.

Are there other properties managed by Cabins USA nearby?

There are 5 other cabins with Cabins USA located within walking distance of Cowboy Up. All six cabins are located in a cul-de-sac which includes Git-R-Done, Paws A While, Cuddly Critters, Campbell's Cabin, and A Mountain Lodge. Perfect for large groups needing more than one cabin.