Splish Splash
Near Dollywood, Pigeon Forge, TN
1 Bedroom / 2 Baths
Cabin / Sleeps 4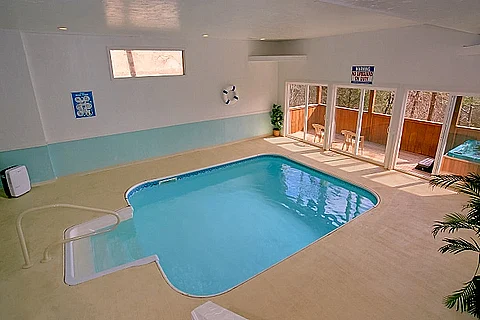 Featured Property Photo
Amenity Rating:





5 Star Amenities,
(details)
2 Level Cabin
1 King Bed
1 Full Bed
BBQ Grill
Deck
Electric Fireplace
Hot Tub
WiFi Internet
Jacuzzi
Indoor cabin Pool
Private Pool
Pool Table
Non Smoking
Washer/Dryer
Make a splash with your vacation to the Smokies! "Splish Splash," a cabin rental near Gatlinburg with an indoor pool, provides all the amenities to make your mountain getaway exceptional. Guests will make unforgettable memories in this lovely cabin near Gatlinburg with private pool that rests just 5 minutes off the Pigeon Forge Parkway, giving you a prime location as well as an indoor pool.

Your cabin rental near Gatlinburg with indoor pool offers guests a chance to enjoy swimming year-round in the privacy of this comfortable cabin convenient to area attractions. Imagine swimming in the warm waters of your heated pool while gazing out on a dusting of snow on those cold winter days. This cabin near Gatlinburg with private pool sleeps up to 4 guests with its spacious bedroom that houses a king-size and full-sized Murphy bed for sleeping additional guests. Your master suite also provides a television, full-bath, and in-room jacuzzi tub for the perfect mountain oasis.

Guests will also find relaxation by the living room's seasonal gas log stone fireplace. Make romantic meals for two easily with the cabin's corner kitchen or charcoal grill.
As the sun slowly sets over the Smokies, be sure to unwind from a day's worth of excitement in Pigeon Forge and Gatlinburg back at your cabin near Gatlinburg with private pool. Aside from the luxurious in-cabin swimming pool, you can enjoy endless games of pool at the pool table or enjoy a soothing soak in the cabin's hot tub. As twilight approaches, watch the blue sky over the hills transform into shades of pink and violet as you rest in rockers beside the roaring outdoor fireplace.

Have fun in the Smokies at "Splish Splash," your cabin rental near Gatlinburg with indoor pool and SAVE when you book your this cabin ONLINE with a ONLINE BOOKING DISCOUNT!