Mi Cabana
Wears Valley , Wears Valley, TN
1 Bedroom / 1 Bath
Cabin / Sleeps 4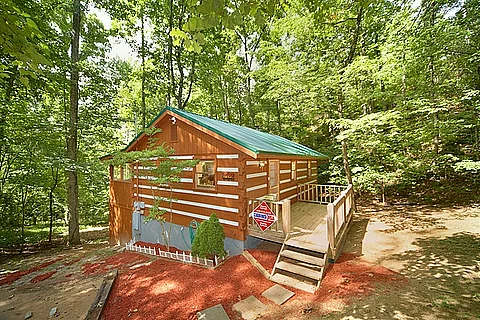 Featured Property Photo
Amenity Rating:



3 Star Amenities,
(details)
1 Level Cabin
1 Queen Bed
BBQ Grill
Deck
Fireplace
Hot Tub
Jacuzzi
Private
Non Smoking
Mi Cabana is a romantic cabin rental in Wears Valley affording couples the privacy they deserve. Your secluded mountain cabin rests in a beautiful Smoky Mountains forest setting with easy access to Pigeon Forge, if you desire. Scenic Wears Valley is home to numerous roadside mom-pop shops, antiques and unique craft shops that are very fun to visit.

Mi Cabana's location lets you embrace the naturist environment of the Great Smoky Mountains in Wears Valley. Share romantic moments of solitude from your log cabin's screened in porch with large hot tub and porch swing. As sunset pours over the Smokies the two of you can cuddle in front of your fireplace (seasonal) on the sofa sleeper and watch your favorite movies or move to the cabin's romantic queen size log bed with television and Jacuzzi.

Your cabin's fully equipped kitchen and outdoor grill are great for preparing snacks to romantic dinners. You may want to pack a picnic lunch and visit nearby Historic Cades Cove for some great photo opportunities alongside the working Grist Mill or capture a photo of the abundant Smoky Mountains wildlife.

Make Mi Cabana your secluded mountain cabin getaway and start your own Smoky Mountain memories. Book your cabin rental in Wears Valley ONLINE with Cabins USA and get immediate SAVINGS!
Frequently Asked Questions
How far away from the main attractions is this cabin?

This cabin is located approximately 5 miles from the main Parkway in Pigeon Forge.

How is the drive to this cabin?

The road to this cabin is relatively flat, however, it is partial gravel and may not be ideal for low riding vehicles.