Mountain Love
Wears Valley , Wears Valley, TN
1 Bedroom / 1.5 Baths
Cabin / Sleeps 3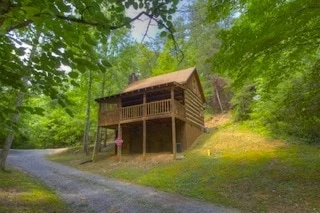 Featured Property Photo
Amenity Rating:


2 Star Amenities,
(details)
2 Level Cabin
1 King Bed
BBQ Grill
Deck
Fireplace
Hot Tub
WiFi Internet
Jacuzzi
Private
Non Smoking
Mountain Love, a Bluff Mountain cabin rental perfect for couples seeking a private Smoky Mountain honeymoon cabin! We get lots of calls daily for private cabins not to far away from action packed Pigeon Forge and this honeymoon cabin is the ideal answer to many of those calls.

Mountain Love is a great choice for a romantic getaway for two and can sleep up to 3 guests. Your charming cabin features a king size bed in the loft area, year-round covered hot tub, Jacuzzi, fireplace, flat screen television, WiFi Internet access and plenty of privacy.

Searching Bluff Mountain cabin rentals for your group or family reunion, A Lovers Hideaway and Honey Love are within walking distance so your friends and family can enjoy the Smokies with you and have privacy as well. Make Mountain Love your Smoky Mountain private cabin rental getaway, start your own memories when you book your Bluff Mountain cabin rental ONLINE with Cabins USA Gatlinburg to get your immediate Cabin Special!