TipTop
Wears Valley , Wears Valley, TN
2 Bedrooms / 2.5 Baths
Cabin / Sleeps 6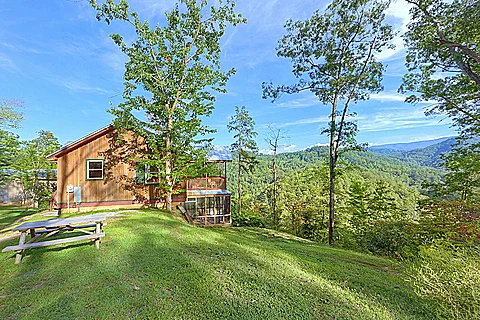 Featured Property Photo
Amenity Rating:



3 Star Amenities,
(details)
2 Level Cabin
1 King Bed
1 Queen Bed
BBQ Grill
Deck
Fireplace
Jacuzzi
Pool Table
Non Smoking
Washer/Dryer
Need a cabin for rent in Wears Valley with views? Tip Top is a beautiful 2 bedroom cabin in Wears Valley with spectacular 280 degree Smoky Mountain views!

This Tennessee Smokies cabin rental is sure to capture the hearts of everyone in your family or group. Tip Top cabin is nestled in a mountain top forest setting with a very large well landscaped yard and its own picnic area overlooking seemingly endless views of the Smoky Mountains. This is a very comfortable 2 bedroom cabin accommodating up to 6 guests, perfect for couples or families wanting that wide open mountains feeling while remaining close to Gatlinburg and Pigeon Forge activities. Very large panoramic windows bring the scenic beauty surrounding your cabin into the spacious living room with plush seating that doubles as a sleeper sofa directly across from the electric stone fireplace. Next to the living room is the full size pool table and next to that the family dinning area with breakfast bar and a fully equipped kitchen. Descending to the lower level brings you into another sitting area with more panoramic windows and another television. Off to your left is a king bedroom with an attached oversize bath and jacuzzi. Down a short hallway, opposite the sitting area, is a queen bedroom with private bath of its own.

Your 2 bedroom cabin in wears valley has plenty of nearby things to see and do, but you just be back at your cabin before sunset to observe the pinnacle of sunsets from your cabin's rockers on either of the two large covered decks looking over the timber tops across the vast Smoky Mountains. This is also a great time for a family picnic with burgers hot off the charcoal grill set upon your own personal picnic table and the best view seats by far.

Tip Top is within walking distance of Hilltopper, Bear Hugs and Higher Ground, a perfect location for family reunions or small church retreats needing several Tennessee Smokies cabin rentals close together. Four Wheel drive vehicles are strongly recommended for any of these mountain top cabins in the winter months.

Book your cabin for rent in Wears Valley with spectacular views ONLINE with Cabins USA Gatlinburg for an immediate Online Cabin Special!
Frequently Asked Questions
How is the drive to this cabin?

The road to this cabin is curvy with some steep sections. However, the view is well worth the drive!