Crockett's Breakfast Camp in Gatlinburg, Tennessee
Looking for an authentic Smoky Mountain breakfast? Look no further than Crockett's Breakfast Camp in Gatlinburg, TN! This is more than your average pancake house in Gatlinburg — everything about this breakfast restaurant centers on celebrating Smoky Mountain heritage. From it's namesake (a rugged frontiersman David "Crockett" Maples), its delicious country breakfasts, to the excellent rustic décor, Crokett's Breakfast Camp is designed to take you back to a delicious meal in 1875.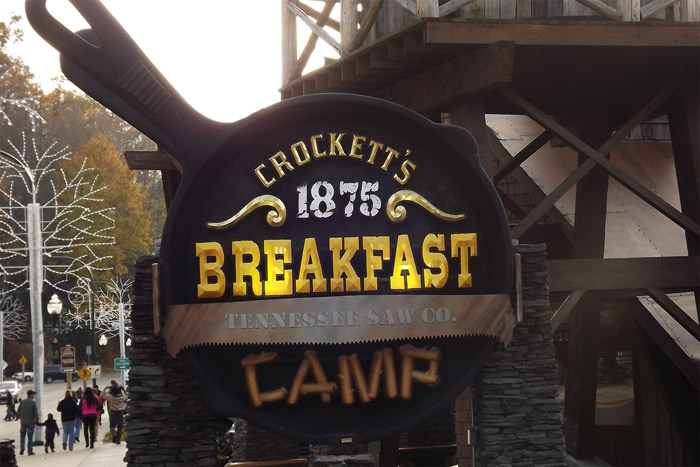 Authentic Breakfasts at Crocket's Breakfast Camp
Everything in Crocket's is styled after local history. From the water tower out front named "White Oak Flatts" (the first community in Gatlinburg) to the use of reclaimed barn wood for an authentic atmosphere. Inside, you'll find pictures detailing the history of the Smoky Mountains, large oak barrels, and an old timey carriage. There's no doubt: Crockett's has gone all out to achieve a rustic feel.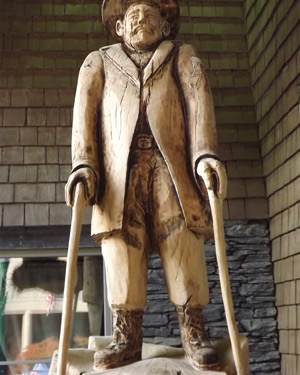 Hearty Portions at Crockett's For Breakfast and Lunch
The massive cast iron skillet out front is a sign of good things to come. Several dishes at this restaurant are portions large enough to feed two people! Some of the most popular options are:

Crockett's Buckwheat Fruit and Nut Pancakes - Stacked High with Butter and Syrup

The Mountain Omelet – Fully loaded with sausage, bacon, ham, and veggies.

Jimmy Hose's Scrambler – With Chorizo, peppers, onion, cheddar jack cheese, refried beans, and more!

Waffle of Insane Greatness – A lofty name for a waffle, but this won't disappoint.


The most famous meals at Crockett's are the Huntcamp Skillets. These offer heaping portions of protein packed meals. Some local favorites are:
Jake's Creek Skillet – Pecan Crusted Rainbow Trout and 2 eggs
Black Bear Camp Skillet – Pecan Smoked Bacon, Country Ham, Sausage, and 2 eggs.
Postmasters Favorite: Chicken Fried Steak, white gravy, 2 eggs
Be sure to check out this restaurant's menu for a complete picture of what is offered. Crockett's is open from 7 AM to 1 PM every day of the week. With ample seating, there usually isn't a long wait, but this is one of the more popular restaurants in Gatlinburg.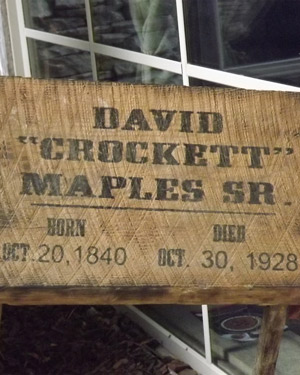 And it's no secret why. With a terrific Smoky Mountain atmosphere, delicious food, and hearty portions, this Gatlinburg breakfast restaurant is a perfect way to enjoy an authentic breakfast from yester year. After all, there are few better ways to prepare for a day of adventure in the Smokies than with a filling first meal of the day. Even better, with our secluded log cabins in Gatlinburg, you can enjoy a rustic mountain vacation from start to finish!
Contact:

1103 Parkway
Gatlinburg, TN 37738
865-325-1403
A
- Cabins USA Gatlinburg
B
- Crockett's Breakfast Camp
Written by Hayden Brown