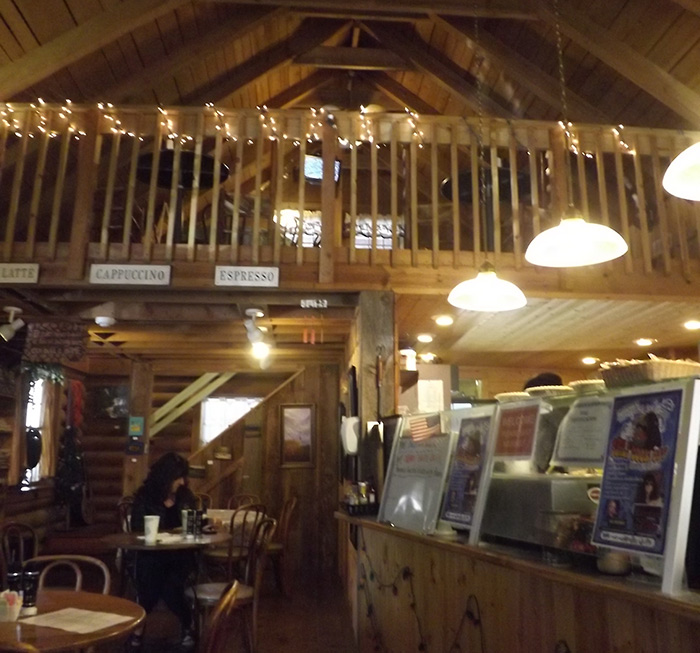 With so much great shopping to enjoy in the Glades Arts and Crafts Community, you're bound to work up a bit of an appetite. Why not swing by The Cabin Cafe to enjoy a delicious meal in a quaint cabin setting?
While there are few Glades Road restaurants to choose from on your shopping outing in the Glades, this cafe does not disappoint. This cafe located in the Glades Arts and Craft Center complex gives you convenience to many popular stores in the community, allowing you to enjoy a quick lunch between shopping stops. And what better way to enjoy lunch in the Smokies than in a cabin!
So stop by The Cabin Cafe today and see why you'll enter as a stranger but leave as a friend.
A Welcoming Atmosphere at the The Cabin Cafe
Once you step into the door of The Cabin Cafe, the owner greets you with a smile and invites you to seat yourself at one of the many tables either downstairs, upstairs, or, on warm days, outside on the patio. Once seated your server will get your drink order. In addition to delicious lunch items, the Cabin Cafe also offers a variety of beverages including:
Hot tea
Coffee
Cappuccino
Hot cocoa
Smoothies
Craft beers
After choosing your beverage of choice, guests can pick a delicious item off of The Cabin Cafe menu. Cabin Cafe prepares it's food in an open kitchen and you'll often catch the chef singing along to the tunes playing on the radio (Who doesn't want some food prepared with that much soul?). This Glades area restaurant offers brunch items which include:
A delicious quiche of the day


A personal twist on the French classic Croque Monsieur with prosciutto ham


A breakfast BLT


If you choose to visit The Cabin Cafe in the afternoon, you won't be disappointed either. The wide array of sandwiches will tempt anyone's palate. Some favorites include:
The Classic Reuben offers guests a deli favorite


The Care Free Capresse Salad gives guests mozzarella, tomatoes, and a Basalmic reduction, making for a fresh, light lunch


The Honey Hoagie features The Cabin Cafe's very own honey-walnut chicken salad and is the perfect sandwich for a quick lunch in between finding great deals in the Gatlinburg Glades and Arts Community
In addition to these delicious lunch favorites, this restaurant stands out from most Gatlinburg restaurants in that it offers several vegetarian, vegan, and gluten-free dining options. Even those with dietary restrictions can enjoy a delicious meal at this Glades area restaurant. Some of these offerings include:
The Garden Gatlinburger made with black beans, vegetables, and grains


The Smoky Sausage with sun-dried tomato and basil


The Spicy Italian Pannini with pepperoni, mozzarella, and tomatoes.
No matter what you choose to enjoy at this Glades area restaurant, you're guaranteed to have a great meal with spectacularly friendly service. While you're eating, enjoy looking around at the arts and crafts that decorate the cafe that you can take home as a souvenir from your cabin vacation. In fact, we provide a number of cabins in the Glades Road area of Gatlinburg that are perfect for enjoying a Smoky Mountain vacation off the beaten path.
Written by Cecila Jones