Looking for one of the best barbecue restaurants in the Smoky Mountains? There are plenty to choose from, but Bennett's Pit Barbecue in Gatlinburg, TN is definitely a top contender.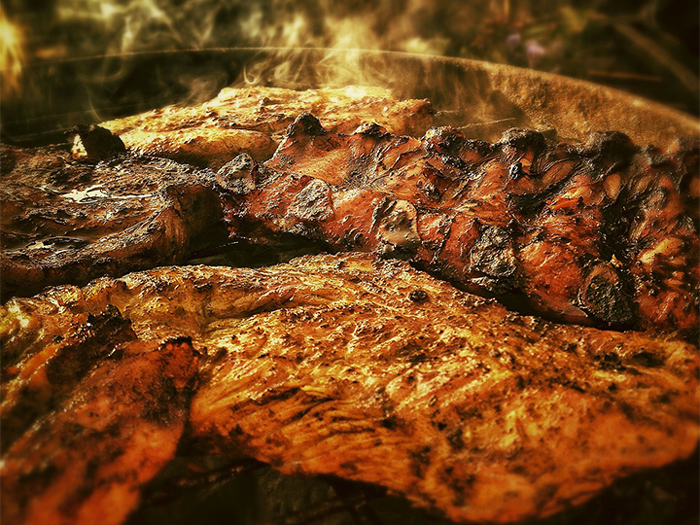 For decades, visitors have flocked here to find hickory-smoked goodness that spends up to 14 hours in Bennett's own roasting pit. When you visit Gatlinburg, this restaurant is definitely worth trying – especially if you're planning a family or group vacation in the Smoky Mountains.
Bennett's serves breakfast, lunch and dinner all year around and is a perfect spot to find a satisfying meal in the heart of the Smokies!
For Breakfast
This 50 item breakfast bar is a satisfying to get ready for a great day of exploring downtown or the Great Smoky Mountains National Park. You'll find all the country breakfast classics like scrambled eggs, bacon, grits sausage patties, oatmeal, sausage gravy, pancakes, baked goods, fresh fruit and barbecue pork.
That's right. If BBQ Pork suits your fancy at 8 AM in the morning, Bennett's will be happy to oblige your craving for sweet savory pork goodness.
For Lunch And Dinner
This classic barbecue restaurant has all of the traditional favorites with some exciting additions. Here's just a few of the most popular recipes at Bennett's Barbecue in Gatlinburg, TN!
Starters – Deep-fried pickle chips, hickory wings, fried hot pepper cheese squares, onion blossom, and barbecue nachos.
Sandwiches – Slow-roasted pork barbecue, beef brisket, or sliced sausage. Barbecue chicken sandwiches and burgers are also available.
Main Plates – Roasted pork shoulder, hog legs, beef brisket, sausage, fried catfish, chicken breast, pork ribs, beef ribs and mesquite-rubbed steaks.
Sides – barbecue beans, fries, green beans, cole slaw, salad, baked potato, spicy macaroni and cheese, deep-fried corn, onion rings, or potato salad. Enjoy two sides with a sandwich or full plate.
Specialty Barbecue Sauces
Any barbecue restaurant worth it's salt has delicious, homemade sauces to complement their perfectly roasted meats. In this case, Bennett's is no exception and offers these finger-lickin'-good sauces to enjoy with their sandwiches and entrees:
Honey-Q4U – A sweet, tangy sauce made with real honey.
Mustard's Last Stand – A savory mustard concoction with plenty of flavor and a bit of heat.
Puckering Pig Barbecue Sauce – A classic sweet and spicy sauce.
Bennett's Rowdy BBQ Sauce – A standard barbecue sauce filled with smoky goodness and just the right amount of tang.
Kids Menu
This family-friendly restaurant is a nice, low-key restaurant that the kids will love. In addition to all the barbecue favorites like ribs and sandwiches, they offer burgers, tenders, hot dogs, corn dogs, and chicken breast for pickier eaters.
All kids plates come with a side and a free "dirt" desert made with chocolate pudding, cookie crumbs, and gummy worms.
Hours and Location
You can enjoy breakfast from 8:00am to 11:00pm at Bennett's. For lunch, diners can eat here available from 11am to 3pm year-round. Dinner is served until closing time, which varies depending on the season.
Sunday - Thursday
Jan – March – Open Till 8pm
March – May – Open Till 9pm
May – Nov – Open Till 10pm
Nov – Jan – Open until 9pm
Fridays and Saturdays
Jan – March – Open Till 9pm
March – May – Open Till 10pm
May – Nov – Open Till 11pm
Nov – Jan – Open until 10pm
You'll find Bennett's Barbecue on River Rd. just off the main drag. This peaceful part of Gatlinburg is well within walking distance from most of downtown, but there is also parking available for customers.
Insider Tip: Since this local favorite is tucked away from the main parkway, Bennett's isn't as crowded as other restaurants on the main strip. If you're searching for a place to feed a hungry group in Gatlinburg, Bennet's Pit Barbecue can often seat large groups with minimal wait time.
Another Bennett's location is in Pigeon Forge between traffic light numbers 6 and 7. This restaurant is right across the street from Adventure Golf and it serves all of the same delicious dishes as the Gatlinburg restaurant.
Contact:
Bennett's Pit Barbecue
714 River Rd.
Gatlinburg, TN 37738
865-436-2400
A
- Cabins USA Gatlinburg
B
- Bennett's Pit Barbecue Restaurant
Written by Hayden Brown