A visit to Gatlinburg, TN is a great chance to explore the rich history of America's first frontier. Better yet, you don't even have to drive to the Great Smoky Mountains National Park to explore this fascinating heritage!
On a stroll through Downtown Gatlinburg, many visitors stumble upon this old cabin with rough-hewn logs not far from Ripley's Aquarium of the Smokies. This historic cabin may seem out of place so close to modern attractions, shops, and restaurants, but this historic site has a remarkable story to tell.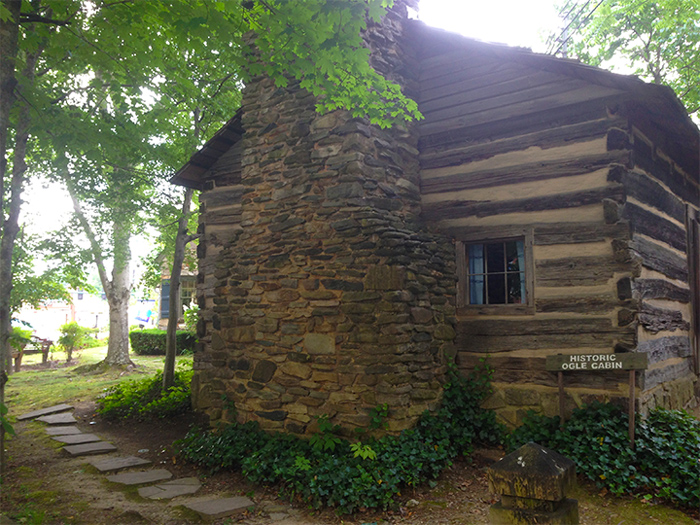 This is the Historic Ogle cabin at its old location near the Arrowmont Gallery. In 2016, this historic treasure was moved to the Gatlinburg Welcome Center a few blocks away.
So how did this simple cabin come to be located along the action-packed main drag of Gatlinburg, TN?
The answer lies back in Gatlinburg's earliest days.
History of The Ogle Cabin in Gatlinburg
In 1802, William Ogle, a farmer from South Carolina, travelled to a lovely valley at the foot of the Great Smoky Mountains. With plenty of land, tall forests, and fresh streams, William decided that this area, known as White Oak Flats, was a suitable place to relocate his family.
Ogle with help from local Cherokee, selected a site, cut and hewed logs to make a new home, and then returned to South Carolina. Tragically, he contracted malaria and died in 1803 before he could bring his family to what he called "the land of paradise."
Four years later, his wife Martha, their children, and other family members found their way to the Smoky Mountains and discovered the logs that William had prepared. They completed this cabin in 1807 and became the first European settlers in what we today call Gatlinburg.
You may notice that there are several other historic cabins in the national park that bear the name Ogle on the nearby Roaring Fork Motor Trail. These of course are from descendants of the original Ogles who began the first settlement in this part of the Smoky Mountains.
Though the Ogle Cabin has been moved from it's original location, it stands as the oldest preserved cabin in the Smoky Mountains area.
While some history lovers may be sad to hear of yet another historic structure being moved for new development, the Ogle Cabin has been moved before.
The development of the new Anakeesta Village development near the Arrowmont Gallery made it necessary to move this historic structure. To preserve the Ogle Cabin for future generations, the developer generously offered to move the cabin to its new location adjacent to the Gatlinburg Welcome Center.
Directions, Details, and Hours
You can find the historic Ogle cabin in Downtown Gatlinburg at Traffic light # 3 next to the Gatlinburg Welcome Center. This area is a short walk from the Ripley's Aquarium of the Smokies.
For parking, there is a Gatlinburg city parking deck adjacent to the Welcome Center that offers parking for only $6 per day.
There is no entry fee and the Ogle cabin is open to explore from 10 am to 4 pm on Mondays through Saturdays.
Inside, visitors can learn about what life was like for Gatlinburg's earliest settlers. Historic antiques like a loom, spinning wheel, and other tools are on display. Occasionally, a live demonstrator in period dress is in the cabin to give an informative tour of the cabin.
After you explore the cabin, check out the Gatlinburg Welcome Center for maps and information on more historic sights and attractions to visit during your stay in the Smokies!
Want to learn more about Gatlinburg's history? You can tour the Gatlinburg museum or take a scenic drive on the Roaring Fork Motor Trail to see even more historic sites in the Smoky Mountains!
Contact:

520 Parkway
Gatlinburg, TN 37738
A
- Cabins USA Gatlinburg
B
- The Ogle Cabin in Gatlinburg
Written by Hayden Brown