When is the last time you saw taffy, fudge, and other delicious goodies churned in large, old-fashioned candy machines? While it's nearly impossible to find classic fresh candy, you can't miss the delicious smells wafting from the Ole Smoky Candy Kitchen when you stroll through downtown. No trip to Gatlinburg is complete without stopping by this candy kitchen to see these treats being made for you!
This Gatlinburg institution dates back to 1950 when a young couple settled in Gatlinburg to make their fortune with delicious candy. They loved showing visitors how their candy was made, so they brought the old-fashioned candy machines out front so that everyone could admire these unique machines at work.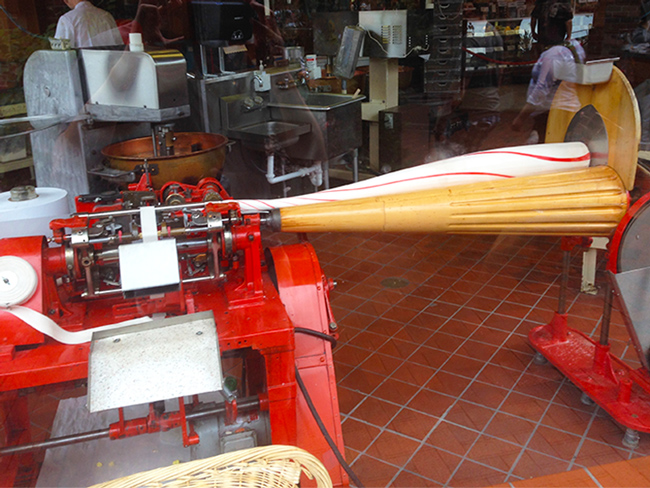 The taffy machine is especially mesmerizing as it stretches colorful batches of taffy to perfection. While taffy may sound like a lackluster candy at best, the fresh made, old-fashioned saltwater taffy at the Ole Smoky Candy Kitchen is a cut-above the rest. Chances are, you've never tried anything quite like it.
There are 28 delicious flavors to sample:
Fruit Flavors
Banana
Orange
Peach
Grape
Key Lime
Lemon
Lime
Raspberry
Strawberry
Watermelon
Wild cherry
Baked Good Flavors
Butter Scotch
Cinnamon
Chocolate
Clove
Licorice
Molasses
Peanut butter
Peppermint
Rum
Sassafras
Spearmint
Vanilla
Winter green
New Moonshine Flavors
Made With Ole Smoky Moonshine
Apple Pie Moonshine
Blackberry Moonshine
Moonshine Cherry
White Lightin'
The Ole Smoky Candy Kitchen also gets rave reviews for their homemade fudge. An especially delectable treat is a Pecan Log – fudge coated in large pecan halves.
Famously, a bear once broke into the Ole Smoky Candy Kitchen and began munching on delicious fudge, taffy, and caramel apples. The determined bear, later estimated to be around 200 pounds, broke through a glass door and chowed down before workers arrived for their early morning shift. After satisfying his sweet tooth, the bear was chased away by local law enforcement.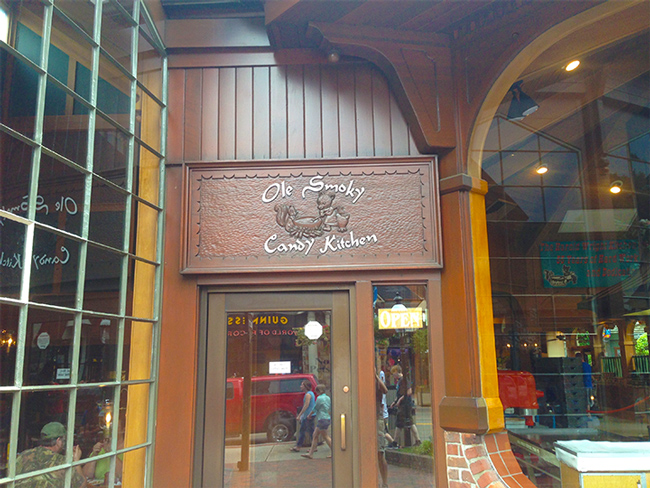 Hours and Location
There are two locations in Gatlinburg. The original shop that started it all is a short walk from the Gatlinburg Space Needle at 774 Parkway Gatlinburg, TN. A newer location is in the Village Shops closer to the Aquarium of the Smokies. Both shops are open from 8:00 am till 11:00 pm at night, so there's plenty of time to enjoy delicious candy, fudge, and taffy in Gatlinburg!
Ole Smoky Kitchen now sells their delicious taffy and fudge online, but if you're in town staying in if you're in town staying in Smoky Mountain cabins be sure to stop by this treasured local institution!
Contact:

774 Parkway
Gatlinburg, TN 37738
865-436-4886
A
- Cabins USA Gatlinburg
B
- Ole Smoky Candy Kitchen
Written by Hayden Brown