Zip Gatlinburg in the Smoky Mountains of Tennessee
Looking for a vacation adventure that's out of the ordinary? How about soaring above the trees while enjoying inspiring views of downtown Gatlinburg? If you are ready for an adrenaline pumping good time, then Zip Gatlinburg is just the ticket for action-packed fun in the Smokies. Located close to downtown, this zipline and ropes course is located right next the Great Smoky Mountain National Park!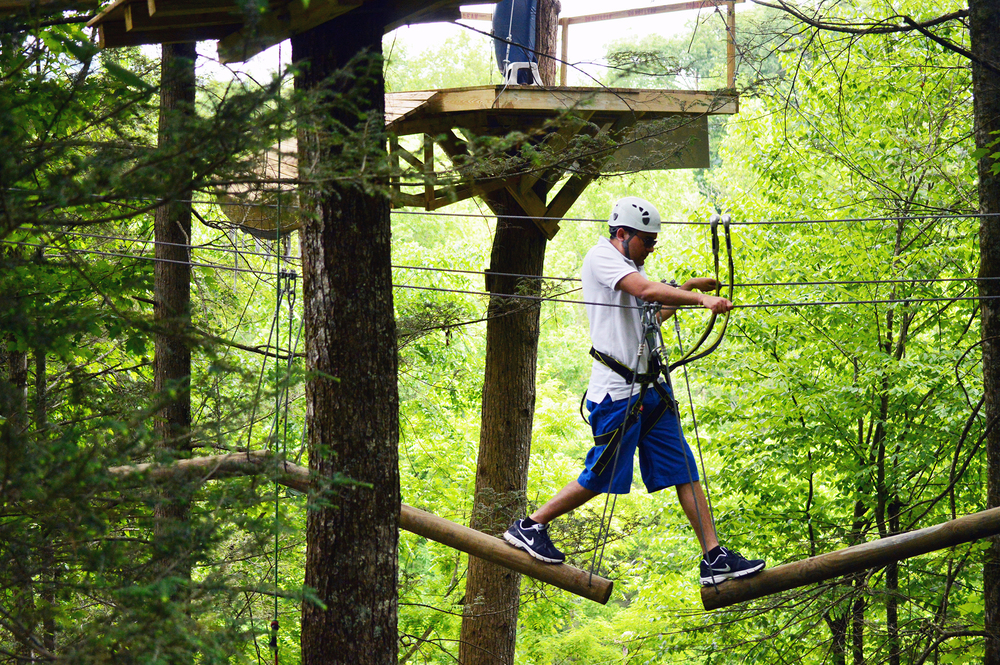 Taking on your fear of heights doesn't have to cost an arm and a leg. This Zipline close to Gatlinburg offers special deals that make this one of the most affordable adventure attractions in the area. Discover why Zip Gatlinburg is a great choice for the whole family to explore treetops in the Smoky Mountains of Tennessee.
Zip Gatlinburg: Easing You Into It
There is a good reason we are afraid of heights. We cannot soar with the birds or climb like the squirrels, so it's only natural we are instinctively fearful of leaving the safe ground. Though you may have a few butterflies in your stomach, Zip Gatlinburg offers several features that ought to settle your nerves:
Industry Certified Equipment

– Full Body Harnesses and Helmets Included.

Two Trained Guides

– No experience necessary thanks to the Zip Gatlinburg guides. They will instruct your group on everything they need to know for enjoying a fun and safe adventure in the trees.

Progressively Longer and Higher Lines

- Zip Gatlinburg offers both a ropes course with 27 features and 9 zip lines. Each of these options start lower to the ground and ascend higher into the trees. This "warm up" helps those who are skittish about heights get used to the feeling of being suspended in the trees (because who wants to be anxious when you could be appreciating the lovely views!)
Taking Your Experience With You
After you conquer your fears and have an awesome time, Zip Gatlinburg offers several ways to take your thrilling experience with you! At the end of the trip there will be great photos of you flying through the trees or tackling the ropes course. Helmet cams and go-pros can also be rented to record your (sort of) death defying adventures!
Tips for Zip Gatlinburg
To start your tree-top adventure, simply book a tour with this Gatlinburg Zipline outfitter. Be sure to try to reserve a place well in advance. Space on this adventure is limited! Also, be sure to make the most of your experience with this company's special deals and combos, you surely won't regret it.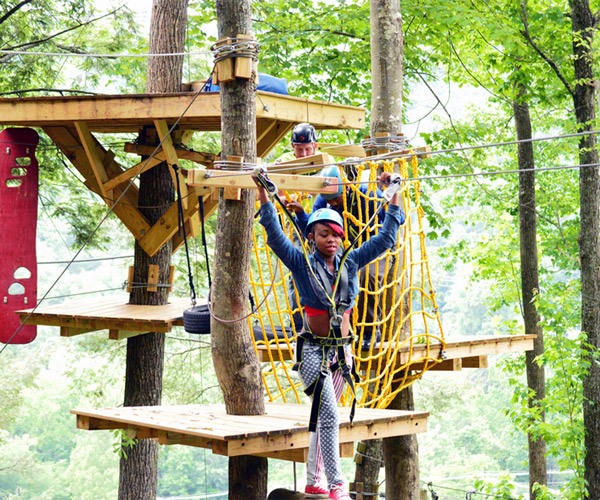 Checking in for this Zip Line is quick and easy. Pick up to go to the course is near the Gatlinburg Space Needle. Afterwards, you will be transported to the course which is only a short drive away from town. Such a great location ensures you won't have to spend a lot of time waiting to embark on your next adventure in Gatlinburg, TN! Or if you've had enough fun for the day, you can relax in your Gatlinburg cabin and trade stories of your adventure high in the trees.
Contact:
Book Zip Gatlinburg
125 Historic Nature Trail
Gatlinburg, TN 37738
865-430-9475
bookit@zipgatlinburg.com
http://zipgatlinburg.com
A
- Cabins USA Gatlinburg
Written by Hayden Brown