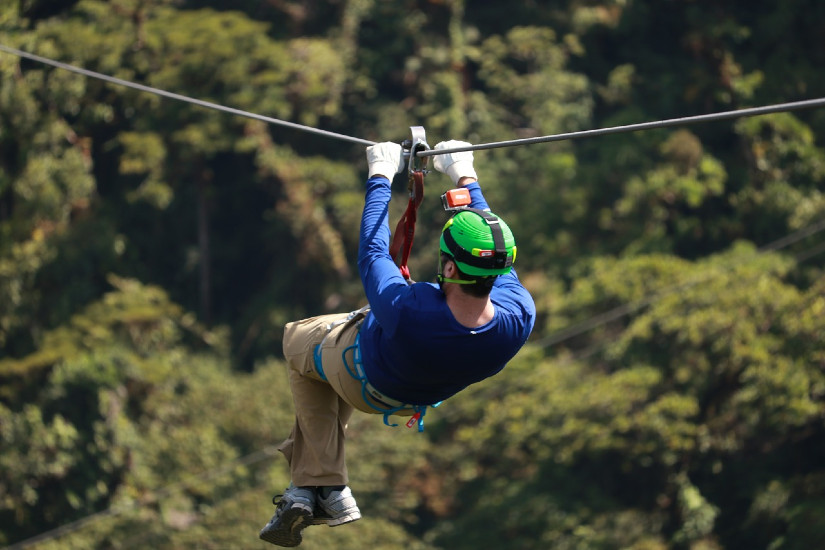 Soar across the Smoky Mountains skyline via a zipline tour that places you high in the air offering a unique perspective of Gatlinburg and the surrounding area. This popular activity is only growing in popularity year over year thanks to its perfect combination of adventure and nature for its customers. Go on a tour like no other with Climb Works Smoky Mountains!
About Climb Works Smoky Mountains
The team behind Climb Works started doing these tours to satisfy their mission of combining nature and adventure into their activities. In their mind, an adventure should create excitement and fear, while nature is calming and relaxing. As such, their zipline tours are the perfect balance needed so their customers can "push beyond the comfortable."
A Guided Tour
Everyone has different experience and activity levels. Plus, most visitors either want to see the mountains or they want to see the forests, which is why there are separate zipline tours available for Climb Works' customers.
Treetop Zipline Tour
The Treetop Zipline Tour provides guests an authentic tour across the treetop canopy. Featuring unique sky bridges, nine ziplines, and an ATV adventure to the top, you'll enjoy one of the best Smoky Mountains experiences available with this tour of the Great Smoky Mountain National Park, the most visited national park in the country.
This tour is roughly 2.5 hours long for those who are seven years old and up. Due to the zipline nature, the maximum weight allowed is between 250-270 lbs depending on the person's height. This zipline tour has a difficulty rating of easy, making it a perfect introduction to zipline tours.
Mountaintop Zipline Tour
A newer option than the previous tour, this dual-line zipline tour takes you soaring above the mountaintops. Boasting higher vantage points and longer ziplines, you'll enjoy taking in thrilling 360? views of the Smoky Mountains while learning more about the Smokies' history. Along with the ziplines, you'll also walk across four aerial bridges and enjoy ATV fun to the top of the mountain.
This tour is roughly 2.5 hours long for those seven years old and up. Like the other tour, the maximum weight allowed is between 250-270 lbs, pending the person's height. This zipline tour has a moderate level of difficulty.
Special Packages
Do you want more out of your zipline tour experience? Fortunately, Climb Works offers a few package options to help visitors maximize their enjoyment by finding more fun things to do in Gatlinburg. Their package options include:
Climb Works + Lumberjack Package
Lumberjack Feud is one of the newest attractions available in the Smokies and is a one-of-kind 1.5 authentic lumberjack show that's fun for the whole family. After the show, your group can enjoy a lumberjack competition at the CLIMB Works-designed-and-built adventure park. The adventure park boasts the following:
Harnessed-in log rolls
Boom runs
Speed climbs
80 ft jump tower
Zipline rollercoaster - The Flying Ox
Climb Works + Raft Package
When not enjoying the thrills Climb Works has to offer, you'll enjoy the delights found with Smoky Mountain Outdoors. They provide an exciting 6.5-mile raft trip that takes you through class 3 and class 4 rapids along the heart of the Smoky Mountains. A certified raft guide will be with your group to navigate your raft throughout the journey keeping you safe.
Ultimate Adventure Package
Can't decide between the two packages? You don't need to when you go for the ultimate adventure package. This package combines the two separate packages into one whole experience that is sure to be a hit for your group's adventure lovers.
Final Thoughts on Climb Works Smoky Mountains
A vacation to Gatlinburg should be one that includes adventure and new experiences while remaining safe. Climb Works Smoky Mountains offers an unforgettable experience that ensures you'll see things in a whole new light while having a ton of fun. Don't miss out on one of these Gatlinburg tours!
Contact:
Climb Works Smoky Mountains
155 Brannam Hollow Rd.
Gatlinburg, TN 37738
865-325-8116