Andrews Bald in the Great Smoky Mountains National Park
Highlights: Panoramic Views, High Elevation Grassy Bald, Spruce Fir Forests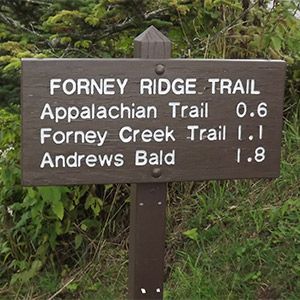 Round Trip: 3.5 Miles
Elevation Gain: 500 Ft
Directions: From Gatlinburg, TN, drive to Sugarlands Visitor Center. Continue 13 miles on Newfound Gap Road up to Newfound Gap. Turn right onto the Clingmans Dome Road and follow it for 7 miles until you reach the Clingmans Dome parking lot. This parking lot also serves as the trailhead for the Clingmans Dome trail as well. Andrews Bald is accessed from the Forney Ridge Trail.
Andrews Bald Trail Description
Looking for Smoky Mountain hikes with views? It's hard to imagine a better destination than Andrews Bald. This high elevation bald provides hikers with panoramic views of the Smoky Mountains. Better yet, this trail is less crowded than other hikes near Clingmans Dome and is a moderately difficult hike. Rather than climbing up the mountain, hikers start their trip at the parking lot and take a gorgeous trail down to the bald. The trail has been significantly improved in the last decade thanks to dedicated trail crews who have built stone stairs and natural drains to ensure a safe a pleasant hiking experience. They have also placed wooden boards on flat places in the path to help protect this delicate ecosystem from erosion. You can see their handiwork on throughout this trail.
As you descend to Andrews Bald, you will see a beautiful Spruce and Fraser Fir Forest.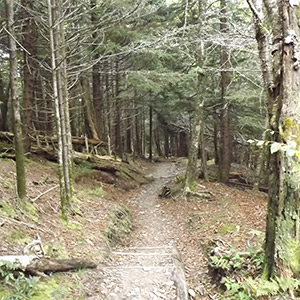 These lovely evergreen forests are typical of high elevation mountains in the Southern Appalachians. This type of forest thrives at elevations above 5,500 feet where it is cold, wet, and windy weather for much of the year. Incidentally, Fraser firs are commonly used as Christmas trees but can be seen here growing in the wild. This forest is a remnant of the last ice age in North America. Similar forests can be found at higher latitudes in Canada. Be sure to stay on trail for the health of this unique ecosystem.
After a steady descent the trail levels out and there are some ups and downs before you reach the bald. Once there, hikers will find a wide, grassy field that offers panoramic views of the Smokies. On this field with an elevation of 5,920 feet, there are also mountain wild flowers and flame azaleas that bloom in early June. This is a great spot to relax, enjoy mountain breezes, and take in great views below. From here, you are primarily looking at the North Carolina side of the national park.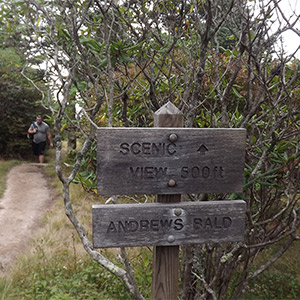 On the return trip, be sure to pace yourself. In this case, what goes down must come back up (at least to get back to your car). Be sure to take your time and drink plenty of water. A walking stick or trekking poles are not a bad idea for taking care of your knees.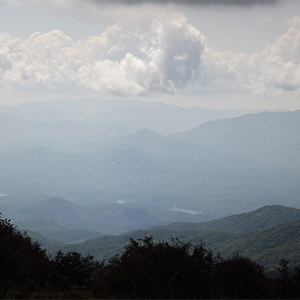 Best Time of Year to Hike Andrews Bald
During the fall and spring, there is likely to be ice and snow on this trail so proceed with caution. It is rare to get to hike to the bald in winter since the ridge-top Clingmans Dome Road is often closed by December. Still, it is doubtful a hiker would want to make a trip here in the winter. Though the view would be gorgeous, they could expect high drifts of snow, high winds, and dangerously cold temperatures at this elevation. Hiking to Andrews Bald in the spring and summer months is best. Wild flowers bloom in late spring, as do the orange flame azaleas, and make for gorgeous hikes. Andrews Bald is also a great way to beat the summer heat. This high elevation hike is always 5 to 10 degrees cooler than Gatlinburg, TN below. Be sure to check the weather before you make this hike. Lighting is a potential danger when stormy weather moves in and this high elevation bald is exposed lighting storm strikes.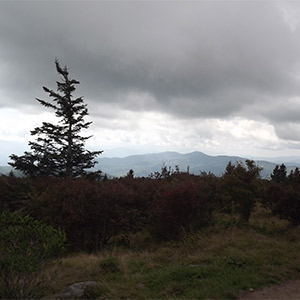 Final Thoughts on Hiking Andrews Bald
Upon finishing your hike of Andrews Bald, you may want to continue to the peak of Clingmans Dome. It is a steep climb to the observation tower, but here you can enjoy panoramic views and the highest point in the national park. Better yet, a hiker would have completed nearly 1,000 feet of elevation gain on these trails. After a challenging day like this, you'll be glad to retire to one of our Gatlinburg cabins after a day of hiking adventures in the Great Smoky Mountains National Park.
A
- Cabins USA Gatlinburg
B
- Andrews Bald Hiking Trail
Written by Hayden