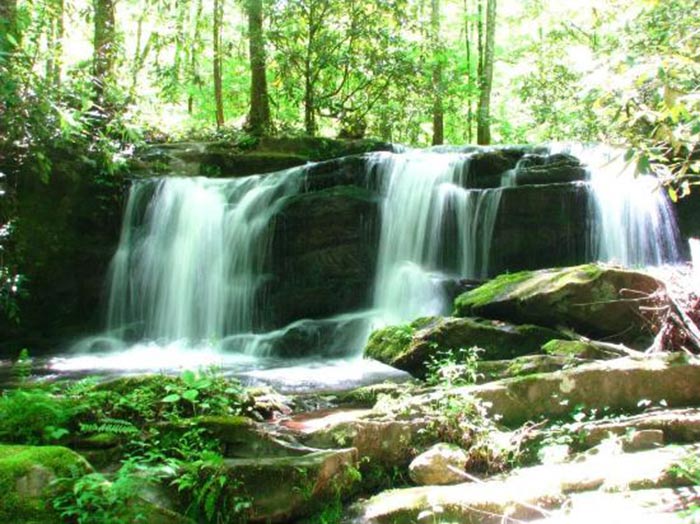 More and more, the modern world is detached from the beauty of nature. Children spend less time outside. Most people live in cities. Our iPhones and Androids have become semi-attached appendages to our bodies. We're constantly bombarded by stimuli that keep us focused on screens and not the world around us. A Walk in the Woods seeks to change this.
Leave your phone at the trailhead and embark on a guided tour of the Smokies that gives you more than just views. When you go hiking in the Smokies with this company, you'll enjoy a gaining a breadth of knowledge and a new understanding of the natural world that surrounds you.
Born out of the desire of owners Erick and Vesna Plakanis to shift their priorities from their busy careers, A Walk in the Woods lives up to its mission statement - to raise environmental awareness through direct positive experiences in nature.
Knowledgeable Guides at A Walk in the Woods
Though they come from a variety of backgrounds, the guides at A Walk in the Woods are all personable, knowledgeable, and eager to impart their knowledge to vacationers on their tours.
Currently, guides at A Walk in the Woods range from an advanced history student who did her thesis on Elkmont to a former spokesperson for the Great Smoky Mountain National Park. Many of the tour guides are certified through the National Outdoor Leadership School as well as have previous experience as guides at other outdoor centers, such as the Lindsay Outdoors Center.
Regardless of which guide is available for your tour, you can be certain that their individual knowledge will turn your hike into a learning experience. From history to edible plants, these guides will point out the rich culture and natural wonder that is so abundant in the Great Smoky Mountains.
Education, Exercise and Camaraderie at A Walk in The Walk in the Woods
It's far more than a simple walk in the woods at this company. The expert guides will take you on tours that are specialized to highlight aspects of the history and wildlife of one of the most spectacular parts of the United States (in our humble opinion).
Don't expect to simply see scenic forest views on your hike. A Walk in the Woods prides itself in helping hikers look beyond gorgeous vistas and see the forests of the Smokies for what they are - diverse microcosms that hold a wealth of information in even under the smallest rock.
Instead of trekking along from point A to point B, you'll stop to taste edible plants, hear stories about early settlers, and maybe even learn how to identify poison ivy (a helpful skill if you want to ensure a pleasant vacation) on trails that are often unmarked. Every step you take with your guide is a chance to to expand your knowledge of the world.
A Walk in the Woods offers a whole host of tours that guests can enjoy From quick 1 hour walks to multi-day backpacking trips, you can fit an informative hike through the woods into your Smoky Mountain vacation no matter what your schedule is like. Some favorites at A Walk in the Woods include:
Spring Wildflower Tours -

Taking you down oftentimes less traveled paths throughout the park, you'll be sure that a painters palette of golds, pinks, purples, and blues will be waiting for you on this tour.



A Stroll Back in Time -

This trail is set in the Greenbrier community, on of the first areas settled in the park. You'll walk along a mountain stream, explore a family cemetery, tour a restored cabin, and more, all while learning about the daily experiences of early settlers in the area.



Natural Pools and Waterfalls -

As you hop along rocks in mountain streams along a secret trail, you'll head towards a series of waterfalls deep within the forest.



Night Crawl -

While everyone else is tucked in their beds, pack up your flashlight and explore the realm of the night in the Smokies. Learn why owls hunt at night. Chase fireflies. Learn about bats' echolocation. There's a whole different world waiting at night in the woods.
A Walk in the Woods also offers a special hike for children, which will plant a sense of wonder in your young naturalist's heart. Driving tours, which do involve some walking, are a great alternative for those who fell they aren't quite up to a hike to explore Newfound Gap, Cades Cove, or Clingman's Dome.
Regardless of what tour you choose to take with A Walking in the Woods, it will be one of the most informative experiences you'll every have hiking in the Smokies. After a long, tiring hike, head back to your cozy Gatlinburg cabin and enjoy a peaceful nap after a day out in the woods.
Contact:
A Walk in the Woods
865-436-8283
http://www.awalkinthewoods.com/index.html
Written by Cecila Jones