Ramsey Cascades Trail Facts
Highlights: Tallest Waterfall in the National Park, Old Growth Forest
Round Trip: 8 Miles
Elevation Gain: 2575
Directions: From Gatlinburg, drive northeast on US-321/East Parkway for 6 miles. On the right, there is a sign for the Greenbrier entrance to the Great Smoky Mountains National Park. Turn right here and continue several miles on a single-lane gravel road. After passing a rangers station and camp ground, you will eventually see a sign to turn left across a bridge towards Ramsey Cascades. Continue a few more miles to the Ramsey Cascades Trail head and parking area. Four-wheel drive vehicles with higher carriages are recommended.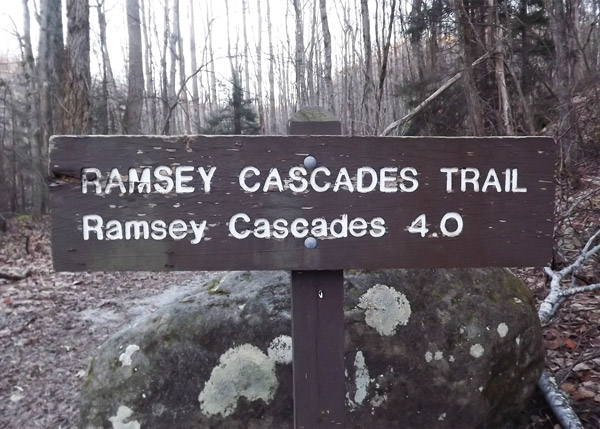 Ramsey Cascades Trail Description
Before setting out on this trek, hikers should know several things. This hike is one of the most spectacular hikes in the park, but it is challenging and requires preparation. Be sure to bring enough food, water, and proper clothing for the weather. The hike to the falls is just over 8 miles and is quite difficult. Sturdy shoes and a walking stick are recommended. This strenuous hike climbs over 2,500 feet and can take 5 to 7 hours for a round trip.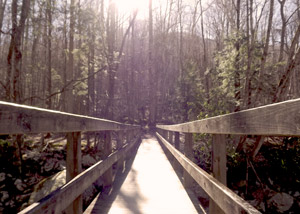 At the trail head, hikers will follow a trail along an old roadway next to the Ramsey Prong of the Little River. This stretch of the river is gorgeous and is a popular area for fly fishermen. This section of the trail is a steady climb, but is relatively wide and the terrain is not too difficult to pass. At 1.5 miles, this road comes to an end and changes into a single-track trail.
On this stretch of the Ramsey Cascades trail, hikers will continue to follow the winding Ramsey Prong up the mountain. On the way, there are several log bridges that make for great photo opportunities. There are steeper sections of trail where trail crews have added steps and other improvements to make the trail safer. This large prong of the Little River begins at Mt. Guyot, the 2nd highest peak in the Smokies.
In the last two miles before you reach Ramsey Cascades, hikers will pass through sections of forest that were never logged. Areas such as this are called "virgin forest" and feature beautiful large trees that are well over 100 years old. Take some time to enjoy massive Yellow Poplars, Hemlocks and Birch trees. The largest tree you will see is over 7 feet in diameter. Sections of forest like this used to dominate the Eastern United States, now only less than 1% remains intact.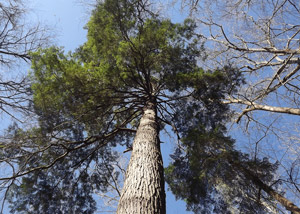 Before reaching the tallest waterfall in the Great Smoky Mountains National Park, hikers will have to carefully cross a few streams before reaching the main attraction. Take care on these sections and maybe use a walking stick or trekking poles to safely navigate these areas. These sections of trail can be pretty rocky so move carefully. After passing through several gorgeous mountain forests, you will reach the falls which feature water running down 80-100 ft cascades.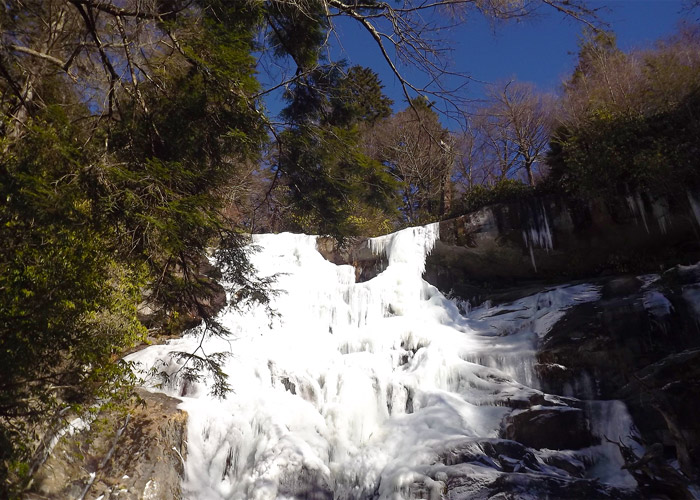 These images were taken during a winter hike when Ramsey Cascades was completely iced over. At the base of this large waterfall, you'll find a large swimming hole that is perfect for taking a dip in the summer months. Be careful around the falls and watch children closely, there have been several deaths in around the falls over the years. There is a great sitting area on large boulders for enjoying lunch with a view before making your return journey that is completely downhill. Be sure to bring a camera to capture the natural beauty and stunning scenery you will find along the Ramsey Cascades Trail. When you return your Gatlinburg, TN cabin rental, you can rest well knowing you completed one of the most challenging and rewarding trails in the national park.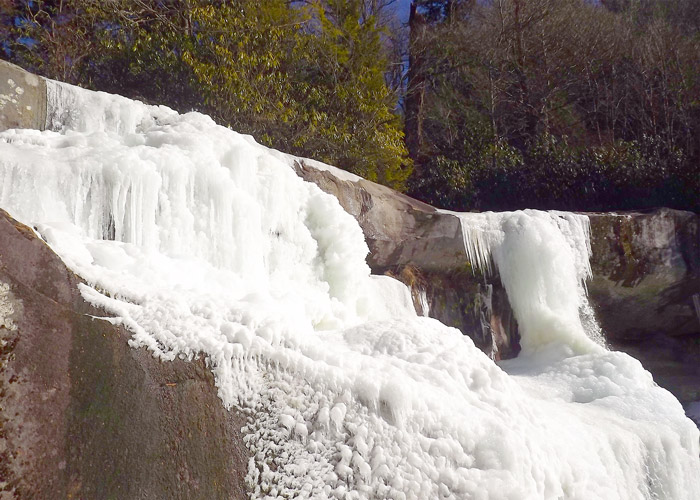 A
- Cabins USA Gatlinburg
B
- Ramsey Cascades Trail
Written by Hayden Brown