Country Tonight Theater: Pigeon Forge Music Shows
Looking for fun, family-friendly entertainment? Look no further than Country Tonite Theater in Pigeon Forge! This Smoky Mountain Theater has been hosting award-winning performances for over 10 years. What to expect from a show at Country Tonite? In short, a little bit of everything. With music, side-splitting comedy, and dance, this theater has a lot to offer for the whole family.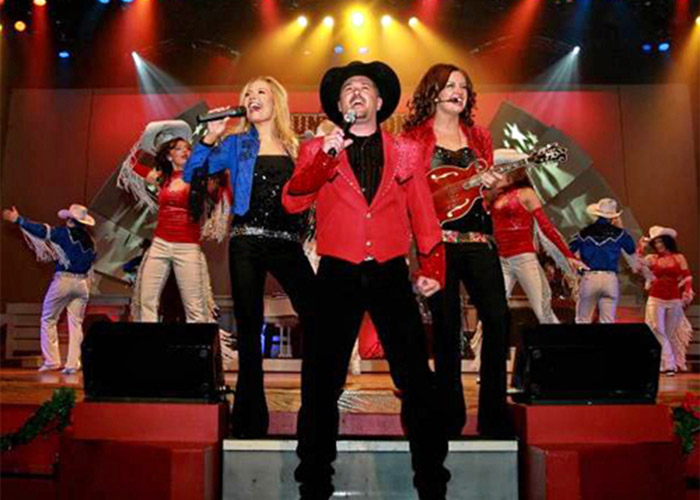 This 1,500-seat multi-million dollar theater with state-of-the-art lighting and sound equipment delivers top-notch entertainment. Known for featuring arguably the best performers and dancers in the business, an evening at Country Tonite is sure to be a good time. Country Tonite is one of the most popular shows in Pigeon Forge and is consistently voted "Show of the Year" by the North American Country Music Associations.
With a variety of shows featuring accomplished country musicians to new up and comers, Country Tonite Theater offers one of the most dynamic music shows in Pigeon Forge and the Smoky Mountains.
Shows at Country Tonite Theater
Nearly every night of the year, Country Tonite Theater hosts at least one show. During the slow season January through March, there are fewer performances. Be sure to check out their performance calendar to see what shows are available during your stay at one of our Gatlinburg, TN cabins. The lineup of shows at Country Tonite includes: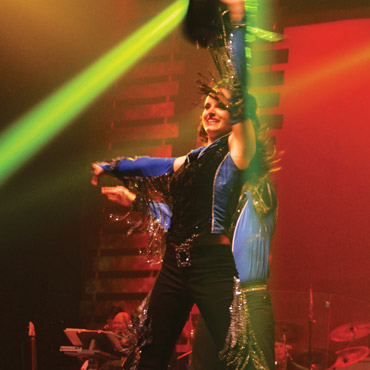 The Country Tonite Show – This quality show features the award-winning cast of Country Tonight Theater. From old country classics to covers of newer songs, this lively performance is positive and upbeat. Complete with some bluegrass, gospel, and patriotic songs, this show channels American values of faith, family, and love of country. The cast of Country Tonite also features two prodigy performers, 13-year-old Willow Osborn on banjo and 12-year-old Collin Chandler on the fiddle. With lively dance routines and stellar singing performances, it's easy to see why this show is a mainstay of the Country Tonite calendar. This show can be seen at 3 PM and 8 PM.
American Oldies – Ready for a blast from the past? This Country Tonite show is an excellent music variety production that features the best hits of the 50s, 60s, 70s, and 80s. The accomplished performers and dancers move effortlessly through the decades and genres to deliver an evening of memorable entertainment. The American Oldies show can be seen on select Fridays at 8 PM.
Morning Variety Show – Led by accomplished musician Patty Waszak, this production features a variety of music hits across several genres. You'll be amazed at the breadth of instruments and sounds this high-energy act takes on. This is the longest-running morning variety show in the Smokies and there's no wondering why. With the best hits from every generation, this is a morning show to put some pep in your step! This show can be seen on select dates at 10 AM.
Celebrity Concerts – These shows are some of the biggest nights of the Country Tonite performance calendar. Legends of country music like Loretta Lynn, Don Williams, and Sammy Kershaw have graced the stage in past years of this performance series. These country acts are definite crowd-pleasers that have years of touring and performing under their belts. You won't find another show in the Smoky Mountains that features such a star-studded lineup.
Christmas Shows – Through November and December of every year, the full-time cast of Country Tonite Theater features a special Christmas show. This festive holiday celebration features nostalgic Christmas songs and ample helping of festive cheer. At this production, you can expect colorful holiday sets, appearances of Santa, Frosty, and the Dance of the Sugarplum Fairy. On Dec. 31st, the Country Tonite Theater goes all out with a fantastic musical performance to usher in the New Year!
Tips For The Country Tonight Theater
Wheelchair Accessible

- This Theater is one of the many handicap accessible theaters in Pigeon Forge.

Celebrity Show Tickets

– Unlike regular show tickets that can be booked online, Country Tonite asks that visitors purchase tickets by calling: 800-792-4308.

Group Rates

– For groups of 20 or more, Country Tonite offers a group package that features two complimentary tickets. Also, this Pigeon Forge music show is part of a network of local attractions that offers vacation packages. These special passes allow groups to save while seeing the best entertainment that the Smoky Mountains offer.

No Refunds

– This theater has a very staunch policy on refunds. Be sure to call ahead and book tickets well in advance for busy shows.
Final Thoughts on Country Tonite Pigeon Forge
With years of experience delivering great live entertainment to the Smokies, this is one theater you won't want to miss. Thanks to a dynamite evening show and the occasional visit from a bona fide country music star, this theater seems well prepared to deliver quality entertainment to the Smoky Mountains for years to come!
Contact:
Country Tonite Tickets
129 Showplace Blvd.
Pigeon Forge, TN 37863
865-453-2003
http://countrytonitepf.com
A
- Cabins USA Gatlinburg
B
- Country Tonite Theater
Written by Hayden Brown