In one word, what audiences will find at the Smoky Mountain Opry: it's action-packed. That's what you can expect from one of the top theater shows in in the Smoky Mountains.
On one of the biggest and best stages in Pigeon Forge, this Smoky Mountain variety show has been delighting audiences for years. The "jack of all trades, master of none" saying does not apply here. The Smoky Mountain Opry does a bit of everything and they do it all well.
What to Expect at the Smoky Mountain Opry
The heart of the show is the old song and dance, but with terrific energy from talented performers. The show flows seamlessly through music and genres from every era. Some of the highlights of past years include:
Motown
The Beatles
Patriotic Tunes
Broadway Music
1940s Big Band
Pop
Rock
Blues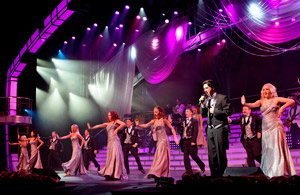 Talented singers and dance paired with live music from a band with an impressive stock of songs. Bringing it all together are special effects and producing to amaze visitors. At one point, musicians even rise into the air and move about the stage as they ace their big solo.
Bottom line, this is a top notch show in Pigeon Forge with all the hallmarks of a professional production.
The Smoky Mountain Opry is home to a variety show – and they mean it. Expect to see these acts and more on the big stage:
Comedians
Illusionists
Acrobatics
Ariel Silk Performers
Motorcycle Stunts
Special Effects
One of the most amazing things about this theater is all of the talented performers you can see in one place. The singers, musicians, and mesmerizing dancers are at the top of their game. The comedians offer family-friendly entertainment and side-splitting laughs. All in all, the quality of this Pigeon Forge show ranks with shows you would find in major US cities. Some of the most striking cast members who grace the stage are real live tigers and a rare white lion.
Insider Tip: This theater show is very family friendly. There is even a "quiet area," a glass booth upstairs where fussy children can be taken. Here, parents can enjoy the show without distracting the audience or performers until their child settles down.
Christmas at Smoky Mountain Opry
One of the highlights of the show schedule is the special Christmas show that begins running in November. This Smoky Mountain theater show completely revamps its set list to bring holiday cheer to the Smoky Mountains.
Beautiful renditions of festive holiday music and Christian hymns are bound to get you in the holiday spirit. Animal cast members in a live nativity scene make an appearance, as well as Santa Claus and acrobatic ice skaters in other scenes.
To end the holiday season with a bang, this theater also produces a special New Years Eve Show.
Pigeon Forge Theater Show Discounts
Ticket prices for the Smoky Mountain Opry are:
$44.95 For Adults
$19.95 For Children
One way to save on your tickets to the Smoky Mountain Opry theater show is to purchase combination tickets with two or more dinner shows or theaters in Pigeon Forge. Save on your Pigeon Forge theater experience when you also book tickets at:
Hatfield and McCoy Dinner Theater
The Comedy Barn
Blackwoods Morning Show
Magic Beyond Belief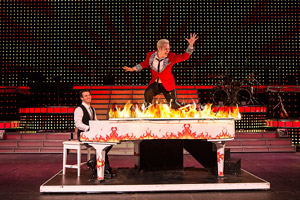 When you purchase combo tickets, you save on the price of purchasing two tickets, plus kids can get in to the other shows for free.
Groups of 20 or more can also inquire about special group rates. A ticket deposit is required, but this theater is happy to accommodate your large group.
Quick Fact: The Smoky Mountain Opry show runs about 2.5 to 3 hours long and includes an intermission. Audiences definitely get their money's worth at this professional theater.
Final Thoughts
Enjoy a great night on the town when you visit this professional theater show in the heart of Pigeon Forge and the Smoky Mountains. This theater boasts a great location that's only a short drive on the Parkway from Gatlinburg cabin rentals and there are several great restaurants nearby to grab a bite to eat after the show.
Contact:
Smoky Mountain Opry
2046 Parkway
Pigeon Forge, TN 37863
800-768-1170
http://www.smokymtnopry.com
A
- Cabins USA Gatlinburg
B
- Smoky Mountain Opry Theater Show
Written by Hayden Brown