When's the last time you saw something completely inexplicable? Were you overcome with a feeling of shock and wonder you just couldn't shake?
Whether it's a magic show or a illusionist's performance, we just can't get enough of the mid-boggling tricks and feats that bend the rules of how the world really works.
If you're fascinated by bizarre, unexplainable phenomena, try making a magic show in Gatlinburg part of your Smoky Mountain vacation!
The Theater
The Iris Theater, located inside the Gatlinburg Space Needle in the heart of downtown, is one of the best venues for magic acts and illusionists in the Smokies.
This intimate 90-seat space allows you sit close to the performers to see what tricks they have up their sleeves. For such a small venue, the Iris Theater consistently hosts some of the most entertaining acts in the Smokies.
The Shows
Performances at the Iris Theater change seasonally, but vacationers can always find a quality magic act, hypnotist, or illusionist to bend the rules of reality. Better yet, this shows are family-friendly and offer a memorable evening of fun for parents and kids.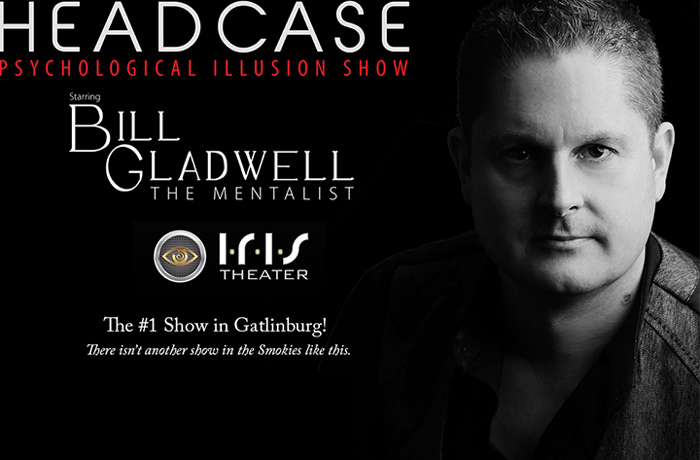 "Head Case" – Psychological Illusions by The Mentalist
Have you ever met someone who can read people like an open book? Or read your thoughts before you speak them?
This uncanny ability may seem like a magic trick, but mentalists are simply people with knowledge of human psychology, showmanship, and the power of suggestion. You can explore the power of the psyche with Billy Gladwell at this fun, surprising, show in the heart of Gatlinburg.
Head Case involves plenty of fun audience participation and feats of mental magic you just have to see to believe.
"A Brit of Magic"
Prepare to be mystified, shocked, and awed by the funny and talented Keith Fields – a British magician with a sense of humor from across the pond. Audiences are consistently drawn under the spell of this witty and interactive show that's all about the laughs and a marvelous feeling of wonder.
This magic show features multi-media bonanza, so you can expect much more than the tired trick of pulling a rabbit out a top hat.
"Comedy Hypnosis"
If you've never witnessed the power of suggestion at work, you should see this hilarious show. Guy Michaels has worked as an entertainer for over 20 years. With his home base in Knoxville, he's crafted a Gatlinburg show perfectly designed for side-splitting laughter.
In reality, audience members become the stars of the show as they are convinced to play the part of a secret agent, a foreign language speaker, or whatever part Guy has in store. You'll be amazed by the human mind and the showmanship of this hypnotist with a flair for comedy.
These 1-person acts are feats in themselves. Just watching a performer have such a command over an audience always makes for a fun evening.
Tickets
During the peak summer season, there are nightly shows from 7 to 11 pm. Show times may be restricted in the off-season, so be sure to call the Irish Theater for an updated show schedule when planning your trip!
Standard tickets for adults are $24.95, while children ages 5 – 12 are $7.95. Seniors +60 and members of our military can see these shows a discounted price of $17.95. Additionally, toddlers and infants of 4 years of age and younger enter for free.
You can book your tickets online at the Iris Theater's website or at the theater itself. For more information on show times, vacationers can call 1-888-482-3330.
Final Thoughts
If you're looking for a theater show that offers something unexpected and extraordinary, the Iris Theater is just the venue to visit. The magic, comedy, and illusionist acts at this theater are easily on-par with those in far larger cities like New York or Las Vegas.
When you're staying at one of our Gatlinburg cabin rentals, be sure to spend an evening at the Irish Theater during your trip for a night of fun, laughter, and pure awe.
Contact:
Iris Theater
115 Historic Nature Trail
Gatlinburg, TN 37738
888-482-3320
A
- Cabins USA Gatlinburg
B
- The Iris Theater Gatlinburg, TN
Written by Hayden Brown