Gatlinburg is known for its fun attractions, outdoor activities, and gorgeous mountain views, but did you know this small mountain town is home to a rich tradition of art and craft-making?
The Arrowmont School of Arts and Crafts is a local organization where you can experience the rich tradition of handmade crafts and art in the Smokies. You'll find this hidden gem right in the heart of Gatlinburg's busy downtown.
It's a must see for experiencing Gatlinburg's art scene, so plan a trip to see the galleries of Arrowmont, tour the campus, or sign up for a course to develop your skills as a craft-maker or artist!
Here's what you should know before you take a trip to Gatlinburg's Arrowmont School of Arts and Crafts!
1. The History of Arrowmont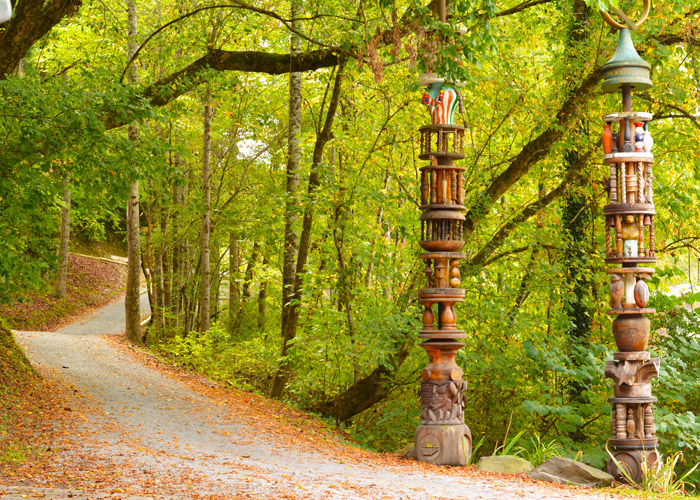 Founded in 1912 as a school to improve the lives and prospects of Smoky Mountain residents, the Arrowmont School would become an iconic fixture in Gatlinburg's arts community and cultural heritage.
For over 100 years, the Arrowmont School has contributed to the development of artists and crafts people and helped to preserve the rich heritage of Smoky Mountain handicrafts.
In this isolated part of the country, making pottery, baskets, cloth, and metal goods was once a necessity for survival. Once Gatlinburg became a popular destination, visitors marveled at skillfully made goods and art made by local residents, creating a cottage art industry that thrives to this day in places like the Glades Arts & Crafts Community.
At first, Arrowmont was small mountain school focused on general education, but it soon added craft-making to its curriculum to preserve old techniques and provide a valuable livelihood for its students.
Though Arrowmont is first and foremost a school, its campus is open to the public year-round. Whether you'd like to tour galleries of art from local and nationally renowned artist, attend a presentation, or visit with artists-in-residents, there are plenty of ways to experience this unique Smoky Mountain treasure.
2. The School of Arts & Crafts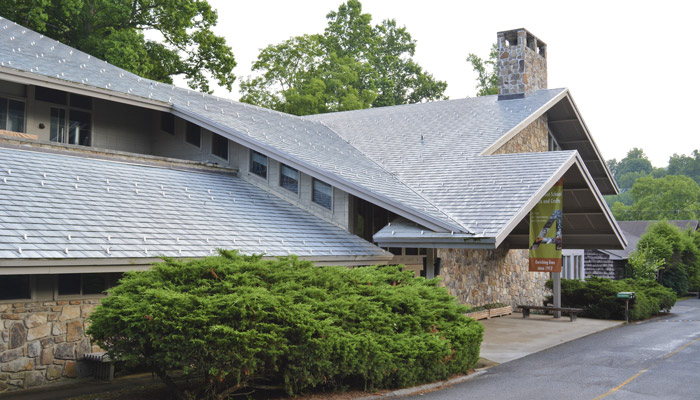 The Arrowmont School of Arts & Crafts also offers a series of workshops and classes for anyone who'd like to learn a new skill or practice creativity. There are classes for all ages and abilities where students will work alongside instructors.
Crafting workshops are for students 18 or older where you can learn to create art & crafts from straw, clay, glass, metal, and fibers. Classes are typically a week long and focus on a variety of subjects from landscape painting to 3D Knitting to making musical instruments from trash. Even if you're not a student, you may see artists at work and courses being taught in one the studios.
The main season of weeklong and weekend workshops runs from May to November where you can receive instruction from nationally known artists and art professors. With over 100 to 160 classes and workshops per year, there is something for everyone, even if you've never tried creating art before. Classes feature a range of abilities, so no experience is necessary.
In January and February, Saturday classes are offered for Adults and Children.
Many of these courses are taught by artists-in-residence spend time at Arrowmont perfecting their skill and displaying their work in Arrowmont's Galleries.
3. Galleries at Arrowmont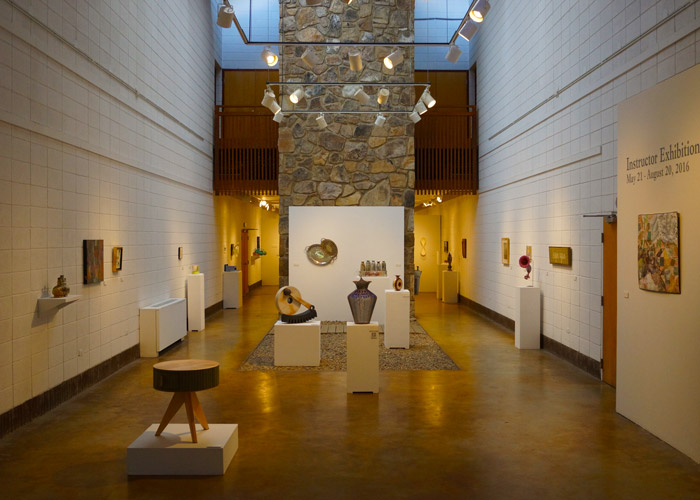 If you only have one day or a few hours to experience Arrowmont, you can explore the Galleries at Arrowmont. On the campus grounds there are 3 dedicated exhibition spaces that feature art from Arrowmont's permanent collection, instructors, artists-in-residence, and touring exhibitions from nationally recognized artists and crafts-people.
To add some educational and cultural enrichment to your Gatlinburg vacation simply take a tour of these galleries that are free and open to the public. With everything from skillfully-made crafts to contemporary art and photography, there's a wide array of exhibits to explore.
The Sandra J. Blain Galleries – This gallery features an ever-changing lineup of exhibits that showcases how talented artists use various mediums and techniques to communicate their ideas.
The Geoffery A. Wolper Gallery – A smaller gallery that features the works of contemporary crafts artists and local photography.
The Jerry Drown Wood Studio Gallery – This displays the touring exhibits and work from the permanent collection that show the development of wood-sculpture and wood-turning.
If you're in the market for a unique piece of art, some of these pieces are for sale. The proceeds from this would go towards supporting the artist and the mission of Arrowmont.
4. The Store
Be sure to stop by the store at Arrowmont during your trip! This shop provides art supplies and materials for artists and students at Arrowmont, but it also has art and crafts for sale.
Here, you'll find a one-of-a-kind gift like hand-thrown-pottery, beautifully weaved quilts, or handmade jewelry made by artists in residence or instructors on campus. You can also find Arrowmont shirts, hats, and coffee mugs and other keepsakes to mark your visit.
Hours & Location
Arrowmont's shops and galleries are open to the public for much of the week.
Monday – Friday - 8:30 AM to 5:00 PM
Saturday - 8:30 AM to 4:00 PM
You can find the Arrowmont School of Arts and Crafts near the Gatlinburg Welcome Center at Traffic Light #3. If there isn't any visitor parking available on the campus, there's a large parking garage next to the welcome center that offers parking for $6 a day.
Contact:
Arrowmont School of Arts and Crafts
556 Parkway
Gatlinburg, TN 37738
865-436-5860
info@arrowmont.org
http://www.arrowmont.org
A
- Cabins USA Gatlinburg
B
- Arrowmont in Gatlinburg, TN
Written by Hayden Brown