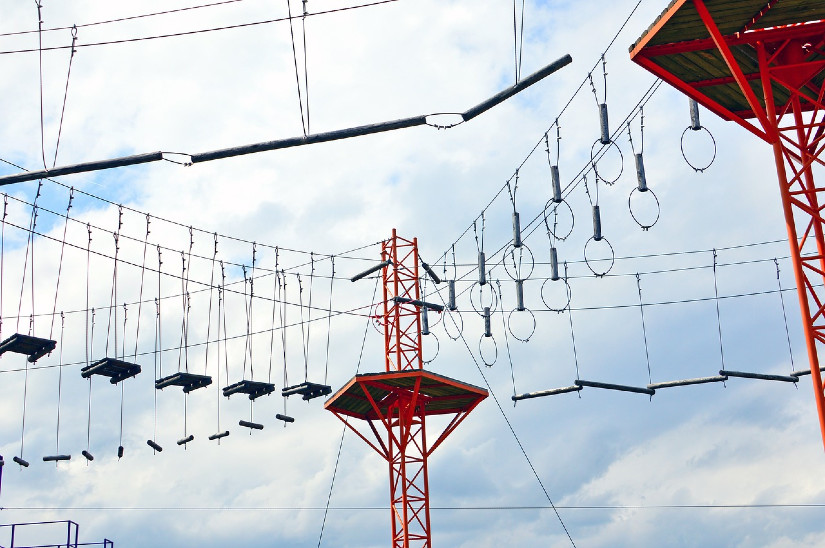 While enjoying your vacation in Gatlinburg, it's important to find fun things to do in Gatlinburg for everyone in your group, so the fun never stops. As such, we're covering an increasingly popular activity that's fun for the whole family. Climb high and visit Gatlin's Rugged Ropes Course in Gatlinburg for your next family adventure.
About Gatlin's Rugged Ropes Course
Gatlin's Rugged Ropes Course is the first course of its kind in the area, and it allows visitors to climb three stories in the air (while harnessed safely). Throughout the courses, you'll have the chance to take on 30+ challenges that include but aren't limited to:
Rickety bridges
Suspended ropes
Balancing obstacles
And more
While gravity may not matter, your skill, agility, and technique do. Prove you're the best in your group or just enjoy a safe yet fun physical activity in-between checking out all the other attractions in the area. Even better, these courses can be tackled solo or as a team for all kinds of fun.
Ropes and More
This course is part of a larger entertainment hub courtesy of Gatlin's. If you're not feeling like trying out the ropes course or want to tackle something different, then consider checking out the following options:
Mini golf
Laser tag
Escape games
Blacklight golf
Bumper cars
Laser maze
Atomic rush
Whatever you choose to do, everyone in your group will have a blast and make fun memories that last long after everyone has gone back home.
Going Over the Details
There's going to play at this enjoyable place, and then there's playing efficiently, so you get the most bang for your buck. That's why we're breaking down the details you need to know, so you're as prepared as possible. The prices are as follows:
$19.99 Ropes Course Only
$29.99 Bundle with Gatlin's Passport
Are you bringing an entire group with you? You'll want to mix and match four different activities with the Gatlin's Passport to enjoy a group rate of $17.99 per person! This package includes the following options:
Outdoor Mini Golf
Indoor Blacklight Golf
Laser Tag
Bumper Cars
Laser Maze
Atomic Rush
Keep in mind that a minimum of 12 people is needed to qualify for this rate. Also, the package must be purchased under one transaction. Some rules to know and follow:
You get unlimited time on the course until you come down
If you're between 42" to 48" inches tall, you must be accompanied by an adult
Proper footwear is required to participate
It's best not to try this course or one of the other physically challenging options if you have medical conditions that may be aggravated by physical exertion.
Final Thoughts on Gatlin's Rugged Ropes Course
The best way to ensure you have an incredible time is to make sure you give yourself enough time to enjoy everything. For this reason, our Gatlinburg cabins are the perfect fit for your next vacation getaway.
Whether you need a large family-sized cabin or a game room cabin for some in-cabin entertainment, we have you covered while you enjoy Gatlin's Rugged Ropes Course in Gatlinburg.
Contact:
Gatlin's Smoky Mountain Fun
Reagan Terrace Mall
716 Parkway
Gatlinburg, TN 37738
865-436-2326