The Christmas Place – Christmas Store in Pigeon Forge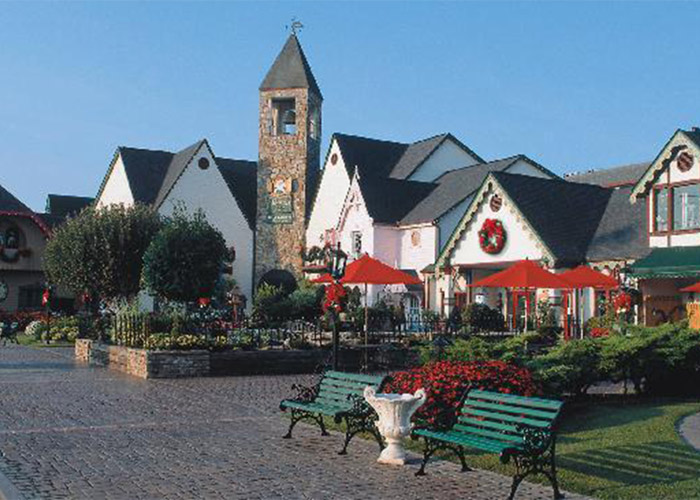 How much Christmas cheer can you pack into one place? You can find the answer in the Smoky Mountains of Tennessee. At the Christmas Place in Pigeon Forge, they have gone out of their way to share the magic of the holidays since 1986.
What was once a small holiday store near the Old Mill has grown into a multi-building complex selling everything Christmas. Whether you decorate for Christmas like the "head elf," love finding unique collectibles, or are just looking for a holiday appropriate gift, this incredible Christmas place has you covered. Step into this Christmas wonderland and enjoy a heaping portion of holiday cheer any time of year!
Décor, Gifts, and Everything Christmas
Situated in a Bavarian-styled square, the Pigeon Forge Christmas Place is in the business of making holiday magic happen. Upon walking in, visitors are struck by the extravagant and festive displays of decorations. You'll find plenty of inspiration for decorating your own Christmas wonderland at home.
The sheer variety and scale of the Christmas Place is hard to wrap your mind around. With 43,000 square feet of decorations, collectibles, and gifts, this Pigeon Forge Christmas shop is the largest in the South. This Christmas store is so famous for the size and breadth of its collection that it single-handedly earned Pigeon Forge a spot in Time Magazine's list of "Most Christmassy Towns in a America." One thing is certain — this Smoky Mountain Christmas store is bound to help you enjoy a holly jolly Yuletide season.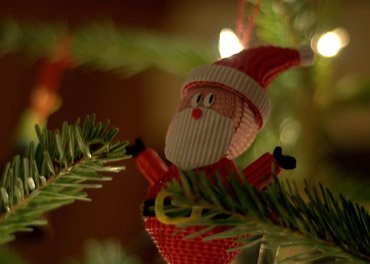 The Christmas Place has everything thing you need to make your season merry and bright:
Stockings
Porcelain Christmas Villages
Christmas Lights
Christmas Collectibles
Adorable Ornaments
Gifts
Jewelry
Apparel
Nativities
Garlands
Wreaths
And More!
There are also toys, dolls, and puzzles for boys and girls (who aren't on the naughty list!) During the Christmas season, the store also hosts a jolly singing Santa who visits with the children and plays holiday songs on guitar. As always, you can purchase pictures with Santa and the kids can let him know their what gifts to bring down the chimney.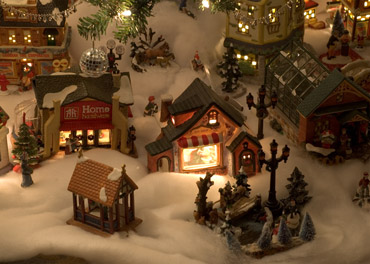 The helpful and cheery staff clad in red like Mr. and Mrs. Clause will be happy to help you guide you through this holiday wonderland. Chances are, you'll probably need it. The decorations here hail from every brand in the business and cover every conceivable theme and Christmas story. There are several highlights of displays that are highlights of any trip to the Christmas Place:
A Forest of Christmas Trees

– A room filled with lit artificial Christmas trees that create a festive forest worth admiring.

Massive Porcelain House Village

– Remember those charming porcelain villages complete with tiny decorative shrubberies and figurines? The Christmas Place has a truly extensive collection of various brands and themes.

Custom Decorated Gifts

– For Christmas decorations with a personal touch, this Smoky Mountain Christmas shop can customize ornaments with names for a cherished gift or family decoration to pass down through the years.
A Christmas Village at the Christmas Place
On top of having as much holiday spirit and Christmas décor per capita as the North Pole, the Christmas Place is adjacent to Mrs. Clause's Candy Kitchen, a great spot to enjoy holiday treats like fudge, candies, and cakes.
During the holiday season, the Christmas place offers all manner of special events to ramp up the Christmas cheer. Maybe it'll be a visit from Santa and his elves or a band playing live Christmas music out front, but it's sure to warm the heart of any Christmas scrooge.
The Christmas Place: Hours, Location, and Tips
This famous Pigeon Forge Christmas store is located at Traffic Light 2A in Bell Tower Square next to the Econo Riverside Lodge. Around Christmas time, the store is open 9 AM to 10 PM daily. These hours are subject to change during the rest of the year so be sure to call ahead to check store hours.
This holiday wonderland is a great place to find some extra décor to spruce up your very own Christmas cabin in Gatlinburg. After a great yuletide season in the mountains, bring the festive decorations home to use for another holiday season.
With so much Christmas cheer crammed into one store, vacationers taking a trip to the Christmas Place should be warned. You will likely spend more time in this fantastic Christmas village than you originally planned.
Contact:
The Incredible Christmas Place
2470 Parkway
Pigeon Forge, TN 37863
800-445-3396
santa@christmasplace.com
http://www.christmasplace.com
A
- Cabins USA Gatlinburg
Written by Hayden Brown