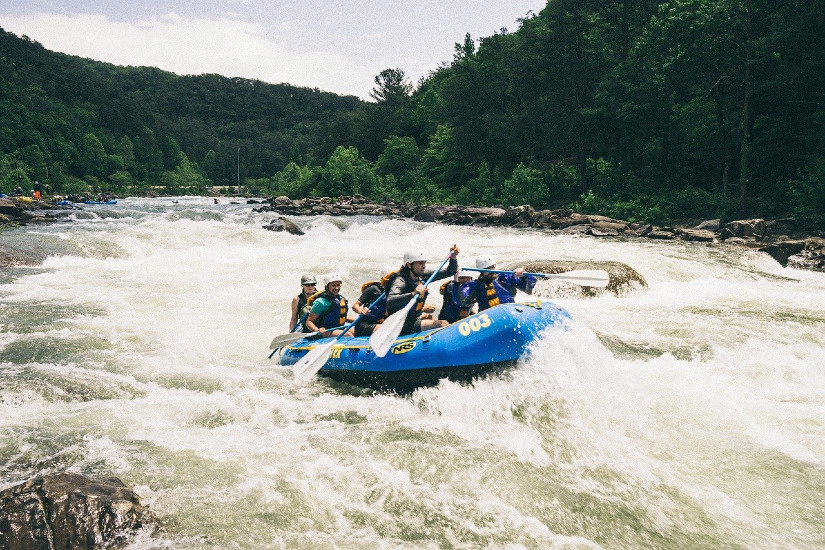 Visiting the Great Smoky Mountains should be fun and full of adventure. That's why the people at Big Creek Expeditions in Gatlinburg do what they do. Whether you want to go big with some white water rafting or just want to enjoy some peaceful floating with family and friends, there's an option available for you and everyone else.
About Big Creek Expeditions
Big Creek Expeditions began in 2004 to bring outdoor adventures to travelers and residents of the Smokies. Since its humble beginnings, the Big Creek team has only grown, and it's all thanks to our guides and the adventures they lead.
Different Float Options to Consider
Not every person is ready to commit to the same level of adventure and excitement, which is why Big Creek offers different packages tailored to your experience level. A breakdown of the packages offered is below.
Lower Pigeon Scenic Float
This trip is the ideal way for people to spend time on the water without experiencing the insane action of the rougher parts of the river. As you and your guests float along the river curves, you'll experience Class I-II rapids. This package ensures you'll have a chance to slow things down, get some sun, and enjoy the gorgeous mountain scenery the Smokies are famous for.
Upper Pigeon White Water Rafting
Sometimes, it's all about adventure and excitement. If you have a jones to experience that firsthand, this is the package for you. While floating, you'll enjoy the same gorgeous views as in the tamer package, but you're guaranteed to get wet and have the adrenaline pumping thanks to the Class III and IV rapids you'll experience.
Full-Day River Adventure
Do you want to do it all or can't choose between the two? In that case, the only solution is to sign up for the full day river adventure. This package combines the previous two packages into one complete package that guarantees you and the others will have fun, make memories, and want to do it all again.
Multiple Adventures Await Your Group
While the main adventure might be floating and splashing along the river, there are plenty of other experiences to pursue through Big Creek Expeditions. The adventures available are:
Adventure Park Ziplines
Legacy Mountain Ziplines
Horseback Riding
Kart Racing
Make it a Group Experience
Take your next rafting adventure a step further by making it a group experience. It doesn't matter if it's for your next family reunion or a corporate retreat, a float trip with these guides will deliver the rush and memories you've been wanting.
Even better, if you call them ahead of time, you can enjoy specialized group rates to make the experience that much better.
Final Thoughts on Big Creek Expeditions
There's plenty of time to tour Gatlinburg and the surrounding area, but adventure and excitement wait for no one.
With a visit to Big Creek Expeditions in Gatlinburg, you'll enjoy a rush that's nearly unmatched while remaining close to everything else there is to do in Gatlinburg. Make the most of your visit by exploring one of the many Gatlinburg cabin rentals we offer, complete with a full complement of amenities to keep everyone relaxed and having fun.
Contact:
Big Creek Expeditions
3671 Hartford Road
Hartford, TN 37753
877-642-7238