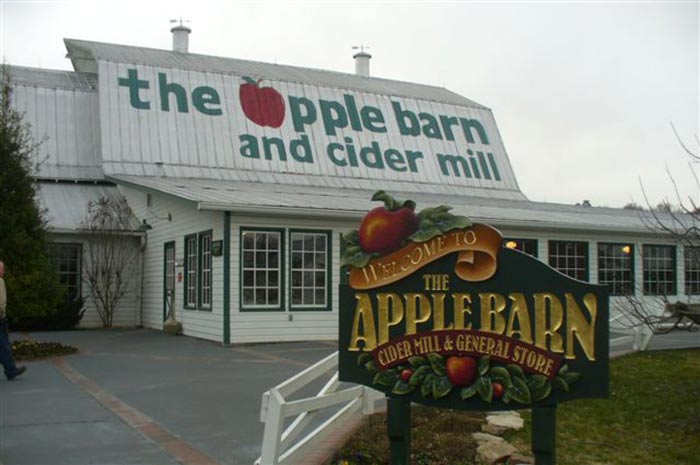 Right off the Pigeon Forge Parkway rests a quaint farmhouse that has built quite the reputation over the past 3 decades. When you pull up to The Apple Barn Restaurant (also known as the Applewood Restaurant), you're following in the footsteps of countless other vacationers who have made this farmhouse restaurant part of their Smoky Mountain tradition.
From the moment a basket of freshly baked apple fritters is placed on your table, you'll know that you've come to a restaurant that specializes in food cooked how your grandmother used to - from scratch and with love.
The Apple Barn isn't only a restaurant - the property also features a cider mill, general store, and winery. So come enjoy the fruits of the the harvest at The Applewood restaurant today.
What to Expect at The Apple Barn Restaurant
Once you step on to the front porch of the 1920's farmhouse that houses the Applewood Restaurant, you'll feel like you've stepped onto the porch of a beloved relative. The servers will great you with unrivaled hospitality and the food is some of the best country fixins you'll find. Every meal at The Apple Barn restaurant starts with a serving of delicious apple cinnamon muffins, irresistible apple fritters, homemade apple butter, and refreshing apple julep. This gives every diner a true taste of the orchards that rest on the hills around the restaurant.
But that's only the appetizer. There's plenty of delicious country classics to enjoy no matter what meal you choose to enjoy at the Applewood Restaurant. Please note: Portion sizes here are HUGE (so look at the prices as a 2-for-1 meal special).
Enjoy heaping plates of hickory smoked bacon, home fried potatoes, and, of course, stacks of fluffy pancakes for breakfast.


Take a break from shopping or family attractions to enjoy a filling lunch or delicious dinner of fried chicken, pork chops, and meatloaf. There are also some Applewood Restaurant specialties such as Apple Julep Grilled Chicken that go great with a side of greens or fried okra.


On Sundays, guests can choose from a special menu featuring a selection of favorite dishes, a soup, salad or coleslaw, mashed potatoes, an additional side dish, and a dessert for lunch or dinner.
Insider Tip: Due to the popularity of this restaurant, guests can expect a bit of a wait. 20-30 minute waits are pretty standard, and the wait can even be longer. Keep this in mind to satisfy your schedule and your growling belly.
Beyond The Apple Barn Restaurant
Perhaps one of the most convenient things about The Apple Barn is that, if you have a long wait, you won't just be playing checkers in rocking chairs while you wait for your named to be called. There's plenty of other things to explore while you patiently await your delicious food.
Your first stop could be the Apple Barn General Store, where you'll find plenty of apple-themed souvenirs and trinkets to take back from your Smoky Mountain vacation.
Then, a trip to the Apple Barn Cider Mill is order. From delicious apple fritter mixes to freshly made apple butter, these delicious edible souvenirs make great gifts for friends. Additionally, classic candy favorites, such as peanut brittle and taffy, make for great after dinner snacks.
Apple Barn Winery
Though you may not have time to enjoy a tour while waiting for your table at the Applewood Restaurant, this Smoky Mountain Winery offers a host of special wines (as you might have guessed) that use apples as a primary ingredient.
You can enjoy a host of dry, semi-sweet, and sweet wines that will delight your tastebuds and provide a whole new twist on wine that you never even knew existed. Some of the delicious selections include:
Apple Wine -

This dry wine is aged in American oak and pairs well with mild cheeses with its soft fruity flavors.

Apple Blush -

A blend of apples and grapes this semi-dry wine is great with just about any food or just for sipping.

Apple-Peach-

This super sweet wine is as Southern as ripe peaches just off the tree.

Spiced Apple -

Perfect for heating up in the winter, this medium sweet wine is spiced to perfection.
Final Thoughts on The Apple Barn
There is so much that The Apple Barn offers - a restaurant, a cider mill, and even a winery - that it's an obvious choice to include on your itinerary for your cabin vacation. After you enjoy a delicious, filling meal, bring home your leftovers and relax in your comfortable cabin retreat.
Contact:
Apple Barn Restaurant
240 Apple Valley Rd
Sevierville, TN 37862
865-428-1222
http://www.applewoodfarmhouserestaurant.com
A
- Cabins USA Gatlinburg
B
- Apple Barn Restaurant
Written by Cecila Jones