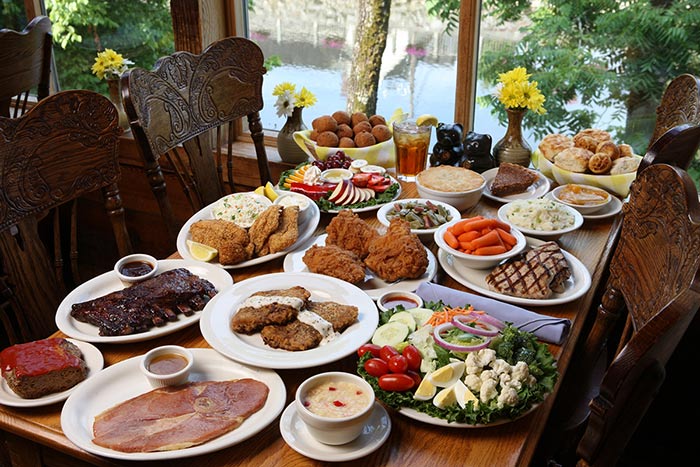 While driving down the Pigeon Forge Parkway, a 19th century grist mill stands out among the modern day shopping centers and flashy signs. Since 1830, the grist mill along the Little Pigeon River has been central to this mountain town since its construction. Not much has changed in 2014, consider one of the most popular restaurants in Pigeon Forge was built around it - The Old Mill Restaurant.
Since opening as a restaurant, The Old Mill has developed quite the reputation for mouthwatering country food. In fact, people travel from far and wide just to taste the creamy, delicious corn chowder they serve here. Whether your from the Southwest or the Northeast, if you're in Pigeon Forge, you'll want to swing by The Old Mill for a Southern-style, home cooked meal that uses fresh flour and corn meal made on site.
An Old Mill Restaurant History
For nearly 200 years, the mill has served as center piece for the local community. From providing Pigeon Forge with fresh flour to even producing electricity in the 1930's, The Old Mill has provided essentials to the community as well as served as a great place to gather.
The Old Mill Restaurant in Pigeon Forge continues this legacy in two ways.
Firstly, corn mill and flour are still produced at the grist mill, used in the restaurants recipes, and sold in the restaurant's store. The mill makes 1,000 pounds of product a day when it's in operation. From battering mouthwatering fried chicken to baking delicious cakes and breads, you'll be able to taste the history of the mill at this Pigeon Forge restaurant.


Secondly, The Old Mill Restaurant continues to be a place for friends and family to gather and enjoy good conversation and company. Though they may now be gathered around a dining table instead of the front porch of a general store, the laughter, smiles, and jokes share here are echoes from generations past.
In many ways, a trip to The Old Mill Restaurant is like a step back in time and offers guests a chance to enjoy a taste of the past.
Delicious Vittles at The Old Mill Pigeon Forge
Now, for those of you that aren't from the hills of East Tennessee, vittles is mountain slang for "food" here. The Old Mill Restaurant in Pigeon Forge serves up some of the best vittles on either side of the mountains. With large portions and meals prepared from scratch with love, you could swear you could hear your grandma yelling from the kitchen to finish your plate!
If you decide to start your day at The Old Mill Restaurant with breakfast, you're in for a real treat. With country breakfasts hot off the griddle, some may say you haven't truly had a Smoky Mountain breakfast until you've ate at this restaurant. Big stacks of pancakes, delicious bacon, sizzling sausage, and scrumptious eggs will make sure your belly stays full for a day of adventure in the Smokies.
If you need a break from the fun and excitement of the Smokies swing by The Old Mill at lunchtime where each country entree comes complete with a bowl of corn chowder, corn muffins, and sides of green beans and mashed potatoes.
At the close of your day in the Smokies, dinner at the Old Mill offers delicious Southern favorites. Like lunch, dinner entree's come with corn chowder, corn muffins, a side of green beans, and mashed potatoes. Additionally, dinner guests also get their choice of one of The Old Mill Restaurant Pigeon Forge's delicious desserts to end their meal in style!
The Old Mill Shops
Old Mill Square house more than just The Old Mill Restaurant. There are several stores that offer up everything from pottery to food mixes. While you wait for your table or after eating your filling meal, you can enjoy shopping for souvenirs at these unique shops, which include:
Pigeon River Pottery -

A handmade pottery shop that's been around for 50 years.

The Farmhouse Kitchen -

Pick up a mix of your favorite soup to make at home.

Creamery -

Grab an ice cream cone on a hot summer's day after a delicious lunch.

Candy Kitchen -

Pick up some old fashioned, homemade candy for a tasty souvenir.

Sassafras -

Find unique jewelry and accessories at this boutique.

Toy Bin -

A favorite among kids, this toy store house classic toys to modern innovations.
No matter where you choose to shop, you'll find something to bring home to remember this unique restaurant.
Final Thoughts on The Old Mill Restaurant
The Old Mill Restaurant is definitely worth a stop on your cabin vacation in the Smokies. Whether you choose to pick up a bag of flour or eat a feast at the restaurant, you're sure to remember a visit to the Old Mill in the center of Pigeon Forge.
Contact:
The Old Mill Restaurant
164 Old Mill Ave
Pigeon Forge, TN 37863
865-429-3463
http://www.old-mill.com/cms/default/assets/File/TO%20GO%20OM%20Small%282%29.pdf
A
- Cabins USA Gatlinburg
B
- The Old Mill Restaurant
Written by Cecila Jones