Since 1986, Dollywood has been delighting visitors to the Smoky Mountains of Tennessee. With over 30 years of delivering family entertainment, Dollywood promises to continue being one of the top attractions in the Smokies. But what makes Dollywood such a must-see stop on your vacation?
What makes Dollywood so unique from other amusement parks is that it is dedicated to celebrating the culture and heritage of the Smoky Mountains. Dolly Parton, the beloved country music star, has definitely left her own personal touch on this family-friendly attraction.
On an average trip here, music fills the air, the savory smells of delicious food waft through the air, and the park is practically buzzing with excitement and laughter. Here's a breakdown of different highlights of Dollywood Theme Park.
Sections of Dollywood
With impressive landscaping and theming that complements the Smoky Mountains, this theme park has a fantastic atmosphere. Along with the fact that Dollywood's staff are genuinely friendly and welcoming, Dollywood is a unique theme park for many reasons even without its distinct hallmarks of hospitality.
Showstreet
The first stop many visitors make is on Show Street. This area is home to The Palace Theater, where many of Dollywood's musical performances are held. There is also the Southern Gospel Music Hall of Fame that celebrates the musical roots of country music.
There are often street performances with singing, dancing, and music on Showstreet of performers through different seasons like the Festival of Nations and Christmas at Dollywood. All in all, it's appropriate that a section of the park celebrate the musical roots of the Smoky Mountains and this region's contribution to the career of Dolly Parton. From here, it's easy to reach the Chasing Rainbows Museum, a unique museum that tells the story of Dolly Parton, her life, and her influences.
Rivertown Junction
Step back in time to Rivertown Junction, a section of the park that celebrates the beauty and simplicity of the Smoky Mountains. Here, you can tour an old fashioned cabin that's not all that different from the one that Dolly grew up in. This portion of the park is home to the River Rampage Ridge, a thrilling white water ride.
Timber Canyon
Home to several must see thrill rides in Dollywood. Thunderhead is a colossal wooden coaster with classic appeal and good ole fashioned thrills. The Mystery Mine is a unique coaster that twists and winds through dark caverns with surprising turns and 90 degree drops.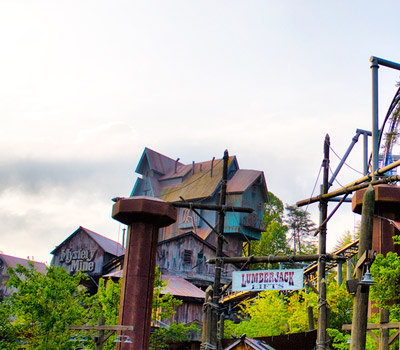 The Village
The Village is a charming section of the park with the cozy feel of a small town. At the train station, you can step aboard the Dollywood express, a 110 ton, coal-fired locomotive that winds through 5 miles of the mountains of East Tennessee. The massive carousel is another highlight that features nostalgic, hand-painted animals to ride as you circle festively about.
Craftman's Valley
This area of Dollywood that is dedicated for celebrating and preserving beautiful handmade crafts in the Smoky Mountains and includes several shops:
Blacksmith

– Custom made metal gifts and home décor.



Custom Glass Blowing

– A handmade glass shop offering ornaments and figurines.



Working Grist Mill

– Home of the famous fresh-baked cinnamon bread, as well as stone-ground cornmeal, mixes, and other baking supplies. This fully functional grist mill, built in 1982, was the first to be built in Tennessee in over 100 years.



Handmade Candles

– This shop offers candles with unique scents and candle accessories.



Valley Wood Carvers

– Watch expert woodcarvers at work and purchase tools and books to begin your own woodcarving hobby.



Smoky Creek Leather

– Leather gifts and goods made by skilled master craftsmen.
The Craftsman's Valley is also home to several beloved classic amusements and thrill rides:
Tennessee Tornado

– A scenic, roller coaster with a smooth ride that twists and turns through a Smoky Mountain forest.



Blazing Fury

- First built in 1978, this goofy, classic ride sends you on adventure to put out a fire before it destroys the whole town. Visitors love the outdated animatronics and thrills that this old ride offers.



Daredevil Falls

– A water boast ride with a huge 60 foot drop down precipitous falls with speeds reaching 60 mph.
Wilderness Pass
Wilderness Pass is home to some of the newest rides in Dollywood. Along with gorgeous landscaping you'll find these exciting attractions:
River Battle

– An unforgettable water ride complete with water cannons. Get soaked while your raft navigates the waters and try to soak observers who have their own water guns aimed at you.



Wild Eagle

– Soar high into the skies with the Smoky Mountains as your backdrop on this impressive thrill coaster that reaches speeds of 60 mph and takes a 135 plunge.



Fire Chaser Express

– A firefighter themed coaster that debuted in 2014. This mile long thrill ride even boasts some pyrotechnic effects to complete the story of fighting a fire in the Great Smoky Mountains.



Lightning Rode

– Dollywood debuted this coaster in March of 2016. At a top speed of 73 MPH, this new roller coaster was dubbed the world's fastest wooden coaster. This exciting ride styled after 1950s dragsters has earned rave reviews for its exciting catapult launch and its innovative course that follows the curvy Smoky Mountain terrain.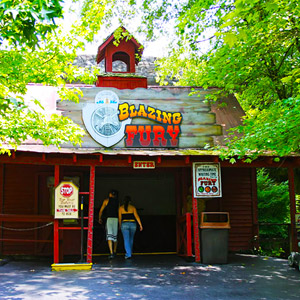 Insider Tip: Like any theme park, lines at Dollywood can get a bit long. Luckily, a fast pass system is in place. The Q2Q reserves line spot in line so that you aren't stuck on your big day at Dollywood. Simply show up at the ride for your reservation time and skip the long wait.
Owens Farm
This section of the park takes a twist on the wholesome, predictable story of life on a country farm with serious thrill rides and a heaping dose of family fun!
Mountain Sidewinder – A water log flume with room for 4 riders that shoots down the mountain down a water slide.


Barnstormer - A pendulum thrill ride that reaches speeds of 45 mph as it swings back and forth.
Country Fair
In this area of Dollywood, visitors will find several old school fair rides that are a delightful trip down memory lane. Enjoy a spin on "The Scrambler " or the "Wonderwheel," Dollywood's own ferris wheel.
Final Thoughts on Dollywood
Dollywood is definitely a must see for any Smoky Mountain vacation. With so much to do, it's definitely an attraction that's worth multiple days. Experience the thrills, music, delicious food, and lovely ambiance of this unique Smoky mountain theme park! Best of all, there are many Gatlinburg cabin rentals close to Dollywood that make a perfect base of operations for exploring this one-of-a-kind attraction nestled in the mountains of Tennessee.
Insider Tip: Parking can be a bit expensive, so be sure to carpool with others in your group.
Photos courtesy of Coasterimage.com
Contact:
Dollywood
2700 Dollywood Parks Blvd
Pigeon Forge, TN 37863
865-428-9488
A
- Cabins USA Gatlinburg
B
- Dollywood in the Smoky Mountains
Written by Hayden Brown