Fun Dinner Theaters in Pigeon Forge and Gatlinburg
Looking for a lively evening with fun entertainment for the whole family? Dinner Shows in the Smoky Mountains are one of the most popular attractions for visitors. With delicious food and a huge range of performances, it's no secret that these dinner shows are a great deal for a fun evening in town. For a vacation meal worth remembering, choose one of these fun dinner shows in Gatlinburg and the mountains of Tennessee!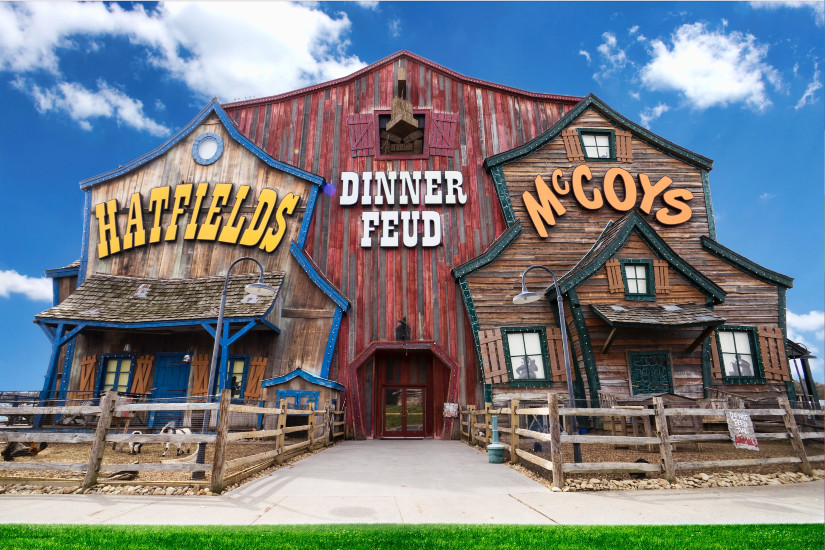 Vacationing in the Smokies can work up your appetite. Luckily, dinner shows like the Dixie Stampede and the Hatfield and McCoy show offer generous servings. After all, nothing complements a show better than delicious family-style southern food. The dinner varies from theater to theater but shows often offer delicious classics like fried chicken, barbecue pork, and country fixings.
Types of Theater Shows in the Smokies
With a short drive from a cabin in Gatlinburg, visitors will discover an impressive range of show options. Theatergoers can find live music, comedy, horse performances, lumberjack competitions, murder mysteries, and more! These shows feature performers from accomplished national and international acts who have made the Smokies their home. With delicious food and quality acting, what's not to love? In some of these Smoky Mountain dinner shows, audience participation adds another fun element to the shows. The performers love the challenge of going off script and this ensures that every show is different from the next! If you plan to enjoy song and dance at your dinner show, you can find everything from bluegrass, Motown classics, gospel, country, hits through the decades, and more. No matter what performance you are in the mood for, these dinner shows are just the ticket for an evening filled with laughter, fun, and great music!
Also, many of these dinner theaters offer special seasonal shows for Christmas and other events in the Smokies. So even if you've visited these fun dinner shows before, it is likely that they are offering new acts to delight and dazzle audiences.
Please Note: Cabins USA LLC's, hereinafter referred to as Cabins USA, area information, area events, and blog pages are provided as a public service. Cabins USA does not endorse any of the products, vendors, consultants, or businesses referenced in these web pages. Any mention of vendors, products, businesses, or services on the Cabins USA web site is for informational purposes only. Users of this web site are responsible for checking the accuracy, completeness, currency and/or suitability of all information. The inclusion of this information does not imply endorsement by Cabins USA. Furthermore, specific questions regarding any content should be directed to the appropriate organization and not necessarily to Cabins USA.