The Melting Pot in Gatlinburg, TN
There is an excellent lineup of fine dining options in downtown Gatlinburg, but The Melting Pot stands out from the rest. With decadent fondues, delicious entrees, fine wines, and a welcoming atmosphere, this romantic restaurant in Gatlinburg is perfect for marking a memorable occasion. Located in the heart of town, this fine dining Gatlinburg restaurant grants visitors a nice view of the strip and excellent service. Come discover why the Gatlinburg Melting Pot is perfect for your honeymoon, anniversary, or evening with friends in the Smoky Mountains!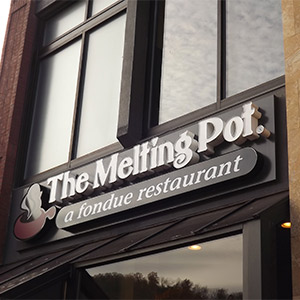 Melting Pot in Gatlinburg Menu
Upon arriving at this fine dining establishment, visitors will notice an extensive selection of fine wines and custom cocktails on their drink menu. Any of these beverages will be a great start to an excellent meal that is easily customized. The Melting Pot offers 1, 2, 3, or more courses for their evening dinner. A four-course meal at the Melting pot generally includes a cheese fondue, a salad, an entrée, and a dessert fondue. A starter could include delicious cheese fondues such:

Cheddar Fondue – A blend of aged cheddar, Emmenthaler Swiss cheeses, lager beer, and garlic.

Wisconsin Trio – Fontina, Butterkase, buttermilk, blue cheese, white wine, and sherry.

Traditional Swiss – Gruyere and Emmenthaler Swiss Cheeses, garlic, nutmeg, and Kirshwassser.


Following a cheese fondue or a salad for an appetizer, there are plenty of flavorful entrees that are perfect for celebrating special occasions. The main menu is subject to change, but some favorite options from the past are:
French Quarter – A premium filet mignon, chicken breast, large white shrimp, and Aundouille sausage in a delectable Cajun sauce.
Fondue Fusion – Lobster tail with teriyaki sirloin, BBQ pork medallion, honey orange duck breast, and a mushroom sacchettie.
Other entrees at the Melting Pot in Gatlinburg can be prepared in four different cooking styles and come with a side of seasonal vegetables. These include a bouillon broth, coq au vin with wine and herbs, mojo with garlic and citrus, and bourguignonne served with tempura and sesame batters. Some favorite options that you can customize include:
Salmon Filet
Sesame-Crusted Ahi Tuna
All-Natural Chicken
Pacific White Shrimp
Spinach and Artichoke Ravioli
Buffalo Chicken
Duck Breast
And More!
For a real treat, check out the desert menu. With decadent fudge fondues, white chocolate cheesecake with a variety of fruits for dipping, you are bound to love these sophisticated and decadent treats. Some popular options include:

Pumpkin Pie White Chocolate – A white chocolate fondue with pumpkin puree and shaved dark chocolate – delicious!

Chocolate Wild Berry Crunch – Milk chocolate and crunchy peanut butter with pureed wild berries.

Chocolate S'mores – A fondue take on the classic campfire treat.

There are few better ways to conclude a delicious meal than with these unique desserts at the Gatlinburg Melting Pot.
Dining Experience at the Melting Pot
As a fine dining restaurant in Gatlinburg, the Melting Pot pays particular attention to the atmosphere and service that their customers experience. Restaurant goers can be assured that they will enjoy prompt service in a welcoming environment at this excellent establishment. With low lighting, private rooms, and a sophisticated vibe, the Melting Pot is a perfect treat for you and your sweetheart.
Be sure to call ahead for a reservation, for this is a popular destination in Gatlinburg for couples and large groups. This is especially the case if you are looking for an exceptional dining experience that is out of the ordinary. After a delicious meal, you can return to our romantic honeymoon cabins to conclude a perfect evening in town.
Contact:

959 Parkway
Suite #2
Gatlinburg, TN 37738
865-430-4430
A
- Cabins USA Gatlinburg
B
- Melting Pot Gatlinburg, Tennessee
Written by Hayden Brown