Bistro 109 in the Smokies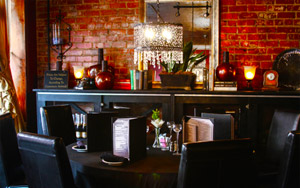 Bistro 109 is a fine dining restaurant open for breakfast, lunch and dinner. This upscale bistro features fresh ingredients from local growers and producers who use sustainable practices. The savory flavors at this bistro are bound to delight both hungry families and couples vacationing in the Smoky Mountains. As a true mark of quality, many locals favor this restaurant as a tasteful place to enjoy quality, fine dining off the main drag.
Atmosphere at the Bistro
Bistro 109 is something of a hidden gem that's tucked away in Downtown Sevierville. This location off the main Parkway offers a quiet location for fine dining in the Smoky Mountains. This Bistro has an upscale feel, but much of the menu is suited for causal occasions. On the other hand, this fine dining restaurant in Pigeon Forge is a great option for couples who want to celebrate a special occasion like an anniversary or honeymoon.
Best of all, this bistro features live music from local artists. With the smooth sounds of live piano music, this Smoky Mountain restaurant is bound to impress your date. With dim lighting, swank decor, and impeccable service, there's no doubt this bistro is the right place to enjoy a night on the town.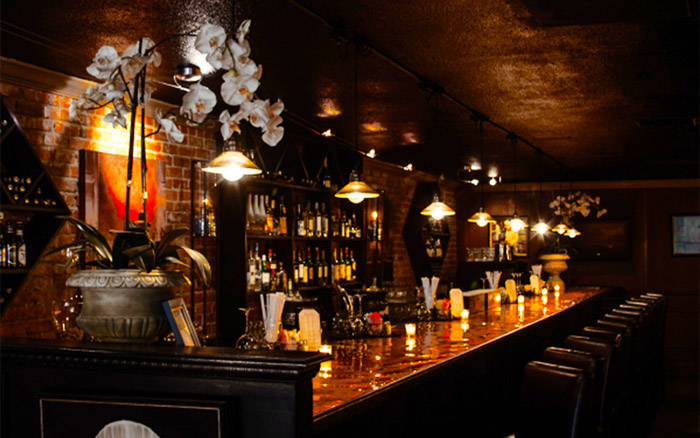 Menu
The menu features everything from affordable lunches ($10 plates) to extravagant entrees fit for candle lit meal. For lunch this quality bistro in Sevierville offers delicious dishes that you'd find in a hip cafe or country food that you'd find in your favorite diner. Bistro 109 is a place where upscale trendy dining meets country classics. No matter what your budget or your taste; chances are, you'll find something you'll love at this extensive menu.
Some favorites for lunch at this Smoky Mountain Bistro include:
Gruyere and Ham Panini
Orange Cranberry Chicken Salad Sandwich
Chicken Cordon Bleu Sandwich
Sour Dough Po Boy Sandwich
Other options on the lunch menu lean towards country meals like:
Meat Loaf

– Served with garlic mashed potatoes and green beans.

The Country Plate

– Pinto beans, cottage fired potatoes, corn muffin and an onion slice.

Chicken Liver

– Fried chicken livers in a red wine mushroom sauce with pinto beans and cottage potatoes.

Frog Legs

– Deep Fried Frog Legs with a sweet chili sauce, pinto beans, and cottage potatoes. It's possible that Bistro 109 is the only place you can find frog legs in the Smokies and by all accounts they taste like chicken.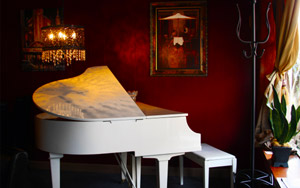 Salads offered at Bistro 109 reflect a philosophy that values southern, country dining. There is Cobb Salad, Waldorf Salad, and a tasty caramel pecan glazed chicken salad.
For a romantic dinner during a honeymoon cabin vacation, you may want to try some of these decadent options from the menu:
New Zealand Lamb Chops

– Lamb on a bed of gastrique sauce, herb couscous, and grilled vegetables.

Maple Glazed Duck Breast

– Duck breast glazed in maple syrup, served with green beans and a herb, saffron couscous.

Pan Seared Scallops

– Large scallops with a lemon blueberry reduction served with couscous and garden vegetables.

Tomato Lump Blue Crab Cake

– Lump Crab Cakes stacked between fried green tomatoes and served on a bed of greens with tomato jam.

Escalopes Veal Lamponi

– Veal cutlets served with berry cream sauce with wild rice with cranberries, almonds, and mixed vegetables.
Hours
Bistro 109 is open from 8am to 9pm Monday through Saturday.
Final Thoughts
For a quality dining experience that's away from the usual tourist restaurants, Bistro 109 is just the ticket. Be sure to check out this quality restaurant in Sevierville that offers a unique menu with unforgettable flavors in the Smoky Mountains of Tennessee. After one visit, don't be surprised if a stop here becomes a regular part of your Smoky Mountain vacation itinerary.
Contact:
Bistro 109
109 Bruce Street
Sevierville, TN 37862
865-453-8899
https://www.facebook.com/bistro109
A
- Cabins USA Gatlinburg
B
- Bistro 109 in Sevierville
Written by Hayden Brown