For a beautiful resort town in the mountains, it's a bit surprising that Gatlinburg has a quite an ocean vibe. With the fantastic Ripley's Aquarium of the Smokies as one of the top attractions in the Smoky Mountains, you can enjoy beautiful sea life though you're many miles from the coast.
In the same grain, the Bubba Gump Shrimp Company in Gatlinburg offers top quality seafood in the beautiful mountains of Tennessee. Hailed for its family-friendly atmosphere and delicious southern-style dishes, this popular Gatlinburg restaurant is a favorite stop for many families on vacation.
Gatlinburg Seafood at Bubba Gump Shrimp Co.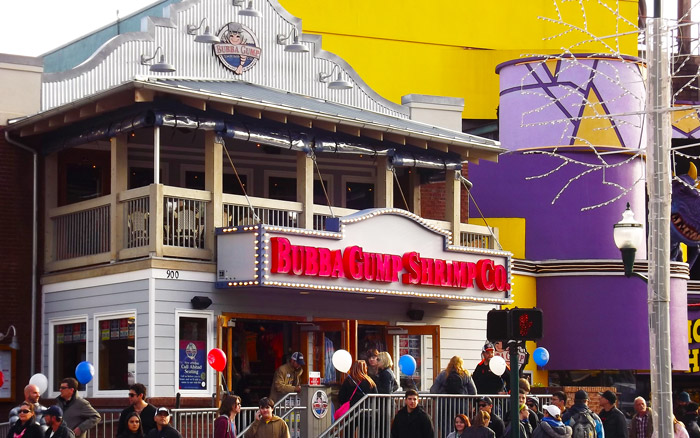 Gatlinburg's Bubba Gump Shrimp Co. is one of the most iconic spots on the Parkway and can easily be reached by some of our Smoky Mountain cabins near Bubba Gump Shrimp Co. in Downtown Gatlinburg, TN.
We all know and love the classic movie "Forest Gump." For fans of this beloved film, Bubba Gump Shrimp Co. is the perfect place to joke around with movie references ("Run Forest Run!") and test your knowledge of film trivia! All in all, Bubba Gump offers great food, a fun atmosphere, and a unique experience to enjoy on your vacation!
Menu
Bubba Gump in Gatlinburg specializes in southern fare and seafood that makes for some delicious flavor combinations. Plates can run anywhere from $10 to $20, so Bubba Gump Shrimp Co. has some pretty standard prices for Downtown Gatlinburg.
"Boat Trash" is a great special on the menu if you're hankering for heaping portions of flavorful fried seafood. The Shrimp Po Boy is another classic to try as well as Lt. Dan's Drunken Shrimp.
If you're not interested in fish or shellfish, there are plenty of other options like ribs, pastas, sandwiches and burgers. A full kids menu makes this an affordable place for families to eat on their trip to Gatlinburg. Additionally, Bubba Gump offers a gluten-free menu for guests with food sensitivities.
To finish off a terrific meal, check out some of Mama's Dessert Favorites like the decadent bread pudding or fresh key lime pie.
Hours
Sunday through Thursday, Bubba Gump Shrimp Co. in Gatlinburg is open from 11 AM – 11 PM. On Friday and Saturday, this popular restaurant stays open until midnight, making it a popular place to watch a game or enjoy a late night dinner with friends.
Insider Tip: Bubba Gump, thanks to its prime location in Downtown, can be a bit crowded at times. During the summer, it's common for this restaurant to have long waits, especially around noon and 7 PM. Coming in for a late lunch or early dinner is the best way to beat the rush and score a delicious meal.
Parking
There is no free parking near Bubba Gump in Gatlinburg, but there are several paid lots on Historic Nature Trail that are very close by. A meal at Bubba Gump Shrimp Co. is a great way to enjoy an afternoon in this pedestrian friendly part of town or to get a hearty meal after seeing local attractions.
Insider Tip: For a day spent in Downtown Gatlinburg, we recommend parking in the Gatlinburg city lot that's behind Ripley's Aquarium of the Smokies. This lot only costs $6 for the day and is less crowded. From here, Bubba Gump Shrimp Co. is only a short stroll away.
Location
If you're having trouble finding Bubba Gump Shrimp Co. in Gatlinburg, simply look for the iconic Space Needle. This restaurant is located at the intersection of the Parkway and Historic Nature Trail Road across from the Gatlinburg Space Needle at traffic light #8. This restaurant is also close to the Ole Smoky Moonshine Holler and Ripley's Moving Theater.
Contact:
900 Parkway
Gatlinburg, TN 37738
865-430-3034
A
- Cabins USA Gatlinburg
B
- Bubba Gump Shrimp Co.
Written by Hayden Brown