Ole Smoky Moonshine in Gatlinburg, TN
Want to experience true Smoky Mountain moonshine? The Ole Smoky Moonshine Distillery in Gatlinburg, TN is a great place to start! Featuring family recipes past down through generations, you can enjoy an authentic taste of East Tennessee culture. Visitors to the Smokies can easily stop by the Ole Smoky Moonshine Holler to sample flavors of moonshine and bring a jar home as a souvenir.
Thanks to a location in the heart of downtown, the Moonshine Holler has become the most visited distillery in America. Here you can see authentic copper stills, talk to distillers about their craft, and sample a variety of real moonshine flavors.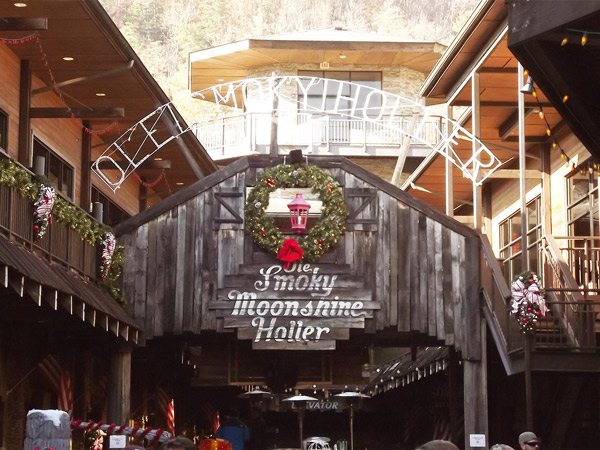 History of Ole Smoky Moonshine in Tennessee
Moonshine was not always something that could be openly sold and sampled. Moonshine's rich and infamous history is unique to the forested hollers of East Tennessee. The Scotch-Irish immigrants who settled in the mountains brought with them knowledge of distilling liquors. Moonshine was born when these early distillers began using a unique American crop – corn.
Over the years, moonshine production became illegal unless you paid steep taxes. In hard economic times, producing moonshine was a way for hardworking farmers in East Tennessee to feed their families, so they continued to distill in secret.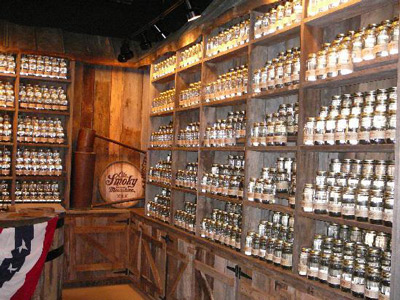 Until recently, Tennessee law banned the opening any new distilleries. Upon changing these laws, Ole Smoky Moonshine became the first licensed distillery in East Tennessee in 2010. The once illegal liquor made by "the light of the moon," has now become an iconic feature of East Tennessee.
If you stop by Ole Smoky Moonshine, be sure to ask about the rich history of this beverage in the mountains of Tennessee. There are fascinating stories of individuals who went to great lengths to escape the grasp of the law. One such individual is the late Popcorn Sutton, who's defiant spirit has won him a permanent place in moonshine folklore.
Ole Smoky Moonshine Flavors
To sample moonshine, visitors have to pay $5, but in return, they'll receive a $5 coupon for a purchase of any moonshine - not a bad deal since you can try it before you buy it! Be sure to sample some of these delicious flavors down at the Holler:
Unaged Corn Whiskey

– The Original Ole Smoky Moonshine. This old recipe uses locally grown corn that gives you a true taste of the East Tennessee mountains.

White Lightnin'

– A stronger moonshine blend that lives up to it's namesake.

Moonshine Cherries

– Delicious sweet cherries soaked in Ole Smoky Moonshine. These treat's sweet tang pairs nicely with the kick of moonshine.

Apple Pie

– This tasty flavor became an instant classic. There's nothing more American than apple pie and there's nothing more Appalachian than moonshine. Combining the two together was a match made in heaven.

Flavored Moonshine

– At the Ole Smoky Moonshine Holler, there are several fruit flavored moonshines like peach, blackberry, strawberry and more. You can also expect to find special seasonal flavors as well.
After trying some of these tasty moonshines, you may decide to get a jar as a gift or a personal treat. Sold in iconic mason jars, this authentic Tennessee moonshine is a way to bring a bit of the mountains home with you.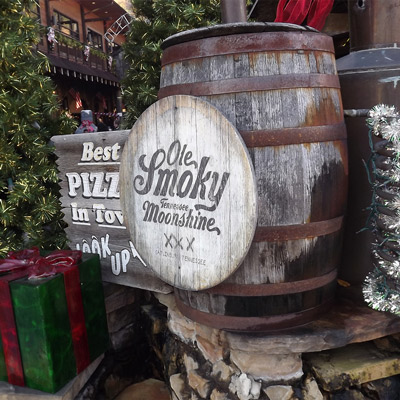 Final Thoughts on Ole Smoky Moonshine in Gatlinburg
The Ole Smoky Moonshine Holler in Gatlinburg is open from 10 AM to 10 PM Monday through Sunday. There are occasionally special events like the Gatlinburg Moonshine Festival which feature live music, story telling, and authentic moonshine cars.
For the rest of your vacation, your head may be filled with tales of moonshiners and revenuers who tried to outwit each other in the hills of East Tennessee. The educational aspect of Ole Smoky Moonshine holler makes this distillery a must see. Even better, you can bring some delicious white lighting back home. With a tasty jar of authentic moonshine, you can "get your shine on" responsibly in your nearby Gatlinburg cabin tucked away in the rolling hills of the Smoky Mountains.
Contact:
Ole Smoky Moonshine Holler
903 Parkway
Gatlinburg, TN 37738
865-436-6995
http://olesmoky.com/about/distillery
A
- Cabins USA Gatlinburg
B
- Ole Smoky Moonshine Holler
Written by Hayden Brown