Let's face it – generally crabby people can be funny. Dick's Last Resort takes this to another level in Downtown Gatlinburg.
Above all, visitors should know this is a performance restaurant designed to turn the ideal American dining experience on its head. Instead of enjoying a dinner with courteous waiters, an orderly table, and manners, you can expect gruff treatment, obnoxious servers, and plenty of jokes at your own expense. Dick's Last Resort is going after a rough, roadhouse atmosphere and they get it just right.
The Dick's Last Resort Experience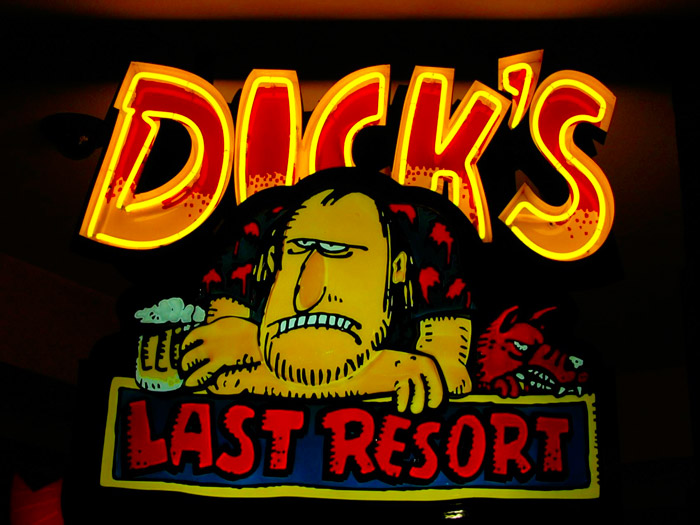 It goes without saying that Dick's Last Resort in Gatlinburg isn't for everyone, but if you can handle a joke and want a dining experience that's out of the ordinary then you're in the right place.
From funny personalized hats to having your napkins thrown at you to healthy doses of witty banter, this restaurant in Downtown Gatlinburg is great for laughs and delicious food.
Of course servers tone things down for families with children or elders, but sometimes the humor here can be crude. If you're open to sarcasm, gruff treatment, and trying a dining experience that's out of the ordinary then Dick's Last Resort is a downright fun spot for dinner. Ideally, this restaurant is a great pick for enjoying a night on the town in Gatlinburg with friends.
There's a great outdoor patio for dining in the outdoors with nice views of the main parkway in Downtown. If you come to Dick's for the food and humor, you'll stay for the prime location in the heart of Gatlinburg.
Menu
Known as the "Shame of the Smokies," Dick's Last Resort has some tasty food to enjoy on your vacation.
Start off with some delicious, albeit inappropriately, named appetizers like:
Deep Fried Alligator Bites with Jalapenos
Fried Crabmeat Balls
Don't Be Shell-Fish Dip
Macho Nachos
Redneck Fondue
Catfish Bites
Dick's has a lunch and dinner menu. Plates run about $10 for lunch that is pretty affordable for dining in Downtown Gatlinburg. Dick's also offers a kids menu with classics that are perfect for picky eaters. Most of the fare is southern and features lots of tasty treats from the grill. Look for these specials:
The Big Clucking Sandwich – A build your own chicken sandwich


Dick's Big Pig Pork Sandwich – Carolina BBQ sandwich with slaw


The Dolly – Grilled Chicken Breasts


Catfish Po Boy – A twist on the classic po' boy with tasty catfish


Buffalo Chicken Salad – With tortilla chips, bleu cheese, pico-de-gallo, and ranch dressing. over greens
For dinner, you can enjoy big entrees and more rude, cheeky service. Enjoy these delicious plates with heaping portions of sarcasm and laughs:
Fish and Chips
Firecracker Asian Salmon With Wasabi
12 0z Rib Eye
BBQ Ribs
Crab Cakes
Golden Fried Catfish
Shrimp-A-Palooza
Hours
Dick's is open later than many Gatlinburg restaurants and is certainly a part of the Downtown Gatlinburg nightlife scene. On Sundays through Thursdays, Dick's Last Resort in Gatlinburg is open from 10 AM to 11 PM.
On weekends, this late night restaurant in Gatlinburg is open until midnight and possibly later if business demands it.
Directions
You'll find Dick's Last Resort in the heart of Downtown near the Old Smoky Moonshine Holler at Traffic Light #8. For parking, there are several paid lots on Historic Nature Trail near the Space Needle or on River Road, but these lots can be somewhat expensive.
If you are spending a day in Gatlinburg and don't mind walking, parking at the municipal garage behind Ripley's Aquarium only costs $6 for the day and is less than a mile from Dick's Last Resort. From one of Cabins USA Gatlinburg's Rentals, it's easy to enjoy a fun-filled dinner at Dick's or other Gatlinburg restaurants that rest only minutes away!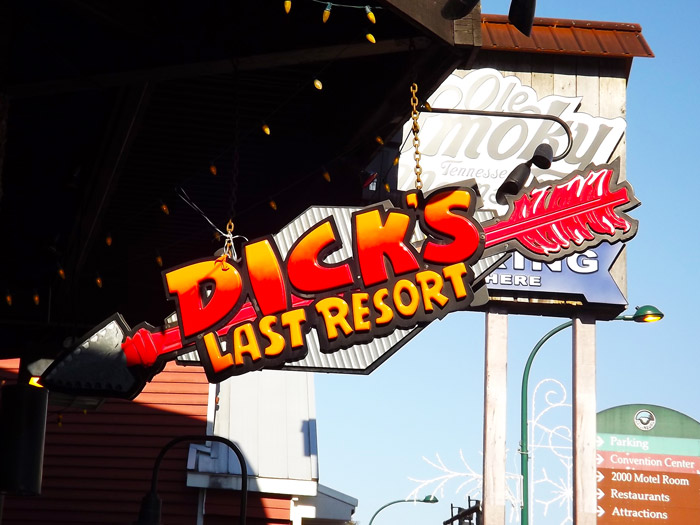 Contact:
Dick's Last Resort Gatlinburg
903 Parkway
Gatlinburg, TN 37738
865-277-6953
A
- Cabins USA Gatlinburg
B
- Dick's Last Resort in Gatlinburg
Written by Hayden Brown