Clingman's Dome is one of the most popular destinations in the Great Smoky Mountains National Park and is well worth visiting during your trip!
Any trip to Clingmans Dome is a terrific opportunity to explore high attitude environments and to see some truly stunning panoramic views of the Smokies.
Quick Facts about Clingmans Dome
At 6,644 Ft, Clingman's Dome is the highest mountain in the Great Smoky Mountains National Park.
Clingman's Dome is the tallest mountain in Tennessee and the 3rd tallest mountain in the Eastern United States.
The Clingman's Dome Tower offers sweeping, panoramic views of the Great Smoky Mountains.
Check out this video by the Great Smoky Mountains Association for some of the highlights of Clingmans Dome.
How To Get To Clingmans Dome
From Gatlinburg:
Enter into the Great Smoky Mountains National Park near the Sugarlands Visitor Center. From here, drive 16 miles up US 441 (Newfound Gap Rd,) to Newfound Gap.
From here, you can enjoy lovely views of the mountains, but if you continue driving .25 miles towards Cherokee, NC, you'll see a road that branches off to the right. This is the 7-mile Clingmans Dome Road. This high elevation road passes through lovely Spruce Fir forest and offers mountain views from several overlooks.
Before long, you'll reach the Clingmans Dome Parking area. This destination has gorgeous views, but for a panoramic vista, you can park and take the paved trail to the observation tower atop Clingmans Dome.
From Pigeon Forge or Wears Valley:
Rather than driving through Downtown Gatlinburg, visitors also have the option of taking a scenic route through the national park. Simply enter the national park at Townsend or the Metcalf Bottoms entrance and drive towards Gatlinburg and Sugarlands Visitors Center. From here, you can take the Newfound Gap Road up to Clingmans Dome.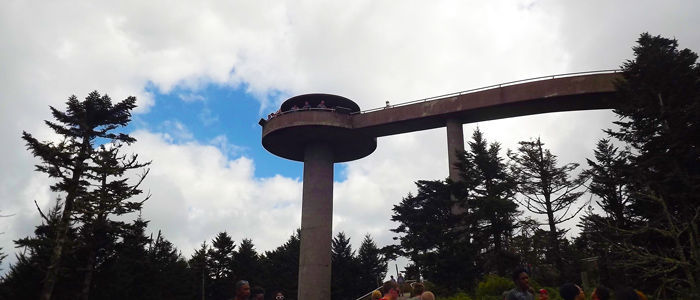 When is Clingman's Dome Closed For Winter?
Technically, Clingmans Dome is open year-round.
However, Clingmans Dome is effectively closed to vehicle traffic in the winter.
The Clingmans Dome road closure lasts from December 1 through March 31. The park service closes this road because of the fiscal and environmental costs of keeping it free of snow and ice.
As a result, the only way to get to Clingmans Dome in the winter months is to hike along the Clingmans Dome Road or the Appalachian Trail from Newfound Gap. This strenuous hike is 7-miles one-way and would require considerable preparation to safely reach the summit in the wintertime.
On the bright side, if you're a fan of cross country skiing, it's often possible to enjoy this winter sport on the Clingmans Dome road.
There are other routes to Clingmans Dome like the Forney Ridge Trail or Appalachian Trail. However, these hikes would require an overnight backpacking trip in the national park.
Hiking Trails on Clingmans Dome
The most traveled trail at Clingmans Dome is the paved trail to the observation tower. This steep trail is 0.5 miles in length, but yields incredible rewards.
Other nearby hike is Andrews Bald via the Forney Ridge Trail. This high elevation bald provides beautiful views of the North Carolina side of the national park.
Additionally, the Appalachian Trail passes by Clingmans Dome, so visitors can easily hike a few miles going north or southbound on the AT.
Weather on Clingmans Dome
On average, Clingmans Dome is cooler and wetter than lower elevations in Gatlinburg and Pigeon Forge. Often, the thermostat is 10-20 degrees colder on Clingmans Dome than in other parts of the park.
This cool weather is a delight in the summer months, but it can lead to sub-freezing temperatures in the fall and spring. As a result, be sure to bring extra layers and rain gear when visiting Clingmans Dome.
What's Killing the Trees at Clingman's Dome?
With a trip to the Clingman's Dome tower, many visitors notice that there are many dead trees at the summit.
An invasive pest known as balsam woolly adelgid is an insect that infests and kills the Fraser Firs that grow in high elevation sections of the park. Other factors such as acid rain and pollution weaken the trees' defenses against this insect.
Other Clingmans Dome Facts
Can I bring My Dog?
Dogs are allowed at Clingmans Dome in the Parking lot. However, dogs are not permitted on the paved path to the Clingmans Dome Tower. It is also park policy that pets are not allowed on most hiking trails in the national park, including hiking trails around Clingmans Dome.
What Facilities at Clingmans Dome?
There are Bathrooms at Clingmans Dome, however these are "backcountry" restrooms that do not use running water for plumbing.
There is also a small gift shop and information center staffed by park service members and volunteers during the day.
When is Clingmans Dome Open?
Technically, Clingmans Dome does not have any hours of operation. Visitors are permitted to visit the Dome whenever they choose, whether it's for watching the sunrise or going stargazing in the national park.
What Can I See From Clingmans Dome?
On a clear day, visitors can see for 100 miles in all directions from this tall mountain peak. All in all, 7 states can be seen from the summit including Tennessee, North Carolina, South Carolina, Virginia, Georgia, Virginia, and Kentucky.
Unfortunately, the view from Clingmans Dome is often limited by dense fog, rain, or air pollution.
Even on low visibility days, its possible to spot landmarks like Pigeon Forge or Mt. LeConte, another high peak in the Great Smoky Mountains National Park.
Sunsets and sunrises on Clingmans Dome are especially rewarding. For best results, try picking a day with fewer clouds to visit the summit.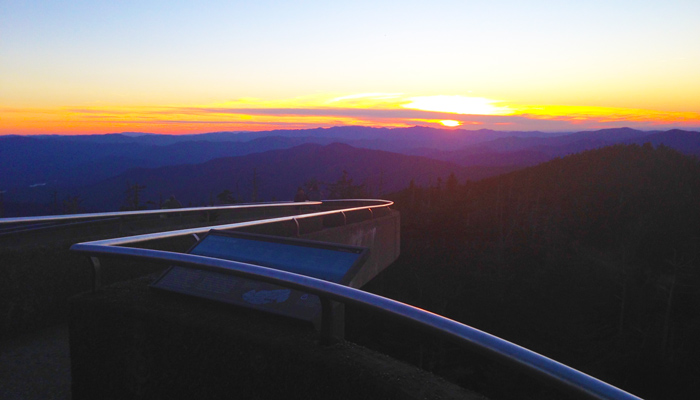 Final Thoughts on Clingmans Dome
A visit to Clingmans Dome is a true "mountain top" experience you won't want to miss! If you're planning on staying in Gatlinburg, we offer many log cabins near the national park that make it easy to explore sights like Clingmans Dome!
Contact:
Great Smoky Mountains National Park
865-436-1200
A
- Cabins USA Gatlinburg
B
- All About Clingmans Dome
Written by Hayden Brown