For vacationers in Gatlinburg visiting the national park, a stop to the Sugarlands Visitor Center is a must. With helpful rangers, a natural history museum, and more, this visitor center is a great way to plan your excursion in the Great Smoky Mountains National Park.
The Sugarlands Visitor Center is one of the four visitor centers located within in the National Park and is the closest one to Gatlinburg. The others are located in Cades Cove, Clingman's Dome, and Oconaluftee.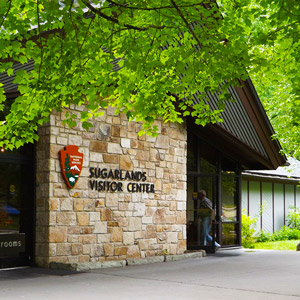 Other resources that this visitor center provides are restrooms, drink machines, and a gift shop, and book shop. Better yet, there are valuable resources here make it easy to enjoy your Smoky Mountain vacation to the fullest. Whether you plan on seeing historic sites in the Smokies, hiking a specific kind of trail, getting up to date information on trail and road closures, or have a question about wildlife, the helpful rangers here will be glad to assist you.
Natural History Museum at Sugarlands
If this is your first time visiting the Smoky Mountains, a stop at Sugarlands is a great way to acquaint yourself with the history of the Tennessee Mountains. The museum offers exhibits on:
Geologic History of the Smokies
History of People in the Smoky Mountains
Specimens of Plants and Animals
And more!
The center also offers a 20 minute video that is a great primer for learning more about the national park and the unique ecology and history that have shaped it. Like other visitor centers in the Smokies, Sugarlands occasionally offers ranger led programs on special topics that are free and open to the public.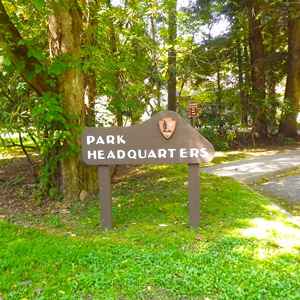 Once you have enjoyed your course of Smoky Mountains 101, you can set out to explore other nearby regions of the park like Elkmont, Newfound Gap, or Cades Cove.
Hiking Trails and Nature Trails at Sugarlands
If you're interested in hiking during your Gatlinburg cabin vacation, the Sugarlands Visitor Center also serves as an access point for several hiking trails in the national park. Many of these hiking trails are relatively easy and allow hikers the chance to see historic sites.
The section of the national park that is home to Sugarlands visitor center was once the heart of a historic mountain community. By hiking on these trails near Gatlinburg, you can still see remnants of homesteads where settlers once scraped a living in this beautiful valley. Some nearby hiking trails to explore include:
Gatlinburg Trail – This easy trail connects Sugarlands Visitor Center to Gatlinburg. This flat trail follows the West Prong of the Little Pigeon River and is a 2.6 mile round trip. Hikers will enjoy seeing old homesteads and chimneys. Additionally, this hiking trail is one of the only trails in the park that allows dogs.

Fighting Creek Nature Trail

– A 1.2 mile loop trail trail that follows a babbling stream near the visitor center. The trail makes a loop trail that passes by the John Ownby Cabin, that was build in 1860. Once you cross a small footbridge, you turn left to reach the cabin, turning right will take hikers to Cataract Falls.
Cove Mountain Trail – The Fighting Creek Nature trail crosses under a bridge and eventually reaches cataract falls, a small waterfall close to Sugarlands. From here, hikers can continue onto Cove Mountain Trail that follows the boundary of the national park for 8.4 miles until it reaches Chinquapin Ridge near Laurel Falls.
Other popular nearby trails that are only a short drive from Sugarlands include:
Laurel Falls Trail
Sugarland Valley Nature Trail
Old Sugarlands Trail
Sugarland Mountain Trail
Sugarlands Visitor Center Directions and Hours
From Gatlinburg - drive 2 miles on Hwy441 on Gatlinburg into the national park. Take a right onto Fighting Creek Gap Road and then take another right to enter the parking lot.
From Cades Cove, Wears Valley, or Elkmont – To reach the visitors center, drive towards Gatlinburg through the Great Smoky Mountains National Park on the Little River Gorge Road.
From New Found Gap – Drive towards Gatlinburg from Newfound Gap for 13 miles. Sugarlands Visitor Center will be on the left a few miles before you reach Downtown Gatlinburg.
Hours:
This visitor center is open year round with the exception of Christmas Day. Hours do change according to the season:
Jan. 8am to 4:30pm
Feb. 8am to 4:30pm
Mar. 8am to 5pm
Apr. 8am to 6pm
May 8am to 6pm
June 8am to 7:30pm
July 8am to 7:30pm
Aug. 8am to 7:30pm
Sept. 8am to 6:30pm
Oct. 8am to 6:30pm
Nov. 8am to 5pm
Dec. 8am to 4:30pm
Generally, during the busiest seasons of the park, the visitor center is open later in the day until 6 or 7pm. During the winter, they do close earlier in the day.
Final Thoughts
For planning adventures in the Great Smoky Mountains, information, maps, and personal tips can make the difference between a good experience and an incredible one. With informative exhibits and park rangers who love to share their knowledge of the Smokies, a visit to Sugarlands Visitor Center is an excellent way to enjoy the Great Smoky Mountains National Park to the fullest!
Contact:
Sugarlands Visitor Center
1420 Little River Gorge Road
Gatlinburg, TN 37738
865-436-1200
http://www.nps.gov/grsm/planyourvisit/visitorcenters.htm
A
- Cabins USA Gatlinburg
B
- Sugarlands Visitor Center in Gatlinburg
Written by Hayden Brown