Great Easy Hikes Near Gatlinburg in the Smokies
The Great Smoky Mountains National Park is famous for its hiking trails. In fact, there are nearly 900 miles of trail in the Smokies. While some would love to complete every trail in the park (In fact, there is an elite club for hikers who do so), others who don't want to struggle with long or difficult hikes. For the visitor who's interested in a casual stroll that provides the complete Smoky Mountain experience, here is our list of easy hikes near Gatlinburg, TN!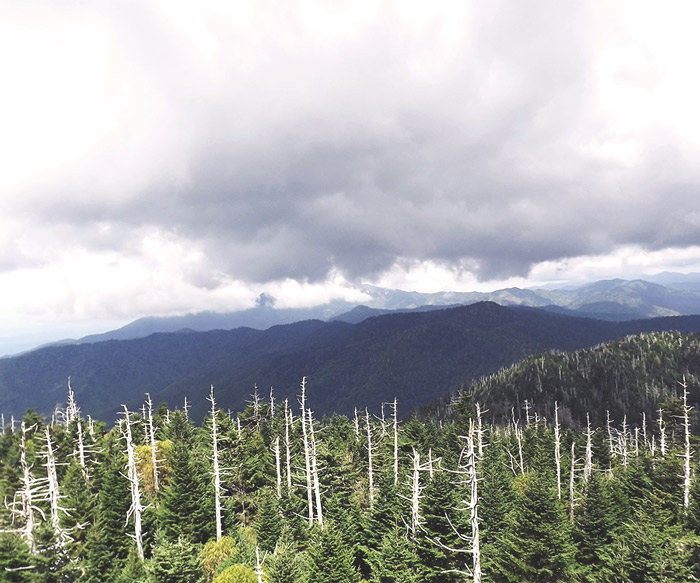 These trails are known for being easy, accessible, and short. For guests staying in Gatlinburg cabins, most of these hikes are are a short drive Gatlinburg and are recommended if you are on a tight schedule. Most provide level surfaces and some are paved. Very few have difficult climbs and those that do provide ample space for resting. These are short trails for families with children, beginners, or elders who want to see the gorgeous mountains of Tennessee!
Easy Hikes Near Gatlinburg
1. Laurel Falls
Features: Cascading Waterfalls, Mountain Views

Elevation Change: Slow climb to Laurel Falls
Round Trip Hike: 2.5 Miles
Trip Time: 2 hours
Directions:
This Hiking Trail near Gatlinburg is only 4 miles away from the Sugarlands Visitor Center. From the Visitors Center, drive towards Elkmont and Cades Cove. After a few miles, you will reach the trail head at Fighting Creek Gap. Parking is on both sides of the road.
Gatlinburg Hiking Trail Description:
Laurel Falls is one of the few paved hiking paths in the Smokies. Coupled with this trail's gradual climb, it is considered one of the easy hikes in the Smokies with a big payoff. The 80 foot high Laurel Falls is a spectacular sight and is a favorite hiking trail near Gatlinburg. The aptly named, Laurel Falls, describes the beautiful mountain laurel and rhododendron that is abundant in this part of the Smokies. During early Spring around May, the rhododendron along the trail blooms adding highlights of white and pink to the forest landscape. Along the way to the multi-tiered waterfall, hikers will enjoy the occasional view of nearby mountains.

Laurel Falls is a favorite trail for families with small children who enjoy exploring the beautiful mountain foliage and splashing in cool stream waters on hot days in the Smokies. This paved trail provides a relatively level surface for walking that provides a level surface for older hikers. However, much of the pavement has begun to wear over the years so there are some rough spots. Another hazard to watch out for is that occasionally the pavement can become slick when wet. There are also some periods of gradual climbs that can be somewhat taxing. All the same, Laurel Falls is a highly accessible hiking trail that is enjoyed by droves of visitors to the Smokies every year!

Because Laurel Falls is an easy hike near Gatlinburg, it often becomes crowded during the peak seasons of Fall and Summer in the Smokies. If you hope to see Laurel Falls during these times, it is recommended that hikers try to make it to the trail head early because parking is limited.
2. Fighting Creek Nature Trail
Highlights: Peaceful streams and forested settings
Elevation Change: Very little on this flat trail
Round Trip Hike: 0.9 Miles on this loop hike
Trip Time: 30 Minutes
Directions:
Start at Sugarlands Visitors Center Near Gatlinburg. After passing through a plaza between two buildings, hikers will see a sign labeled "Nature Trail." Following the paved pathway into the woods will lead hikers to a split in the trail. Taking the trail to the right will bring hikers to the Gatlinburg Trail, but following the unpaved trail left is the start of the Fighting Creek Nature Trail.
Description:
This quiet, easy hike in the Smokies is very level and is on a well-maintained trail that is perfect for a peaceful stroll in the woods. The trail follows a small stream that provides soothing sounds along with the notes of chirping birds. On this easy trail, you are never too far away from Gatlinburg or the Visitors Center, but it is a pretty area to rest and relax in peaceful nature.
3. Sugarlands Valley Nature Trail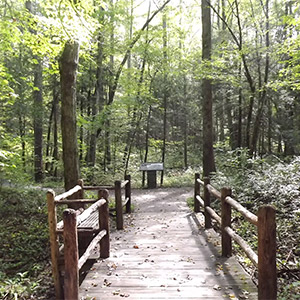 Highlights: Old Homesteads, peaceful streams, and forested settings
Elevation Change: Very little on this flat trail
Round Trip Hike: 0.5 Miles on this loop hike
Trip Time: 20 Minutes
Directions:
From Sugarlands Visitor Center near Gatlinburg, drive towards Newfound Gap. After a mile or so, there will be a sign for the Sugarlands Valley Nature Trail before a parking area with plenty of handicap-accessible parking.
Description:
This lovely loop hike near Gatlinburg is touted as the only handicap accessible trail in the National Park. The entire half-mile loop is paved in well-maintained concrete that allows passage for wheelchairs or other assistive conveniences. This walk is completely flat and is close to Gatlinburg. The loop goes through a gorgeous section of forest with several highlights. Even better, visitors can pick up a brochure that can guide them on a tour of the loop. This is a great way to learn more about the history, flora, and fauna of the Smokies!

Nestled in the Sugarlands Valley, a historic community, there are old homesteads that you pass by on this walk. You can still see chimneys, roadbeds, and fences from days gone by. This adds a great educational element to this hike. There is also a pleasant stream from the West Prong of the Little Pigeon River that is great for kids to splash and play in. If you need a place to rest during the walk, there are several benches that offer a great place to take in this charming valley.
4. Gatlinburg Trail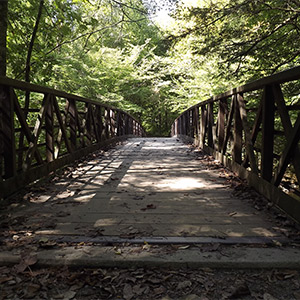 Highlights: Old Homesteads, peaceful streams, and forested settings.
Elevation Change: Some hills, but mostly level
Round Trip Hike: 2.6 Miles
Trip Time: 1 hour 45 minutes
Directions:
Finding this trail from Sugarlands Visitor's Center can be a bit tricky, so do not hesitate to ask one of the Park Rangers at the Visitor's Center for directions! From Sugarlands, the trail begins immediately behind the main building and starts on a paved path. This path will take walkers past the historic Park Headquarters and alongside a road that continues past other National Park buildings. This trail eventually connects with downtown Gatlinburg making for a 2.6-mile round trip hiking from the visitor's center to Gatlinburg and back.
Description:
Beginning at the Sugarlands Visitor Center, the trail will take hikers past the current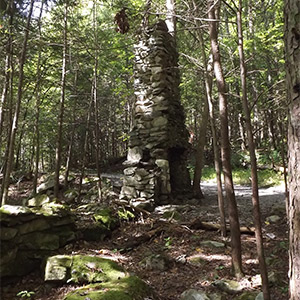 Headquarters of the Great Smoky Mountains National Park, a beautiful stone building constructed by the CCC in the 1930s. From here, the trail follows alongside a road that leads hikers past several other buildings used by the Park Service administration. While it may not seem you are on a hiking trail at certain times, continue following the signs for the best is soon to come. After passing a facility that stores much of the National Park's equipment and maintenance vehicles, hikers will find themselves on a level gravel path alongside the West Prong of the Little Pigeon River. On this trail, hikers will enjoy a beautiful mountain stream in a gorgeous wooded setting. About 1.5 miles into the trip, hikers will find the remnants of an old cabin.

Continuing on, the trail eventually crosses the river a few times before it reaches Gatlinburg. In between, there are a few hills that are considerable, but there are enough level sections of trail to recover on.

Gatlinburg Trail is one of the few trails in the National Park that allows bicycles and pets. Of course, all dogs must be kept on a leash. The trail is also popular with local joggers and many can be seen enjoying this beautiful trail near Gatlinburg.
5. Clingmans Dome Nature Trail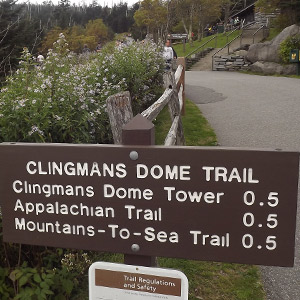 Highlights: Panoramic Views, The Clingmans Dome Tower, Highest Point in the Great Smoky Mountains National Park
Elevation Change: Steep 450-foot climb to the tower from the parking lot.
Round Trip Hike: 1 Mile
Trip Time: 1 hour
Directions:
From Sugarlands Visitor Center near Gatlinburg, drive towards Newfound Gap. This is a long beautiful drive that climbs to the high ridge of the Smokies. Once at Newfound Gap, turn right onto the Clingmans Dome Road. Follow this road for 7 miles to reach the Clingmans Dome parking area. Please note that the road to the mountain top is closed during the winter months due to ice and snow.
Description:
Though this trail can be challenging and it is about a 45-minute drive from Gatlinburg, Clingmans Dome Nature Trail is one of the most spectacular hikes in the park. Though the climb is steep, this difficulty is worth this hike's huge payoff! Better yet, this trail is only a one-mile round trip on a paved trail with plenty of spots to sit and rest while climbing to the tower. Better yet, this relatively easy trail is paved, so that hikers can expect a level surface as they climb to the tower. Simply take time to rest and your hard work is well worth it. This paved trail is too steep for visitors in wheelchairs.


From the parking lot, the climb is 450 ft of elevation change to the Clingman's Dome Observation Tower. This climb can be taxing, so be sure to take breaks on the way up! However, all the hard work will pay off with a visit to the top of the observation tower with stunning views. On clear days, visitors will be able to see Pigeon Forge and Knoxville, as well as huge swaths of the national park. Other high peaks like Mt. LeConte near Gatlinburg will also be visible.
6. Quiet Walkways and Nature Trails
Highlights: A little bit of everything
Elevation Change: Mostly flat, with short steep sections
Round Trip: 0.1 to 1.0 Miles
Directions:
There are 4 quiet walkways on the road between Gatlinburg and Newfound Gap and an additional 3 quiet hiking paths between Gatlinburg and Elkmont. When many other trails in the Smokies are crowded and filled with loud hikers, these peaceful, secluded walkways keep you away from the crowds.
Description:
Throughout the park, there are short trails marked as quiet walkways and nature trails. While these easy trails near Gatlinburg aren't one single trail or region, they are nonetheless great short hikes for beginners. Many other trails in the Smokies are often crowded and are difficult to find safe parking for. Thankfully, these easy trails keep a low profile and are positively gorgeous. Just because these quiet walkways and nature trails don't draw big crowds doesn't mean they are any less remarkable, these are simply hidden gems. There are quite a few of these quiet walkways that offer solitude and a beautiful spot in the woods. They can be found thanks to small, discreet signs like this: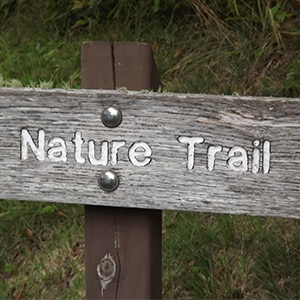 Some notable short trails to look for between Gatlinburg and Newfound Gap are:
Bullhead View — 0.2-mile trail to a lovely spot by a mountain stream.
Riverview Quiet Walkway — a 0.4-mile path that is flat and level. Features wildflowers in the spring and follows a historic roadbed.
Jim Carr Place — 0.6-mile walk to the Little Pigeon River and to an old settlement. No ruins remain, but there is a clearing with common plants brought in by settlers such as daffodils and day lilies.
Balsam Point — 0.3 miles walk down to a peaceful spot by the river complete with a bench for sitting.
There are also several quiet walkways between Gatlinburg and Elkmont:
Big White Oak — 0.4-mile loop trail through a thickly canopied forest and babbling brooks.
Hickory Flats — 0.1-mile walkway to a flat clearing for a cemetery. Several families used this area as a cemetery and a few headstones date to the 19th century.
Laurel Falls Quiet Walkway — 0.5-mile loop trail in a peaceful wooded setting near the Laurel Falls Trail Head.
When many other trails in the Smokies are crowded and filled with loud hikers, these peaceful, secluded walkways keep you away from the crowds.

Each of these easy trails in the Smokies focuses on different features of the park and can be found at a variety of elevations and habitats. There are generally brochures at each trailhead that offer additional information for self-guided trails. Quiet Walkways and Nature trails exhibit features in the park ranging from waterfalls, Smoky Mountain views, old homesteads, and much more! These trails are generally unpaved, but they are often flat and accessible for most visitors. This quiet walkway is located off the Clingman's Dome Road and allows visitors to explore a high elevation Fir Forrest.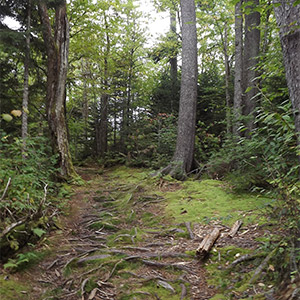 These peaceful hiking trails in the Smokies are simply lovely and offer hikers quiet strolls through the woods complete with sitting areas to enjoy a quiet spot in the Smoky Mountains!
Final Thoughts on Short and Easy Hikes Close To Gatlinburg
Be sure to explore these easy hikes near Gatlinburg during your stay near the Great Smoky Mountains of Tennessee! Or if you know anyone visiting the Smokies, share this guide with them to help in planning their trip! Any of these trails are a great option for a quick and easy hike in the mountains.
Written by Hayden Brown