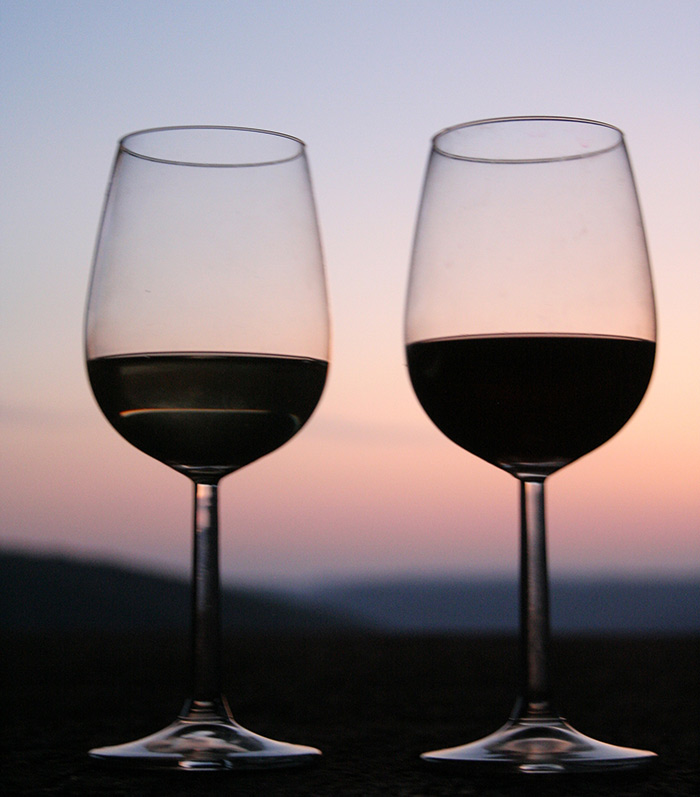 When people think of East Tennessee, certain things come to mind - the rolling green hills of the Smokies, Southern cooking, and, let's be honest,...bootleggers and their moonshine. A stop to a Gatlinburg distillery has become a popular outing among visitors to the Smokies since operational moonshine distilleries became legal. However did you know that you can also make a trip to a winery in Gatlinburg, TN as well? Or stop by Smoky Mountain Brewery's Gatlinburg location for a delicious craft beer.
Whatever your choice of drink may be - there's something in the Smokies to lift your spirits! Come explore the unique tastes that these breweries, wineries, and distilleries have to offer.
Taste the Fruit of Vine at a Winery in Gatlinburg, TN
Most people think of Napa Valley when they imagine traveling to enjoy wines, but did you know that the Smoky Mountains offers its own selection of delicious and unique wines. Not too much of a wine person? Most of the wines in the region tend to be on the sweet side, so even if you're not one to enjoy merlot with meals you might want to give these wines a try.
Smoky Mountain Winery offers a delightful array of semi-sweet wines in a charming Bavarian themed building.
Another winery in Gatlinburg, TN to consider is Sugarland Cellars. Here, you'll find a wide selection of delicious wines from the honey-citrus Baskins Creek Blanc to the the burgundy dry wine 1802. Whatever taste suits your palate you'll more than likely find it at this winery in the Smokies. Enjoy daily tours and tastings!
Get a Taste of Strong Southern Spirits at a Gatlinburg Distillery
Probably the most famous drink of the Smokies, a trip to a Smoky Mountains moonshine distillery gives vacationers a chance to taste authentic moonshine from recipes that we're passed down in families for generation. From pure White Lightin' to a deliciously light strawberry moonshine, you'll want to take a bit of Rocky Top home with you from your Smoky Mountain vacation.
Tastings at Gatlinburg distilleries and wineries are no longer free as the city requires these businesses to charge $5 for tastings. Luckily, many of these businesses provide $5 coupons towards a purchase in exchange.
Doc Collier Moonshine offers several flavors of white lightin' using a recipe passed down through the generations in a store decorated like an old-time mercantile store. Try Apple Pie Moonshine for a true Southern drink.
If you're more a fan of whiskey, try several flavors ranging from Cookies-n-Cream to Southern Pecan at the Gatlinburg Barrelhouse. Another place to try out some good Tennessee whiskey is Davey Crockett's, which offers fearless whiskey for fearless drinkers.
Enjoy watching the entire Tennessee moonshine making process at Ole Smoky Moonshine. Sample flavors such as strawberry and lemon drop after your tour, but make sure to drink responsibly.
Sugarlands Distillery's barn transports you back to the days when Tennessee moonshine was something to be kept secret and celebrates mountain culture with live music and tastings of everything from sweet tea to lemonade moonshine.
Smoky Mountain Brewery in Gatlinburg, TN
If you're not into wine or liquor, but love a cold brew a trip to Smoky Mountain Brewery. Here you can enjoy well-crafted microbrews brewed in the Smokies. From the Appalachian Pale Ale to the Mountain Light, there's something for everyone's taste.
No matter where you decide to try some delicious mountain spirits - make sure to drink responsibly. To have even more fun bring back a bottle of wine to your Gatlinburg cabin to enjoy in the privacy of your comfortable cabin retreat.