The Apple Barn Winery is one of several unique stops on the Rocky Top Wine Trail, a group of 5 wineries in the Great Smoky Mountains. As their name suggests, this winery heavily features sweet, apple flavored wines made with local apples from their orchard.
A visit to this winery is a real pleasure thanks to the peaceful setting it calls home. Nestled on the banks of the West Prong of the Little Pigeon River, the Apple Barn Winery enjoys a beautiful location that's only a short drive from the main Parkway in Pigeon Forge.
As for the wines made here, many of the fruit wines this Smoky Mountain winery features are sweeter. The same can be said for many Smoky Mountain wines, although this winery takes pride in offering a wide variety of flavors to suit different palates. Their most popular handcrafted wines made in small batches boast unique blends of apple flavors. Since the Apple Barn Winery first opened in 1994, they've continued to perfect their wine making process and their own unique twist on vino.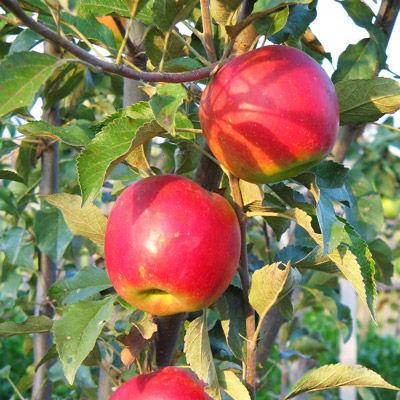 Insider Tip: This winery can be a bit crowded at times because of its location next to the popular Applewood Farmhouse Restaurant in Sevierville. This beloved restaurant, cider mill, and general store is a favorite stop for vacationers who also visit the winery.
A Tour at the Apple Barn
When you pay the Apple Barn Winery in Sevierville a visit, you can enjoy free samples of 6 of their wines. If you happen to visit on a day when they are producing wine, vacationers can watch wine being made from observation windows. You can see wine at every stage from the tank room, barrel aging, and bottling.
As you sample the unique blends of wine, a helpful winery staff can help you find the perfect bottle of wine for a gift or a personal treat. Additionally, they'd be happy to answer any questions you have about the Apple Barn's method and approach to wine making. There is also a shop with wine accessories with knick knacks and gifts to commemorate your visit.
Insider Tip: Since the Apple Barn Farmhouse Restaurant is right next door, you can take any bottles you purchase to enjoy over dinner at this classic restaurant in Pigeon Forge.
Wines at the Apple Barn
Dry
Apple Wine - A dry, fruity apple wine aged in oak barrels. Pairs great with mild cheese.
Cabernet Sauvignon – A blended red wine with Tennessee and California wines.
Vineyard White – A blended, dry white wine.
Semi Sweet Wines
Apple Blush – An apple and grape blend that produces a semi-dry wine that pairs with any meal.
Apple-Raspberry – A slightly sweet apple and grape blend that pairs great with cheese and fruit.
Sweet
Muscadine – A sweet dessert wine that has deep roots in the South.
Apple-Peach – Peach flavored apple wine.
Apple-Strawberry – Strawberry flavored apple wine.
Seasonal Specials
Spiced Apple
Apple Cranberry
Apple Mango
Apple Pomegranate
Apple Julep
Blackberry Dessert Wine
The Apple Barn Winery produces quite a few wines to complement the change of the season. Many of these wines sell out quickly, so be sure to sample these or grab a bottle when you can! Prices range from $12 - $15 for a bottle from the Apple Barn Winery.
Hours
Jan 1st – March 31st
Mon. - Thurs. 9:00am to 7:00pm
Fri. - Sat. 9:00am – 8:00pm
Sunday 9:00am – 6:00pm
April 1st – Dec. 31st
Mon. – Sat. – 9:00am to 9:00pm
Sun. 9:00am to 8:00pm
Directions
The Apple Barn Winery is located adjacent to the Applewood Farmhouse Restaurant on Apple Valley Road. This road is near the Tanger Outlet Shopping center where the Pigeon Forge and Sevierville city lines are located. This area can easily be reached from a nearby cabin for rent in Gatlinburg or the greater Smoky Mountains area.
Contact:
Apple Barn Winery
220 Apple Valley Rd
Sevierville, TN 37862
865-428-6850
http://applebarnwines.com
A
- Cabins USA Gatlinburg
B
- Apple Barn Winery Sevierville
Written by Hayden Brown