Grab your coonskin cap and come to Gatlinburg, TN! Inspired by the rugged Tennessee Frontiersmen, the Ole Smoky Whiskey Distillery is one of several new distilleries that are recent additions to the main parkway in Gatlinburg.
Formerly known as the Gatlinburg Barrelhouse and Davy Crockett's Tennessee Whiskey, the Ole Smoky Whiskey Distillery in Gatlinburg, TN is yet another place to sample unique whiskey flavors that you can't find anywhere else.
Davy Crocket was born in nearby Greene County Tennessee in 1786 and was a frontiersmen, soldier in the War of 1812, and statesman. The man who was larger than his legend is a suitable theme for the quality spirits distilled here in the foothills of the Smoky Mountains.
With whiskey samples for only $5 and distillery tours, you can learn about making authentic Smoky Mountain whiskey in the heart of Downtown Gatlinburg!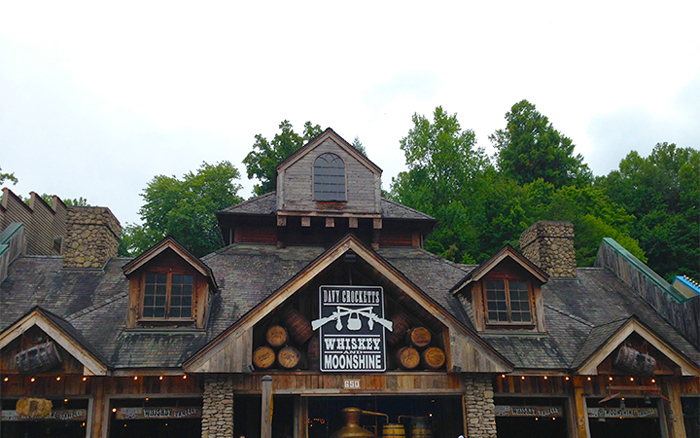 In January 2016, Davy Crockett's Tennessee Whiskey was rebranded to become Old Smoky Whiskey.
This popular distillery in Gatlinburg merged with Ole Smoky Moonshine, a nationally recognized moonshine distillery based in Gatlinburg, TN.
Though Davy Crockett's Tennessee Whiskey has changed its name, you can still count on enjoying delicious flavor from the same 100 year-old recipe that requires this whisky to be aged for four years in white oak barrels and then filtered through sugar maple charcoal.
This merger also comes with a serious perk: delicious whiskies like Tennessee Mud and Salty Caramel Whiskey may be coming to a store near you.
For many years, Davy Crockett Whiskey did not distribute its whiskies and you could only find these rare liquors for sale in downtown Gatlinburg.
Luckily, Old Smoky Moonshine plans to make Ole Smoky Whiskey available in more places. Better yet, Ole Smoky has hinted that new whiskey flavors are on the way now that they've teamed up with Davy Crockett's Distillery.
The Ole Smoky Tennessee Whiskey Experience
As you walk by this downtown distillery, you may notice the sweet, complex aromas of whiskey distilling in the heart of Gatlinburg
Learn how whiskey is made in this rustic looking distillery with a great atmosphere. Inside, you'll see copper pot stills and oak barrels used for making this authentic Tennessee frontier refreshment. Displays and helpful bartenders can answer any questions you have about whiskey making and suggest drink recipes for you to try.
You can sample these bold frontier flavors fresh from the Smoky Mountains at Davy Crockett's:
Original Tennessee Whiskey - Aged in White Oak barrels for 4 years and blended for a distinct flavor. This mellow whiskey is ideal for sipping and features notes of sugar maple charcoal.


Tennessee – Rich chocolate paired with smooth whiskey for a deliciously complex flavor.


Southern Pecan – You'll love this sweet, nutty, and authentically southern whiskey.


Salty Caramel – A delicious dessert treat with balanced salty and sweet flavors that pair well with coffee, hot cider, or hot chocolate.


Cinnamon Whiskey – Whiskey with a little extra heat and sweetened cinnamon.
Be sure to ask the bartenders of different drink combinations and cocktail ideas for these versatile whiskies. Even if you don't like whiskey, these unique flavor combinations might just change your mind about this classic American drink.
At the distillery in Gatlinburg, they are always experimenting with new flavors like sassafras and grape. There's no telling what new flavor this Tennessee whiskey distillery will feature when you visit.
After you try some moonshine and whiskey, this Gatlinburg distillery has a full retail location with gifts and Davy Crockett's Moonshine for sale. Pick up some authentic Tennessee whiskey for a souvenir from your Smoky Mountain vacation!
Hours and Location
Ole Smoky Whiskey Distillery is open 7 days a week. There are a few holidays and hours that this distillery is not permitted to sell or serve alcohol due to state law.
10:00 AM to 10:00 PM on Sunday through Thursday


10:00 AM to 11:00 PM Friday and Saturday
You'll find this distillery in Gatlinburg on the main road, not far from The Village Shops and Fort Fun. The closest parking area to Ole Smoky Whiskey Distillery is the municipal parking garage behind Ripley's Aquarium of the Smokies. This parking area only costs $6 for the day and is one of the most affordable places for parking in downtown.
Contact:
Ole Smoky Distillery
650 Parkway
Gatlinburg, TN 37738
865-325-1111
A
- Cabins USA Gatlinburg
B
- Davy Crockett's Whiskey Distillery
Written by Hayden Brown