There are quite a few Zip Line Tour companies in the Smoky Mountains, but choosing the right one always comes down to the kind of experience you are looking for. Smoky Mountain Zip Line and Canopy Tours is a great choice for families and groups who want their adventure to be safe, fun, and unique!
The Smoky Mountain Lip Line Experience
After booking your trip and attending a mandatory safety "zip school", your guides will bring you to the mountain top in a 6 x 6 military truck on country roads. Included in the cost of the trip and an experience in itself. Not only does this get your adventure off to a great start, but it also saves your family or group the trouble of walking up steep mountain trails.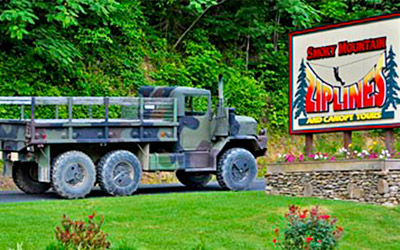 For zip lining adventures, two professional guides that prioritize safety will accompany your group. Not only are these guides professional, but also they do a great job of settling any butterflies you may have with a good joke (or two).
This zip line tour company in the Smokies offers a variety of trips and packages that you can pick depending on your schedule and the kind of experience you want. The adventures this zip line company offers are canopy tours that use zip lines to take you from one section of forest to another.
Tour options and prices are subject to change:
9 line tour – 1.5 hours - $69.99 per person
14 line tour – 2.5 hours – $84.95 per person
Super Ziplines – 30 min $39.95 – A tour of the longest, highest, and fastest zip lines on the course. This tour is so extreme that this outfitter requires that you complete one of their canopy tours before tackling this adventure.
Full Package – 3 hours – 124.95 - Includes the 14 line canopy tour and the Super Ziplines experience.
Planning Your Trip
This tour company operates 7 days a week during the summer, but tours very during the off-season. Smoky Mountain Zip Line's season typically runs from March or April through October or November, even earlier or later if weather and conditions permit, contact Smoky Mountain Ziplines to see if they are hosting tours.
Calling in and making a reservation is the best way to ensure you have a good experience. The guides closely watch the weather to ensure it is a safe time to go, so they can help you schedule the best time to make your trip.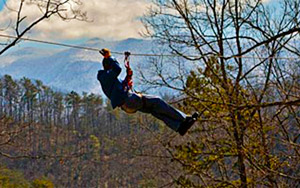 Walk-ins can also book tours, but may have to wait for the next tour to return before their adventure begins. This tour is also close to Pigeon Forge, so you won't have to make a long drive from your Smoky Mountain cabin to enjoy an adrenaline-pumping good time!
There are also height, weight, and ages restrictions for this adventure to consider.
Single riders must be 8 years of age and weigh a minimum of 60 pounds.
Maximum weight for women 200.
Maximum weight for men 250.
Riders cannot wear open toe shoes.
For children under the age of 8, it may be possible for them to tandem ride with one of the guides.
Insider Tip: There are several discounts available at Smoky Mountain Zip Lines.
Bring a Smoky Mountain Zip Lines brochure for a $15 discount.
Military discount for enlisted personnel and their families.
$5 off for seniors 65 and older.
Group rates could be available depending on the season.
Regular Seasonal Specials – Be sure to call in and see if there are any on-going promotions.
Final Thoughts
What goes up must come down. In this tour, you'll go up the mountain in a military truck and fly down on an exhilarating zip course. Who knew gravity could be so fun? With great guides, beautiful scenery, and a unique zipline course, Smoky Mountain Zip Lines is a great way to enjoy an unforgettable outdoor adventure in the Smokies!
Contact:

509 Mill Creek Road
Pigeon Forge, TN 37863
865-429-9004
http://www.smokymountainziplines.com
A
- Cabins USA Gatlinburg
B
- Smoky Mountain Zip Line Tours
Written by Hayden Brown