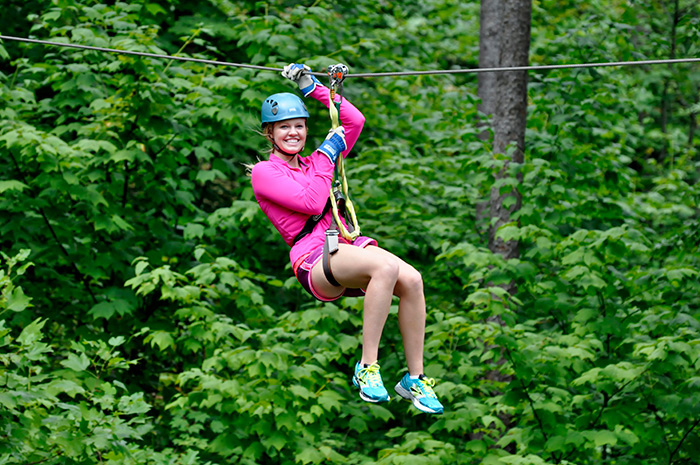 Have you had your fill of the quiet walks through the woods? Can't stand another round of mini-golf? Has the thrill of go karts simply disappeared? If you're ready to step up your Smoky Mountain outdoors adventures a notch, embark on a trip down one of the many Smoky Mountain ziplines in the area. Imagine the rush of flying past trees like a speeding bird. Your heart beats faster in your chest as you zip past limbs far from the forest floor. You simply can put into words what it feels like to embark on an adventure at one of the Gatlinburg area ziplines companies.
Do you have the courage to jump of the platform and into the air? You'll reach speeds of 40 MPH while maneuvering through the forests of East Tennessee on these ziplines in the Smokies. If you do happen to have the courage to take a literal leap of faith, you'll be rewarded with one of the most memorable Smoky Mountain attractions around that your entire family is bound to enjoy.
Gatlinburg Ziplines
There are several companies that offer Gatlinburg ziplines that allow you to experience on of the most adrenaline pumping attraction on your Smoky Mountain dream vacation. Guests staying in cabin rentals in Gatlinburg can enjoy the proximity of these ziplines in the Smokies.
CLIMB Works Ziplines offers a chance for vacationers to experience ziplining in the Smokies with a total of 2.5 hours worth of time off the ground, making this one crazy ride to experience on your cabin vacation. ZipGatlinburg offers visitors ages 5 and up a chance to experience the wonders of human flight.
Other Ziplines in the Smokies
Pigeon Forge, Wears Valley, and Sevierville boast several companies offering Smoky Mountain ziplines that offer great ways to experience the thrill of exploring the Smoky Mountain outdoors.
Wahoo Ziplines in Sevierville offers 6 courses of exhilarating ziplines in the Smokies. Guests staying in any of our cabins in Grand View Resort get the added luxury of having discounted tickets to this adrenaline-pumping attraction.
In Pigeon Forge, vacationers can enjoy one of the most extensive courses in the area at Smoky Mountain Ziplines. Nearby, Legacy Mountain Ziplines offers up the first and only eco-friendly ziplining in the Smoky Mountains
If you're looking to experience this thrilling attraction on the scenic, sleepy side of the Smokies, Wears Valley Zipline allows vacationers can enjoy over 1.25 miles of Smoky Mountain ziplines.
No matter which ziplines in the Smokies you and your family choose to do, you're bound to enjoy the heart-pounding excitement provided by Smoky Mountain ziplines. Do you have the guts to make it through the course? Come and find at one of these thrilling attractions in the mountains!