Hiking Spence Field in the Great Smoky Mountains
Highlights: Panoramic Views, Mountain Peaks, Wildflowers, and High Elevation Field
Round Trip: 10 Miles
Elevation Gain: 3100 Feet
Directions: There are 2 primary trails to reach Spence Field
Lead Cove Trail – 10 mile round trip hike
Anthony Creek – 10.4 mile round trip hike
The Lead Cove Trailhead can be found between The "Wye" at Townsend and the entrance to Cades Cove. The trailhead is 5.6 miles from the national park entrance near Townsend. Parking is limited to about 10 cars at this trail head.
To hike to Spence Field from Anthony Creek Trail, drive to Cades Cove and find parking near the camp ground and picnic area. Signs will direct you to the trailhead.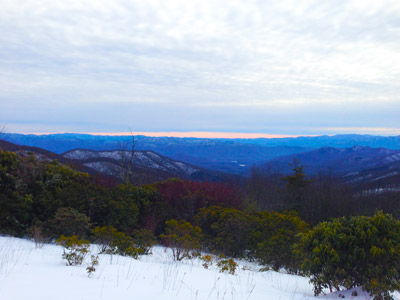 A third option is to take Eagle Creek Trail near Fontana Dam in North Carolina. This hike would be a 28 mile round trip and would require an overnight backpacking trip in the national park.
History
Spence field is one of the many high elevation fields in the park that straddles the Tennessee and North Carolina state line. It isn't one of the natural balds in the Great Smoky Mountains, so the park service is allowing Spence Field to return to its natural state.
Evidence suggests the field was cleared in the 1830s and used for grazing pasture by settlers in Cades Cove. The first to do this was James Spence, a Cades Cove resident who built a cabin here in 1830.
Much of this trail follows historic routes that settlers used to take sheep and cattle up the mountain to rich pasturelands. As a result, sections of Bote Mountain trail are sunk several feet into the ground due to years of erosion.
When tourism began to thrive in the Smokies in the late 1880s, residents in Cades Cove began taking travellers on guided trips to see big peaks like Thunderhead and Rocky Top, likely by way of Anthony Creek Trail.
With the formation of the national park and the establishment of the Appalachian Trail, these paths have become important access points for reaching the high ridge of the Smokies.
James Spence's cabin no longer remains, but there is a shelter near Spence field for Appalachian Trail Hikers as they make their way through the Smokies.
Rocky Top and Thunderhead are two high peaks along the Appalachian Trail. Hikers who reach Spence Field can hike further to these two summits or simply appreciate views of them from the trail.
Trail Description
Spence Field, Rocky Top, and Thunderhead offer some of the most beautiful vistas in the Smoky Mountains. Unfortunately, there's a catch. The route to reach these highlights in the national park is strenuous, long, and steep.
The good news is, with enough preparation and forward planning, hiking to Spence Field, Rocky Top, and Thunderhead can be accomplished.
Insider Tip: Give your group plenty of time to complete this hike. A good rule of thumb is to estimate your hiking time. Most hikers can complete 1 mile of trail in 30 minutes. For a hike like Spence Field, a 10 mile hike will take 5 hours at a minimum. To reach Rocky Top and Thunderhead a few miles further on the Appalachian Trail, you should allot even more time.
From Lead Cove Trail - From the trailhead, hikers will hike 1.2 miles on Lead Cove Trail until it runs into Bote Mountain Trail. Upon reaching Bote Mountain Trail, hikers will turn right and follow this wide trail for 2.9 miles until they reach the Appalachian Trail. On their way, Bote Mountain Trail provides views of Rocky Top and Thunderhead, especially in the winter time.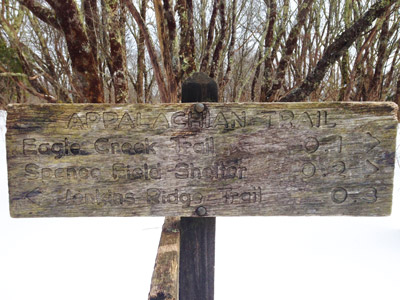 To see Spence Field, turn left onto the A. T. (Jenkins Ridge Trail) even though a sign directs hikers to the Spence Field shelter a few hundred yards to the right. Continuing left of the Appalachian Trail, the forest will give way to a high elevation meadow with breathtaking views.
Of the two peaks that are visible from Spence Field, Rocky Top is the shorter peak and Thunderhead is the taller mountain. To reach these summits, hikers will have to hike an additional 2 miles and climb 700 vertical feet.
From Anthony Creek Trail - This route is slightly longer than taking Lead Cove Trail. From the Cades Cove Campground, the Anthony Creek Trail winds up the mountain for 2.7 miles until it connects with Bote Mountain Trail. Upon reaching Bote Mountain Trail, the hike to Spence Field follows the same route as the Lead Cove Trail.
Insider Tip: There are about 5 shallow stream crossings on Anthony Creek Trail, so be sure to tread carefully when conditions are icy or if you are hiking after heavy rains.
Spence Field Views and Final Thoughts
Upon reaching Spence Field, hikers will enjoy stunning views of the North Carolina Smokies. These photos are from winter, but hiking in the summer is also gorgeous.
By continuing on the Rocky Top and Thunderhead, it is possible to enjoy panoramic views of all of the Smoky Mountains, including the valley of Cades Cove below. Just sit back and enjoy a well deserved lunch before returning to your Smoky Mountain cabin rental.
Insider Tip: During the summer, be aware that bears are known to come to Spence Field to eat blueberries from bushes on the ridge. Carrying on a conversation or singing a song on the trail can prevent close run-ins with black bears. However, generally speaking, bears try their best to avoid hikers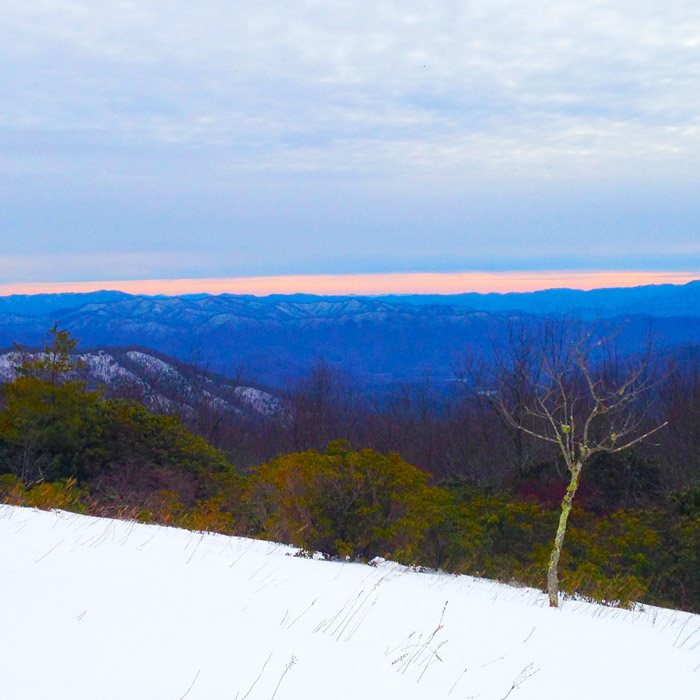 A
- Cabins USA Gatlinburg
Written by Hayden Brown