Hiking in Gatlinburg and the Smokies
When asked why he scaled the world's tallest peak, George Mallory answered: "because it was there." If anyone asks you why you want to explore hiking trails in Gatlinburg, you can answer that it's fun, healthy, and relaxing! There are many wonders to see in the national park and you won't want to miss them during your vacation in the Smokies!
There are about 900 miles of trails in the Great Smoky Mountains National Park ranging from short nature walks to rugged multi-day hikes. Our guide can help you find the perfect hike for your trip! There are many great trails near Gatlinburg that offer waterfalls, mountain views, or gorgeous old growth forests.
Deciding on your Smoky Mountain Hike
A good strategy to use when picking a hike is deciding what you'd like to see. Are you interesting in walking along a high mountain ridge with spectacular views? Are you planning to beat the heat with a trip to a cool Smoky Mountain waterfall? Or would you just like a long peaceful walk in the woods away from more crowded trailheads?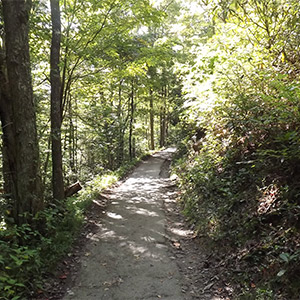 Also, many hikes in the Smokies are quite long with many trails stretching longer than 5 miles or more. Some destinations, like Rocky Top near Cades Cove are day trips that require 12 miles of hiking. Given the fact that most hikers hold a pace of 1.5 miles per hour, this means a trip to this mountain peak will take 8 hours of hard trekking. It is also worth considering how much time you have to hike. You will want to plan a turn-around time so that you won't get caught by sundown.
An excellent way to find the right hike for your group's ability, desires, and schedules is to stop by Sugarland's Visitor's Center. For most of the year, there are rangers stationed here who would be happy to provide you with maps, directions, and general information to find the right hike for your group!
Things to Pack For Hiking in Gatlinburg
Depending on the season and difficulty of your hike you'll want to bring some extra gear to ensure your hike is safe and pleasant.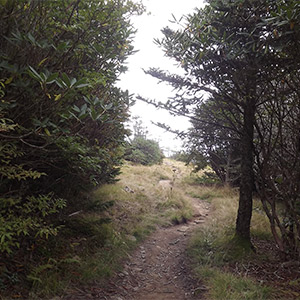 Sturdy Foot Wear

– Boots to protect your feet.

Clothes For Weather

- Cold, hot, and wet weather is likely depending on the season.

Water

– Staying hydrated, especially in the heat of summer is important

Food

– Hiking in the mountains burns calories. Be sure to eat often to enjoy your hike.

Map

– A trail map can save a lot of trouble. Backcountry trails in the Smokies may not be well marked and it's easy to pick up a map from a national park visitor's center.

Flashlight

– Bring one - it's not a bad idea if you get caught after dark.
Extra Tips For Hiking In Gatlinburg and the Smokies
In much of the national park, cell service is hard to find. Be sure to do your hiking trail research before you go into the park.
Check the weather. There is a huge range of temperatures and precipitation to deal with. Some high elevation trails can become icy so use extreme caution.
On some trails, you may see wildlife like bears. Black bears in the Smokies are not aggressive and can often be scared away with shouting and loud noises. Bears are not keen on encountering people. Simply singing songs or having a conversation on your hike warns them you are coming on the trail. There have been hikers who chased bears a mile or so to deter them from sniffing around a campsite.
Some trail heads can become very crowded. The earlier you can begin your hike, the better your chance you will find safe and convenient parking. Also, you will have more time to enjoy your hike in the daylight.
Final Thoughts on Hiking in the Smoky Mountains
Hiking in the Smokies is a favorite activity of vacationers and locals alike. With a little preparation and research, you are sure to love experiencing the wild beauty of the Great Smoky Mountains. There is a lot to explore. Locals in the area have spent lifetimes visiting waterfalls and mountain peaks only to discover new wonders every year. From the convenience and comfort of a nearby cabin, you can spend long days exploring the gorgeous mountains of Tennessee.