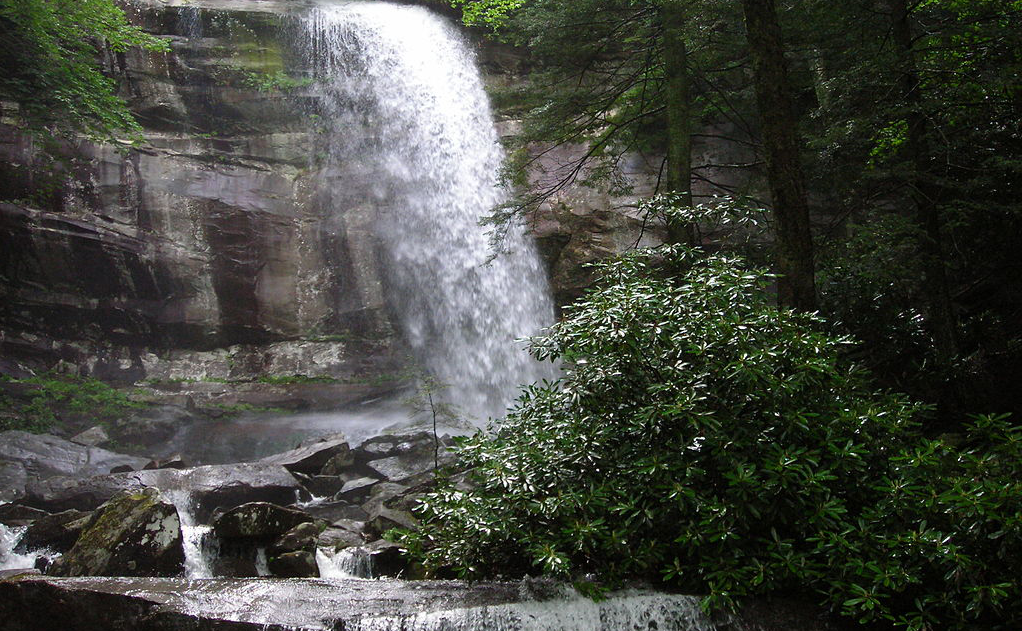 Rainbow Falls
If you're looking to get out in the great outdoors and enjoy the beautiful Smoky Mountains, a hike to Rainbow Falls delivers! This trail features beautiful scenery of old growth forests along the 5.4 miles hike that rises to a total elevation of 1,685 feet. At the end, you'll find an 80-foot waterfall with the opportunity to see rainbows when the weather is just right.
Get your exercise out in the fresh, mountain air, have a meal with family and friends at one of the picnic areas, and view native wildlife, plants, and wildflowers. You'll find all the info below for what you'll need to bring and what you can expect during your hike to Rainbow Falls in TN.
Things to Remember
It's always best to call the National Park ahead of time to make sure that the trail is open and accessible to the public. And always make sure to set out with enough time to make it to the waterfall and back before dark. There are plenty of maps available online through the National Park Service, as well as at locations throughout the park, so grab one up even if you're confident in where you're headed. It's always better to be safe!
This trail can be a bit steep, so make sure to wear appropriate footwear like hiking boots that provide some ankle support. Before you set out, make sure you apply and bring along some bugspray to avoid any mosquitos and ticks. The only thing you want to bring home from your hike is amazing memories, not itchy bites!
Some of the areas near the waterfall can be slippery, so make sure to follow the park's safety advisory and stay back a safe distance and avoid climbing on the rocks near the waterfall. During the coldest parts of winter, the waterfall often forms beautiful ice formations which make great photo opportunities. But make sure to take extra care during winter as it can make conditions dangerous.

What To Expect at Rainbow Falls
The hike begins at the Rainbow Falls Trailhead just outside Gatlinburg off the one-way Cherokee Orchard Loop Road. You'll find the first parking lot off the road to the right and an overflow parking area about a tenth of a mile further on. Your hiking boots and supplies will come to good use along the trail. The first about two quarters of a mile are a steady climb through a field with boulders and other natural scenery. If you packed a picnic, you'll find plenty of picnic sites where you and your family can enjoy a meal with the LeConte Creek bubbling nearby.
The Rainbow Falls Trail is a challenging trek, but after the wildfires in 2016, work crews added plenty of additions to make it easier. These include stabilizing areas where the ground began to erode and improving the surfaces of the trails. As you continue moving along the trail, you'll cross a footbridge at 1.7 miles and at about 2.7 miles you'll cross a second bridge and that's when you'll know made it to the waterfall.
If you're looking to get some great photos during your adventure to Rainbow Falls, try setting out first thing in the morning. That way you'll be able snap pictures before midday when the sun is directly overhead and you'll get great photos of the sunlight streaming through the trees and hitting the waterfall just right! You can also start your hike later in the afternoon for ideal lighting, but make sure to keep any eye on the time so you don't end up stuck out on the trail after dark. If you get the time and weather conditions just right, you'll be able to see the rainbows that appear around the waterfall.

Wildlife and Much More!
You'll be able to view some of the beautiful, native wildflowers and fascinating plants and mushrooms. You might see some native wildlife while hiking to Rainbow Waterfall. Keep an eye out for black bears, deer, squirrels, raccoons, wild turkeys, woodchucks, and more. Pack your binoculars so you can view animals from far away as it is never a good idea to approach wildlife. Make sure everyone in your group understands the proper safety protocol for what to do if you run across a black bear or other wildlife during your walk.
Your Trip to Rainbow Falls
This moderate hike up in the Smoky Mountains gives you and your family a fun experience and an opportunity for memories that will last a lifetime. Make sure to bring along some snacks, plenty of water, and proper footwear and you're sure to have a great time!C
Check out some of our other area info pages if you're looking for even more fun things to do and places to visit in the great outdoors while vacationing in the Smoky Mountains.
Written by Clare Wiker