Ripley's Haunted House in Gatlinburg, TN
Ever notice that spooky building in the heart of Gatlinburg? Visitors pass by this unsettling attraction every day and wonder: "What's going on in there?" As it turns out: a frightfully good time! Ripley's Haunted Adventure is a multi-million dollar haunted house with state-of-the-art animatronics and special effects to scare unsuspecting visitors.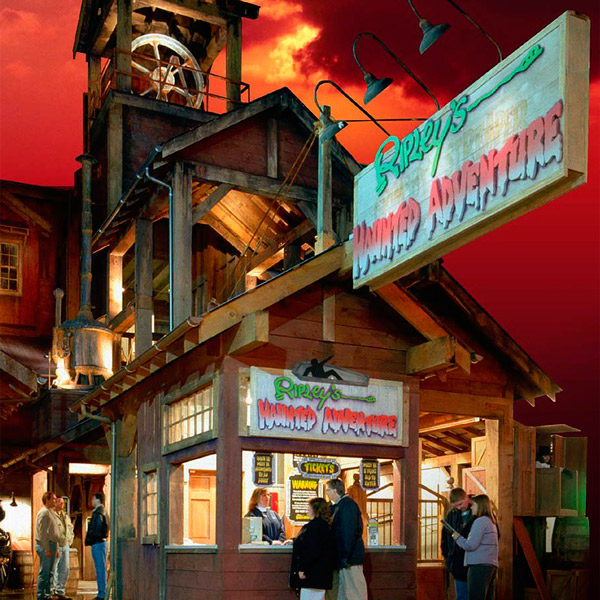 This year-round haunted house has been delivering shrieks and bone-chilling fun to the Gatlinburg strip for several years now. The scary vibe of this attraction begins out front, where spooky actors can be seen startling passers-by. Children above the age of 6 are allowed to see this frightful attraction, but this scary activity is better suited for kids 8 years or older.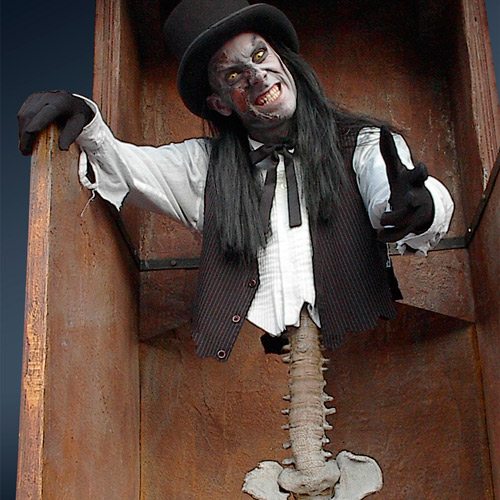 Haunted Adventure at Ripley's Gatlinburg Attraction
As you soon learn, this spooky adventure takes place in an old coffin factory that you must pass through – if you dare… This haunted adventure begins with a creepy ride down a mine shaft elevator. As your group descends into the darkness on in this rattling cage is sure to build some suspense at the start of your journey.
Beyond this point, it wouldn't be fair to give away the ghastly surprises and grim ghouls who wait below. Do know that this haunted house involves lots of dark corridors and frightening actors lurking behind every corner. Since this is a professional multi-million dollar haunted house, a lot of effort has been put into the decoration and ambiance. Like any good haunted attraction – it's designed to scare you out of your wits.
If you're fascinated by spooky attractions, then Ripley's Haunted Adventure is a must see! If you are easily spooked (or dislike feeling frightened) this attraction might not be the best idea. This haunted house can be somewhat intense, especially for younger children. Though it is always good fun to take the scaredy-cat of your group of friends on a haunted walk. Afterwards, you may want to leave a night-light on at your rental cabin to keep the ghouls away.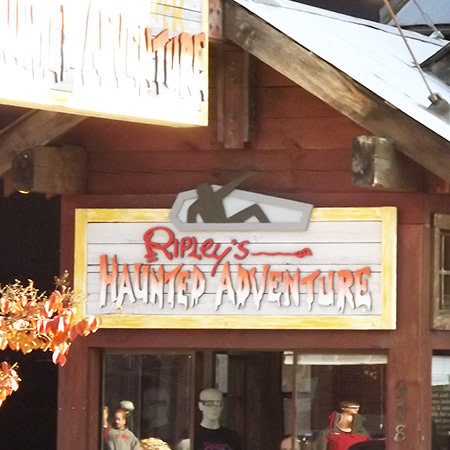 Hours and Location
This attraction in Gatlinburg, TN is open every day of the year for some ghostly fun. During the month of October, Ripley's Haunted Adventure changes their haunted house experience to suit a new theme.
Hours:
Jan. – Feb. 11am to 8pm
Mar. – Memorial Day 10am to 9pm
Memorial Day - Labor Day 10am to 11pm
Labor Day - New Years 11am to 9 pm
This ghastly haunted house is located at traffic light # 8 near the Hollywood Star Cars Museum.
Insider Tip: If the 13.99 tickets are a bit much for one attraction, a good way to find better value is to get a combo pass so you can see several Ripley's attractions. This is an especially good deal if you planning on visiting other great attractions in Gatlinburg like the Aquarium or the Odditorium.
Contact:

800 Parkway
Gatlinburg, TN 37738
865-436-5096
A
- Cabins USA Gatlinburg
B
- Ripley's Haunted Adventure
Written by Hayden Brown