Food, Fun, and Family at Fannie Farkles!
Walking down the streets of Downtown Gatlinburg, you catch a whiff of something absolutely mouthwatering. You follow your nose (and your growling belly) to Fannie Farkles, one of the most iconic buildings in this mountain town.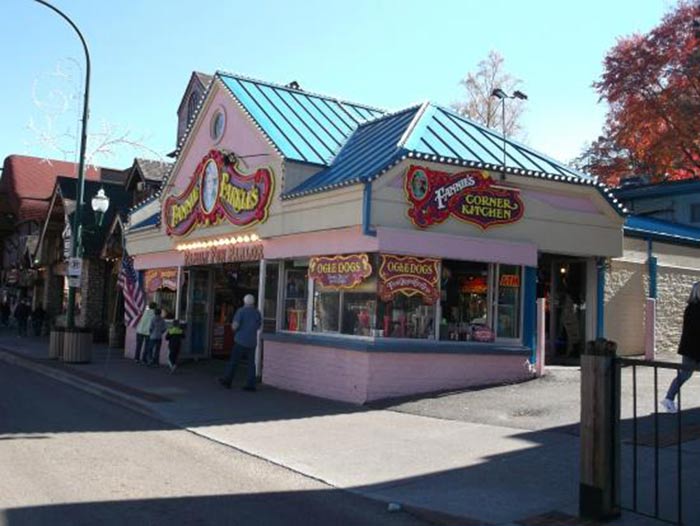 This rose petal pink building has become a landmark in Gatlinburg not only because of its striking exterior and iconic logo but because of the its world famous food, including the delicious Ogle Dog. For nearly 35 years, Fannie Farkles Family Fun Parlor has not only provided delicious plenty of fun and games to keep vacationers to the Smokies smiling and laughing.
So, step into Fannie Farkles today and experience this classic Gatlinburg attraction!
What's in a Name?
When the owners of Fannie Farkles were brainstorming names, they wanted something catchy, alliterative, and feminine. While "Sassy Suzan's" had a bit of a ring to it, there was one that stood out "Fannie Farkles" (inspired by the Laugh-In sketch which will have you tongue-tied).
Using a font that invokes a turn-of-the-century carnival and a lovely "Gibson girl" sporting a fabulous updo, they created the iconic logo and, thus, the iconic brand "Fannie Farkles."
Fannie Farkles Famous Food
Though its true that a name like "Fannie Farkles" won't soon be forgotten, there's something else about this Gatlinburg establishment that keeps vacationers coming year after year - the food! Everyone likes carnival food (maybe as a bit of a guilty pleasure), but the quality of the food here is simply unsurpassed. Grab one of these delicious treats off of Fannie Farkles menu and take a stroll down Gatlinburg streets as you shop.
The Ogle Dog - A Fannie Farkle favorite! The special batter is made fresh from a top secret recipe. These foot-long corndogs are dipped and fried right in front of your eyes. With crunch and a lot of flavor, it's no wonder why people keep coming back for more.


Sausage Sandwiches - Made with smoked sausages and sauteed peppers and onions, the smell of this sandwich alone is enough to make you want to eat it. But rest assured, these sandwiches taste as good as they smell.


Cheesesteak Subs - Cooked in a special Farkle Sauce, vacationers will love this tasty sub that may even be better than one you'd find in Philly...


The Monster Dog - This hot dog gets it's name for a reason. These 1/2 pound beef hotdogs come served up on a bun for one delicious (and filling) hot dog experience.
Make sure you couple your delicious food with some freshly brewed sweet tea - a Southern staple.
Insider Tip: Fannie Farkles only accepts cash. Luckily, there's an ATM on the premises just in case the smell of the delicious Ogle Dogs makes you forget.
Plenty of Family Fun Inside Fannie Farkles
It would be well worth a visit to Fannie Farkles for the food alone. But, there's more waiting inside! With awesome arcade games to enjoy and plenty of prizes to win, your whole family is bound to have a great time.
Fannie Farkles features fun family amusements for kids of all ages. From old favorites such as PAC mania and Skee Ball (because who doesn't like Skee ball?) to newer games such as Fruit Ninja and Balloon Buster, everyone will have a a great time playing these fun games.
Most video games at Fannie Farkles Family Fun Parlor feature non-violent content that's suitable for all ages, putting parent's worries at ease.
After you've had your fill of the fun, head to the redemption counter. Here, you'll find a wide array of prizes that everyone will love. You can redeem your tickets for big prizes such as TVs, jewelry, and bicycles. Little kids will love tiny prizes like Tootsie rolls and plastic toys as well as the wide selection of soft stuffed animals.
One great thing about Fannie Farkles - your points never expire! So whether you come back the next day or the next year, you can still redeem your points.
Fannie Farkles Hours
Fannie Farkles opens at 8 am and stays open late into the night (around 10 pm). Prices on games vary and coin machines are available to let you continue your fun.
After a fun-filled day at Fannie Farkles Family Fun Parlor, head back to one of our cabins with a game room to continue the fun with your family. A stop at Fannie Farkles is sure to spark (or continue) a family vacation tradition.
Contact:
Fannie Farkle's Family Fun Parlor
656 Parkway
Gatlinburg, TN 37738
865-436-4057
A
- Cabins USA Gatlinburg
Written by Cecila Jones