Ripley's Aquarium of the Smokies
Sea creatures in the Smoky Mountains may not seem like a natural fit, but you just have to see it to believe it. Ripley's Aquarium of the Smokies in downtown Gatlinburg has become one of the most visited attractions in the entire state. Over 15 million people have visited Ripley's Aquarium in Gatlinburg to see excellent exhibits that are informative, fun, and exceptionally family friendly.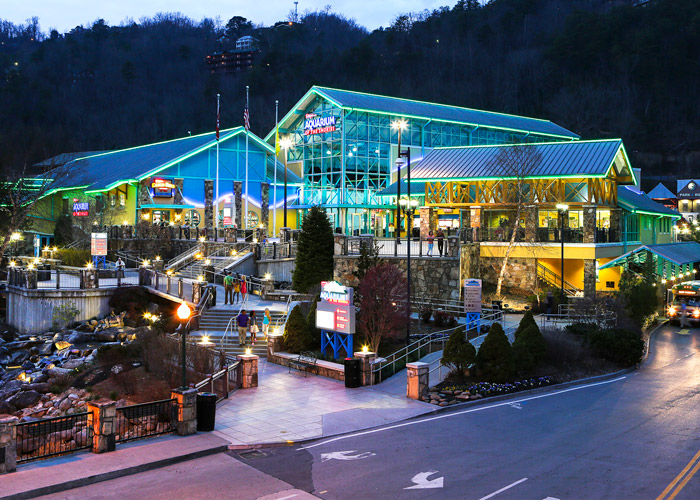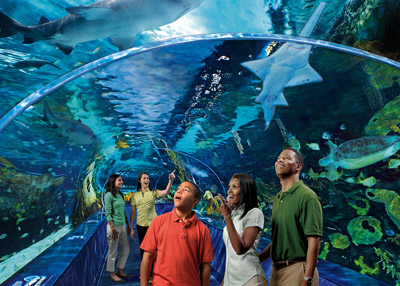 Over 350 species are on display at this beloved aquarium where you can see them all face-to-face. Filled with stunning sights, graceful creatures, and fierce predators, you can experience the magnificence of the ocean in Gatlinburg, TN. Here are just a few of the highlights you can see:
The Shark Tunnel

– This 340 foot underwater tunnel gives you the amazing experience of walking through the ocean while fearsome sharks, beautiful turtles, and sleek stingrays effortlessly glide around you.

Sting Ray Bay

– Over 100 Rays are on display in this large tank. Be sure to stop by while divers feed these graceful creatures or take a trip to the Touch-A-Ray section of the tank to see them up close!

Penguin Playhouse

– This exhibit debuted in 2010, but rapidly became the star attraction of Ripley's Aquarium of the Smokies. This exhibit features adorable African Black-Footed Penguins that are endangered and well-known for their playful personalities. This massive display is a kid's favorite and features a crawl tunnel and domes that allow them to get close to the penguins while they swim and play.

Tropical Rainforest

– See beautiful and exotic creatures from the land and water including piranhas, poison dart frogs, and more.

The Discovery Center

– This exhibit is designed with children in mind. From solving puzzles to touching live horseshoe crabs, this part of the aquarium will fill kids with wonder and delight of the vastness of the sea.
Tips for Visiting Ripley's Aquarium of the Smokies
Ripley's Aquarium in Gatlinburg draws 1 million visitors annually. This aquarium is smaller than some larger state funded aquariums, so it is often best to find a time to visit during a slower time of the year. Weekends during the summer can be quite crowded, while weekdays in the fall, spring, and winter are perfect for taking your time to enjoy beautiful exhibits.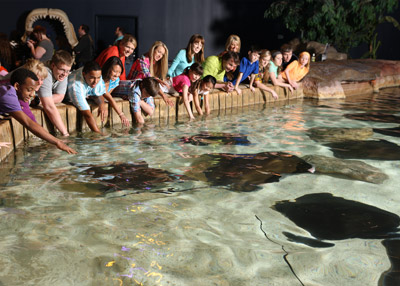 If you are visiting on a busy day in Gatlinburg, try going after dinner. The aquarium is usually open until 9 AM to 8 PM on weekdays and 9 AM to 10 PM on Weekends. During certain times of the year, you can buy tickets for a discounted price after 5 PM.
During a Gatlinburg vacation, a trip to the Aquarium is a great backup plan if a day of hiking or horseback riding gets rained out.
Ripley's Aquarium is very close to Pigeon Forge, TN and can be found at traffic light #5 on the main Parkway in Gatlinburg.
There are several over Ripley's attractions in downtown Gatlinburg. Purchasing a combo ticket allows you and your family to see 2 or more of these attractions at a discounted price.
Final Thoughts on Ripley's in Gatlinburg
Though Gatlinburg's Aquarium is smaller than other famous aquariums, it holds some of the best attractions in the area. Whether you are marveling at the grace of large sharks, the beauty of floating jellyfish, or the cute antics of penguins, it's easy to see why Ripley's Aquarium is one of the most popular attractions in the Great Smoky Mountains! If it is your first time experiencing a Gatlinburg cabin vacation, the sights and exhibits at Ripley's are a must see!
Contact:

88 River Rd.
Gatlinburg, Tennessee 37738
865-430-8808
https://www.ripleyaquariums.com/gatlinburg
A
- Cabins USA Gatlinburg
B
- Ripley's Aquarium Gatlinburg
Written by Hayden Brown